Active Families: Raft and Stay at New England Outdoor Center
The ominously dark clouds ahead seemed a fitting end to a very difficult week.  With heavy hearts after a week spent with a parent in failing health, our family set out knowing that time surrounded by nature would be good for us, yet feeling guilty for leaving our family members behind to maintain the vigil in the hospital.  As we approached Bangor, the heavens opened up and suddenly bolts of lightning followed by loud claps of thunder were upon us making the driving conditions tough.  Yet, as we approached Twin Pine Cabins and the River Drivers Restaurant, the dark clouds suddenly gave way to wafts of blue sky. Beams of sunlight peeked through the clouds to offer the perfect metaphor for the much needed lift the next 24-hours would bring.
Together with husband Lincoln and daughters Calli (13) and Kim Han (11), we jumped out of the car at the Twin Pines Cabins registration desk with that wonderful sense of excited anticipation we feel each time we travel to new places.  We checked into the large wood registration building and got our first look at the bustling River Drivers Restaurant and Pub.  We were greeted by a friendly front desk person who answered our questions with a smile and gave us a map to Coveside Guest House #5, fondly referred to as "Otter".  It didn't take long to notice the commitment to nature and eco-friendly hospitality here.  Rather than blaring streetlights, the dirt roads were lit by glowing wooden boxes with pine trees carved into them.  We realized that each guest house bore the name of a woodland animal as we passed lodges with names like Moose and Beaver.
When we pulled into the Otter guesthouse, we were astounded at the size of what appeared to be a newly constructed lodge-style home.  Kim Han, always the leader when exploring new places, bounded inside while we began unpacking gear. One step inside and the whole family was simply "Wowed". Soothing earth tones, floor to ceiling windows, high ceilings contemporary furnishings and appliances told us we were in a fabulously special place.  "Up here!" yelled Kim Han to me as I stood in the living room taking in the leather couches, gas fireplace, wide screen TV and fully applianced kitchen beyond.  I looked up, and there she was, looking out a large window from the master bedroom which opened to the living room below.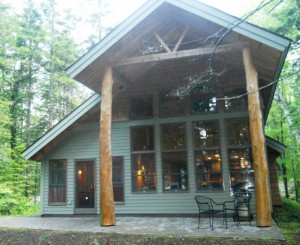 #5 Otter at Twin Pines Cabins
After checking out each room, Calli quickly declared that she could spend the summer here, as she chose the downstairs bedroom for her sleeping quarters.  Upon further inspection we realized that Coveside Guest House #5 has three bedrooms, two with a queen and single bed and one with a queen bed.  The two full baths were the best indicator that these luxury guest houses were recently constructed.  A beautiful green vessel sink was built into a think log slab with a shiny modern chrome faucet in the upstairs bath.  Low flow toilets, radiant heat and locally made counters were all indications that care was taken to construct the cabins in as eco-friendly/low impact manner as possible.  Walls were painted moss green, shades of brown, and pond-blue to fit the natural setting overlooking woods and Millinocket Lake beyond. Lincoln looked at me and said "Camping is nice, but I'll take this any day", which we all agreed with wholeheartedly.
River Drivers Restaurant and Pub
We headed to the River Drivers Restaurant, which was filled with a wedding party and two rehearsal dinners all dining in the open and private dining rooms. We were delighted to learn that despite the private parties, the restaurant could still seat our family.  We quickly ordered food thinking about how backed up the kitchen might be.  To our amazement, the food arrived quickly and better yet it was hot and delicious.  The biggest delight came when they delivered the bill and we realized how affordable it was.  "Five stars," said Lincoln as he marveled over the $4 Katahdin draft beer which would be double the price anywhere else.
Our friendly waitress explained that New England Outdoor Center owns the resort including all the cabins and guest houses, the restaurant and the white water rafting company we'd join the next day for a thrilling ride on the Penobscot River. After a late dinner, we went to sleep to the quiet sounds of the woods in comfortable beds, as Lincoln and I got the first good night sleep of the week.
White Water Rafting with New England Outdoor Center
Up bright and early the next morning, we cooked a big breakfast in the fully stocked kitchen (we brought our own food, all pots, pans, utensils, plates, silverware, coffeemaker, toaster were provided).  Then off we went to the Penobscot Outdoor Center to begin our white water rafting adventure.  We were amazed to find at least 200 people there, suiting up and registering for white water rafting trips.  Shared with another rafting company, we easily found the New England Outdoor Center registration table and filled out paperwork, ordered lunch entrees (steak, chicken, fish or vegetarian) and rented wet suits, then donned PFDs and helmets amidst crowds of other excited rafters. 
Next, all 120 people on the New England Outdoor Center boats enjoyed a highly animated orientation where we learned the most dangerous thing on the river is the T-handle of the paddle (lest the guy in front of you jabs it unknowingly in an eye or cheek in high water) and what to do if the raft flips.  We boarded buses and drove up the famous Golden Road with our eyes peeled for moose.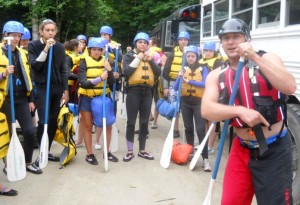 Rafting orientation
Once at our put-in destination, we met our guide, Christine Rholl, who grew up in Alexandria, VA and is entering her junior year as a Math-Bio major at Bowdoin College.  She deftly set about adding final inflation to the boat and we all carried the raft down to the river where we received a lesson in paddle commands and learned that the first set of rapids would be the largest including a 12-foot waterfall. My heart skipped a beat thinking about going over a waterfall while the roller-coaster-loving girls applauded with excitement.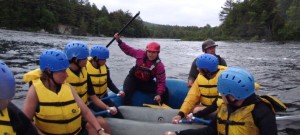 guide Christine, offering suggestions
We were joined by the Pullen family from Plymouth, MA including Mom, Dad, Anna (9) and Alexander (11).  After practicing our paddling and a rousing water fight with another nearby boat, we set off.  A calm river soon gave way to a quicker current and we could hear the rushing water in the background.  We soon approached Nesowadnehunk Falls.  "Paddle forward!" said Christine, which we did with quickening heartbeats to match the current.  "Hold on!" yelled Christine and just as I grabbed the rope the raft went over the sloping 12-foot waterfall in a rush.  All I could see was the rushing water in my face as we went over the falls and before we knew it we were at the bottom.  My first instinct was to quickly look back to make sure that Calli and Kim Han were still in the raft, which they were to my great relief.  In fact all luckily passengers were accounted for. Christine asked for a quick consensus.  "What'd you think?" she asked.   All the kids and men were in agreement that it was really fun and exciting.  The Moms both agreed that it was scary (not for ourselves, but for the safety of our kids); another testament to the "Mom Factor" - a phenomenon I'm convinced keeps families safe and Moms in a constant state of vigilant apprehension.
We hung out at the falls watching others go over and attempting to "surf" into the holes beneath the falls.  We made multiple attempts at surfing by paddling up to the foaming water and positioning the boat precisely at the base of the falls.  We were able to maintain the boat in position for only a second or two, but enjoyed the thrill at each pass.
We continued on relatively calm water to the Nesowadnehunk Stream where we were treated to a slippery rock slide.  The hardest part of the slide was falling backward into a swirling pool then allowing the current to take each of us down the moss covered rock slide. Calli and Kim Han went together. Then with blind faith that the guides were right and it wouldn't hurt, I fell into the water and rode the slide which was fun until my nose and ears filled with water at the bottom.  Well, okay – even that part was fun.  Lincoln went down holding his waterproof video camera in the air the whole way (subsequent video footage was pretty watery!).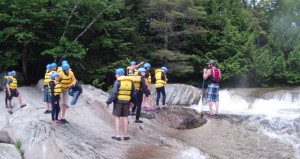 getting ready to slide down Nesadahunk Stream
We floated down the next six miles of the lower Penobscot River in calm waters, learning more about how the rapids are classified and much to our relief that Christine has never flipped a raft.  After granola bars were heartily accepted from Christine we eventually passed under Abol Bridge and began seeing white water ahead.  Christine explained that we'd need to paddle our way through this set of class 2 rapids and not hold on.  With quickening anticipation, we successfully navigated Abol Rapids and this time I managed to keep my eyes open through the rapids as we entered swirling holes and waves broke over the boat.  "Phew! That was scary!" said little Anna.  "I almost fell out," she said as she shivered from her perch on the raft.  Her Mom's encouragement to sit in the middle of the boat for the next rapids was met with agreement from Christine, who nicknamed her Princess Pockawaukamus after the next set of rapids and the throne she'd assume in the middle of the boat.
Not too long after Abol, we came upon Little Pockwockamus rapids, a class 2 set which I found exhilarating and not too scary.  I realized I was growing accustomed to the "out-of-control-and-on-the-verge-of an-unwanted-swim" feeling which does not come easily to this conservative Mom and traveler.
As we approached the Big Pockwockamus Rapids, Christine encouraged Anna to move to her "Princess throne "in the middle of the boat where she could hang on more easily.  Alexander moved to the front of the boat for a more thrilling ride and we entered this class 3-4 set of rapids, the longest set of rapids yet.  We were all able to paddle through the rapids and emerge with big smiles on our wet faces. 
We ended the trip before lunch.  Each rafter helped to carry the water-logged raft up to a waiting flatbed on the road about 2/10 of a mile away, dodging poison ivy the whole way.  We boarded buses which took us to a riverside lunch spot, complete with picnic tables and large grills.  We were treated to a welcomed lunch of grilled fish, pasta salad, rice and cookies, which tasted good after a thrilling day on the river.
As we drove home contemplating the week ahead, we felt a new sense of appreciation for facing challenges.  Twenty four hours with New England Outdoor Center's eco-friendly surroundings and rafting trip did wonders for a heavy heart.
Family Impressions:
What was your favorite part of the rafting trip?
Calli:
My favorite part was Nesowadnehunk Falls; it was the most intense. I saw
big dips and a lot of cool patterns. I posted on my Facebook page that
"it was awesome"!
Lincoln:
My favorite was the rapids – that's the exciting part. The Big
Pockwockamus rapids were my favorite because they were the longest.
Marti:
I liked the exhilaration of riding the rapids, but most of all I loved
the catharsis of steering through nature's obstacles and realizing that I
could navigate them even if they were scary.
Kim Han:
I liked the obstacles (her name for rapids).  They were thrilling and
made me feel strong when we got through them.  I want to try it again!
New England Outdoor Center: When You Go
New England Outdoor Center offers a wide range of outdoor accommodations and adventures.  Choose from small waterside cabins (sleep 2-6) and large cabins (sleeping up to 12) to Premium cabins (sleep up to 14) to Coveside Luxury Guest Houses (sleeps 8) at Twin Pine cabins. All cabins are pet-friendly too. A campground closer to Baxter State Park is also an option too, offering campsites and bunkhouses.
Operating year round, guided summer adventures include a range of white water rafting trips, guided moose and wildlife tours and guided canoe, kayaking and hiking adventures.
The River Drivers Restaurant and Pub, the only fine dining restaurant in the region overlooks Millinocket Lake and offers everything from starters, sandwiches and salads to hearty entrees and delicious desserts. We heartily recommend the Mocha Cheesecake.  Of course, when in the shadow of Mount Katahdin, Maine's tallest mountain, one must also imbibe in a Katahdin beer, on tap here.
New England Outdoor Center, located near Baxter State Park.  www.neoc.com, 1800-634-7238
To read more about the Fuller/Mayne family adventures, and this rafting trip, visit www.EasternSlopes.com. 
Marti Mayne is the B&B Editor for Wandering Educators 

Photos courtesy and copyright Marti Mayne and Lincoln Fuller