Artist of the Month: Judith Motzkin
Serendipity is a powerful thing. When we profiled Artist Brenna McBroom, she shared two other extremely talented artists with us. We've featured Genie Maples as one of our artists of the month, and I am really pleased to share the work of Judith Motzkin with our Wandering Educators. Thanks, Brenna!
Judith's work is extraordinary - and wide-ranging. She creates incredible pottery, in several different ways. She's a photographer, digital artist, and her work with clay stones is inspired - you can almost smell the fresh sea air. Many others have recognized her work - she's provided the cover photos for 500 Bowls, Lark Books; The Best of Pottery, Rockport Publishers; and the November 2001, cover article, Ceramics Monthly. I am extremely impressed with Judith's vision and work - her genius just shines through in all her art.
WE: Please tell us about your art...
JM: My burnished smooth white clay pots are bisque fired to a low temperature and then they're nestled in sawdust and straw in ceramic containers called saggars and fired again in a gas kiln at low temperatures. Colors from the burning materials are absorbed into the clay surface. Variations in the firing time, temperature and atmosphere give me a range of colors. I like to say that I paint with a palette of accidents. In the early eighties I began making these pots without glazes.  Traveling in Mexico and New Mexico I met potters firing pots with brush or dung to make carbon black in primitive fires using simple materials. I played with the idea of simple forms painted with fire and began to discover instructive variations, adding color and composition. I took risks with the process and developed this body of work that combines the influence of a Chinese sense of form and the idea of a vessel as a canvas with Native American processes.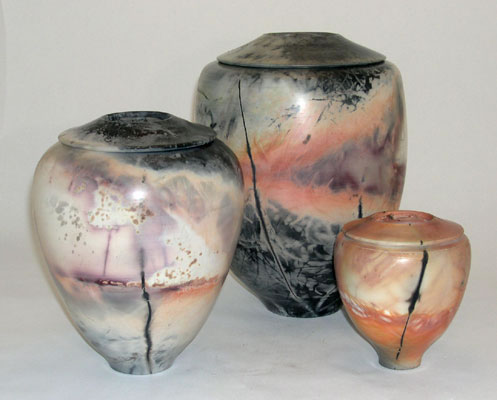 In the past year I have been making BreadPots for baking no knead or Dutch oven breads. I was using this method to make bread and needed just the right pot. Apparently I am not the only one. In the design process I again came to wanting no glaze. These pots are simple, unglazed, high fired stoneware in humble browns.  The influences here are clearly my love of a good Russian corn rye. It makes the best bread…this synergy of bread and clay. This project has brought me back to the pleasures of basic functional considerations and a range of hearty clays.
This month I am doing an installation in a themed show "So Big"at the Cotuit Center for the Arts.  It will be made of stacked and piled clay stones.  I like the challenge of this new work.
Stone Gatherer
WE: How/when did you start becoming an artist?
JM: I was a photographer before I was a potter. My uncle had a darkroom and taught me photography when I was in high school. When I went to college I brought my camera with me and I set up a shared darkroom in my dorm. I was taking pictures all the time; it was a way of noticing.  Sometime during my freshman year, I saw a friend through the window as I walked by the student union Pot Shop. I went in and I picked up a piece of clay. I signed up for the beginner class,  which consisted of four lessons: hand-building, throwing, trimming, and glazing. Within six months I was working and teaching at the shop: making clay, selling tools, loading and firing kilns. At the same time I was studying Asian Art History¸ majoring in Asian Studies. I was learning about and being influenced by Chinese ceramics at the same time as I was learning how to make ceramics. Nice confluence of information.
I thought of myself as a craftsperson, with pride.  Artist came later, when I realized that I had a clear voice in other mediums I touched. I worked in digital imagery and sculptural assemblage. I am still and ever becoming an artist.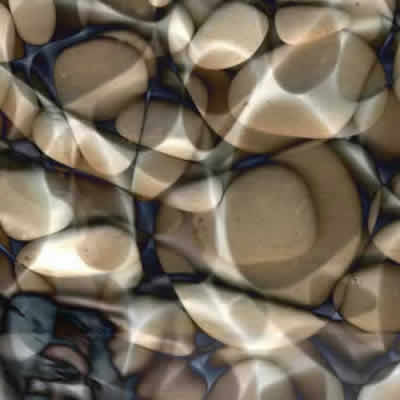 Stones reflection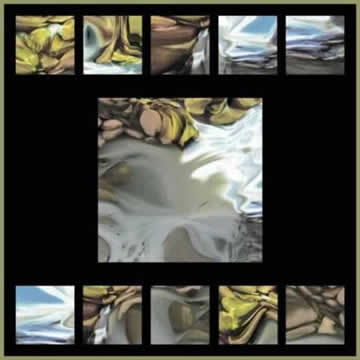 Khulfee Composite
WE:  What do you draw inspiration from?
JM: Travel, especially working travel, as I did in China in 09.
Geology
Language
Solitude
Reading
Necessity and the process of invention
Need I say nature, fire, clay, love? No, too corny. (but true)
WE: Where are your favorite places to create art?
JM: My studio next to my house is a haven of lively messy practice. Everything is at hand. I don't know if what I create there is art, but create I do.
 Recent work about erosion brings me to outer Cape Cod where I am documenting with photos and video and plaster casting in eroding dunes at an edge of the world. That is a wondrous place to work.
Beach Block 
Listening to Earth
WE:  What do you enjoy creating most?
JM: I am enthusiastic, vital and excited when I am working of developing something new.
I find there are cycles. Sometimes there is bliss in good hard repetitive work.
eggshell bowl
WE:  How can readers find and purchase your art?
JM: Saggar fired work:
Danforth Museum of Art, Framingham;
Vessels Gallery, Boston;
Cambridge Artists Gallery, Cambridge;
Left Bank Gallery, Wellfleet MA
On line:  http://www.artfulhome.com/servlet/Guild/EArtist?id=1243
Visit my studio during Cambridge Open Studios in May, or by appointment.
Collections:
Crocker Museum of Art, Sacramento, CA; MFA Boston; Jingdezhen Ceramics Museum
Contact me directly or visit my website or blogs.
My pots are frequently used as urns for ashes.
http://spiritkeeperurns.com/
 
BreadPots:
Call me or paypal to reserve one. Backordered until the end of January.
On line: www.motzkin.com/breadpots.htm
www.breadbakers.blogspot.com
Song 
Spiral Gathering
WE:  Is there anything else you'd like to share with us?
JM: I am self taught as an artist, in that I did not formally study ceramics or art. While I am lacking the pedigree of a degree, I have managed to make it happen.  I am well educated in art through self study and exploration.
I recognize that I am not really self taught. The material is teacher, history is teacher, mentors are teachers, brains picked teachers, articles and books read teacher, nature is your teacher. We don't do it ourselves. We connect with and stand on the shoulders of all those around and before us.  I love to teach one on one in the studio in exchange for work. It is my most productive way of teaching for both of us. I have been using the BreadPot project as a teaching tool and can imagine intern/apprentices growing into being able to independently help make them.
By way of advice…Diversify. Try to do a variety of things or have numbers of different ways of either selling your work or following your interests, because when one isn't going so well another one might be.  Allow for down times. It spirals around.
In addition, I think it's important to keep putting your work out there so that you get feedback. Have an art/critique group.  It can be just two others or more.  It is good to have a safe space with a group of people to whom you're not trying to sell your work, whose opinions you respect, who can either teach you something or echo back to you what's going on in your work.
Place for Tea
Shard Cairn
WE: Thanks so very much, Judith, for sharing your beautiful art with us.
Stone Sluice
Feature photo: Spiritkeeper
All photos courtesy and copyright Judith Motzkin

Comments (1)
Leave a comment