Postcard from an Amazon floating market
This photo was taken from the stern of an expedition ship somewhere between Iquitos, Peru and Leticia, Colombia along the mighty Amazon River.  Cruising down remote stretches of the Amazon, you get a real feel for 'life on the river' as you periodically come into contact with the local indigenous people.  In this instance, their boats gathered at the back of our ship and served as a kind of 'floating market', offering for sale everything from fruits and vegetables, to live chickens.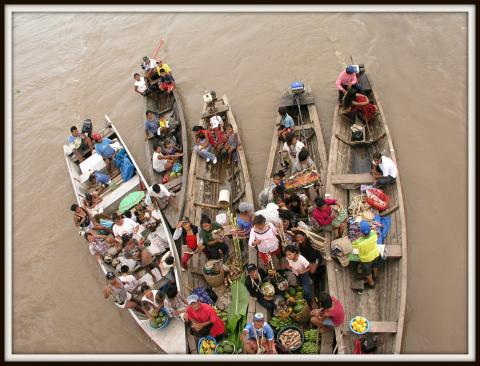 Interacting with local villagers from remote communities is always an amazing cultural experience, as many have had limited contact with outsiders so they are just as fascinated with you as you are with them.  Most speak either Spanish or Portuguese, depending on what section of the Amazon you are on, and some speak other indigenous languages.  Unfortunately, many of the traditional languages are dying out as these communities become more connected to the outside world.
The head of the Amazon River is located in Peru, and it is one of the world's longest rivers second only to the Nile in Africa.   It serves as a drainage system for a whopping 40% of all of South America, producing 20% of all the world's river water that ends up in the ocean.
A trip down this exotic & magnificent river will also bring you into contact with a myriad of plants and animals.  Leaving your river boat for a forest trek is an otherworldly experience in which you'll see animals like sloths, multi-coloured bugs, vines so thick you can swing from them like Tarzan, and trees as strong as steel. (for real!)  If you're lucky, from up on deck you may even spot a pink dolphin, (also known as the Boto dolphin) which can only be found in the Amazon river basin. The mighty Amazon in all it's splendor is most definitely a bucket-list-worthy destination!
Photo credit: Heather Thorkelson
Heather Thorkelson has been an adventurer for as long as
anyone can remember, having visited 18 countries by the time she was 18,
lived in 5 different ones by the time she was 23, and had reached all
seven continents by 32. She is an avid outdoors-person, devoted mom to a
Portuguese water dog, and lives with her partner Sean in Toronto when
they are not out traipsing the far reaches of the globe. By day, she's a
life coach who works with people to create the life they dream of, and she moonlights as Antarctica Travels' Social Media Ninja. She can be reached at heather @ antarcticatravels.com