Bar Harbor and Acadia on a Dime
The great thing about taking quick trips is that you can't see everything. Therefore, you have to go back, and go back you will. But you still can collect enough mental images to last a lifetime, even in twenty-four hours. (And, as it turns out, even in a classic Maine pea-soup fog.) So it was with my twenty-four hour adventure in Bar Harbor and Acadia National Park, both on Mount Desert Island Maine.
Bar Harbor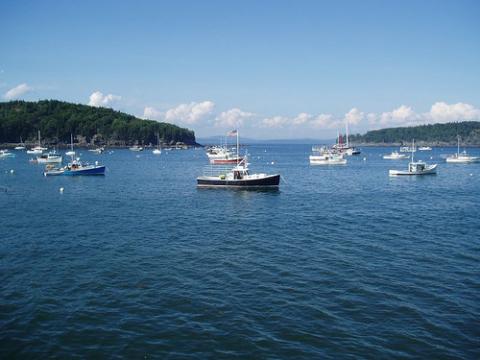 Wherever you start from, find your way to Rt. 1. From the Piscataqua River Bridge at the New Hampshire boarder to Calais at the Canadian border, Rt. 1 is the quintessential Maine driving experience, with all the scenic beauty and traffic nightmares you can handle. (E.B. White's timeless 1955 essay "Home-Coming" will give you a good idea of the drive. I think of it every time I'm on any stretch of Rt. 1.)  We caught up with Rt. 1 North in Freeport, and meandered up the coast through Wiscasset, Waldoboro, Rockland, Camden, Belfast, Bucksport and Ellsworth, before taking Rt. 3 South on to Mount Desert Island.
If you weren't paying attention, you'd hardly know you left the mainland at Trenton. But Mount Desert Island  (pronounced Mount Dessert Island, but often shortened to MDI by the locals), is absolutely a world apart. On what other island can you find four lakes, twenty-six mountains and a fjord, let alone one of the great national parks in the country? (The answer is none, by the way.) It's an utterly unique landscape. And then there is Bar Harbor.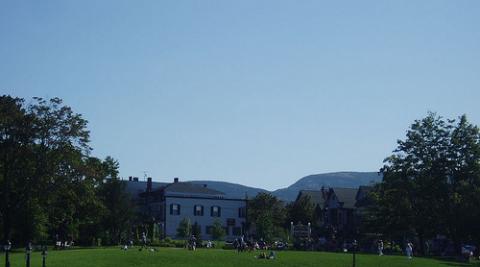 Located on the northeast flank of MDI, Bar Harbor fronts Frenchman Bay, not the open Atlantic. But make no mistake: Bar Harbor is absolutely a sea-faring town. To experience the essence of Down East Maine, take a stroll along Main St. from the Village Green to Agamont Park. Barstool diners,  very upscale restaurants, wine and chocolate shops, home-made ceramic shops, home-made ice cream parlors, home-made Christmas ornament emporiums, a Rexall with a soda fountain, souvenir shops and stately sidewalk clocks line the street as it slopes down to the bay. Grab a table at Geddy's for lunch and order up some Beer Buddies. The real seafood feast will come later.
After lunch take a bench at Agamont Park for a breathtaking view of Frenchman Bay and the Porcupine Islands.
Bar Harbor is a fascinating meld of work and play, as the range of vessels on the water will attest. Sit for five minutes and you will observe humble lobster boats, commercial fishing boats, speed boats and yachts, along with the four-masted schooner  Margaret Todd.  It's the greatest open-air boat show going.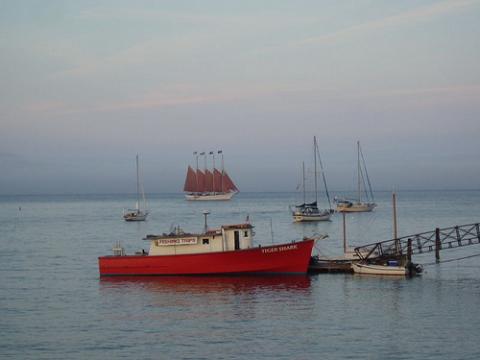 Watching all that nautical traffic will make you hungry! Bring your appetite to the Town Pier and the Fish House Grill. Go early for a table on the deck – you may see dinner being hauled off the pier. The fish is fresh, the raw bar is lovely and the portions are generous. And what a view! It will be a dinner you'll look back on warmly when the snow flies.
Buy a nice bottle of wine and settle in for the night. Being on a budget, we selected the Villager Motel. It's a family-run facility: clean, comfortable and steps away from Main St. for a ten minute walk to the water. Sleep well.
Acadia National Park
Celebrate the Maine Blueberry with breakfast at Jordan's. (80 Cottage St., 207-288-3586) Blueberry pancakes, blueberry muffins, blueberry syrup…you get the idea. They also have a decent gift shop, where you can buy, yes, blueberry-centric fare.
Time for the Main Event: Acadia National Park. This was my first visit, and I barely saw anything in the dense fog that greeted the morning. But I will remember this trip the rest of my life. It really is that stunning.
Acadia National Park was established by President Woodrow Wilson as Lafayette National Park in 1919, making it the first national park east of the Mississippi River. (The name changed to Acadia ten years later.) The park was born out of conservation, though not necessarily altruistic conservation. The Rockefellers, Astors, Carnegies and Vanderbilts, all summer residents, wanted their estates for themselves untouched. But they did protect their land, and two more public-minded Bostonians, Harvard President Charles W. Eliot and textile magnate George B. Dorr, worked tirelessly to buy and preserve Mount Desert Island land for public use. Hence Acadia.
There is no possible way to see all of Acadia in one day, or one weekend. If you only have one morning, take the Park Loop Road. Once you get on, you will know that you will return, over and over. Of many possible entrances, we ended up at the Sieur de Monts entrance. The fee is $20 for a one-week pass, perfect if you can get back up for a visit or two within the next seven days.  Most of the Park Loop Road is two-lane one-way traffic, allowing motorists to park in the right lane and pass in the left, although there are also many convenient parking lots along the way.
Pull over at Overlook. In clear weather (supposedly!) the view of the Schoodic Peninsula is stunning. Even in the fog, it's breathtaking.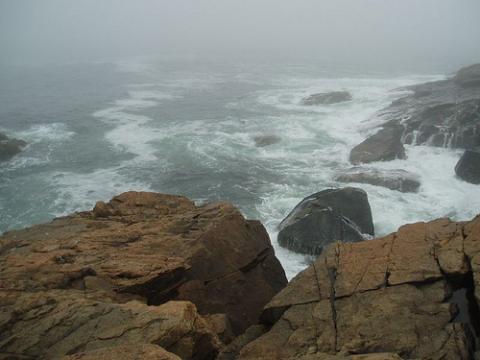 And you will be sitting on Cadillac Granite, a color I have never seen before or since.
Keep going to Thunder Hole. This is a natural inlet with a small cavern just below the surface. When the waves kick up, they dip in the cavern, allowing air to enter. When surging back, wave and compressed air collide, and the name of the spot becomes all too apropos. An amazing experience.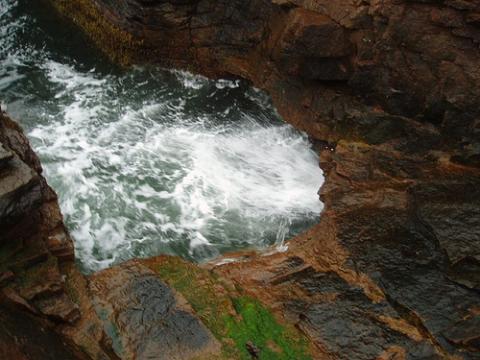 If it's clear, take the auto road to the summit of Cadillac Mountain. At 1,532 feet, it's the highest point on the eastern seaboard, and it receives the first rays of dawn at certain times of year. If it's foggy, well, forget it and know you'll be back.
Cap your trip off with a visit to the Atlantic Brewing Company. This local brewery is famous for its Bar Harbor Blueberry Ale and Coal Porter, and daily tastings are available. (The kids will love their Blueberry Soda and Root Beer.) After the tasting, pair a brew with some righteous BBQ: there is an indoor/outdoor brewpub on sight. Just follow the smoke and let your belt out a notch or two.
I read somewhere once, the source long forgotten to time, about how we Mainers live pursuing the myth of the "repeatable moment"; that we continue to visit the same spots and eat the same meals in the hopes of recreating the first and most memorable times we did so. I think there's a lot of truth to this. But I also think we revisit our favorite spots just because we want to see more the second time around and have it be different. Maybe even better. My first look at Bar Harbor and Acadia will always stay with me, but they were the tease that makes me want to come back and see the rest. Different sunsets at different angles over the bay. Dinner at The Quarter Deck rather than The Fish House. Autumn color versus languid summer. Maybe the fog will lift next time…
Brian Westbye is the NorthEast Editor for Wandering Educators.

Comments (2)
Leave a comment