Foodie Finds: Best Food in Bangkok
Thailand is one of the best destinations in the world for foodies, known for its' fragrant and spicy cuisine with flavours of sweet, sour, salty, and hot found perfectly balanced in every dish. You'll find curries, stir-fries, noodles, and yummy deep fried goodies with chili, tamarind, palm sugar, and fish sauce in almost everything. Eating is the number one past-time for locals - the Thais know good food and they know where to get it. You'll never go hungry in Bangkok.
Here are my top five suggestions for eating out in Bangkok: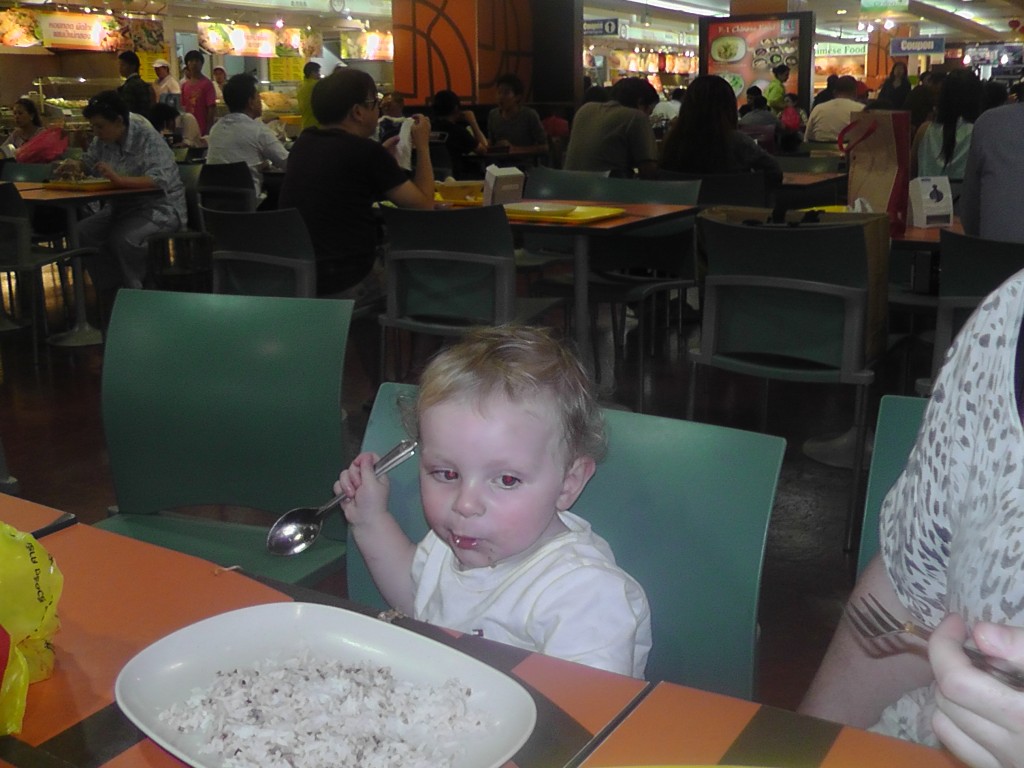 Lunch at MBK Food Court
MBK Food Court
Make this your first stop in Bangkok to get acclimated with the different foods on offer in Thailand. It's a safe and clean option if you're nervous about eating on the street. You get all the benefit of picking and choosing different choices under an air-conditioned roof.
Try the pork Tom Yum, the Pad Thai and the BBQ pork and duck. There's also a great vegetarian stand serving mock meats and brown rice. Most dishes are around the 30-60B (US$1-2) mark which is extremely affordable. Grab a few different dishes and work out what you like. There are desserts and fresh juices on offer too.
You'll find the food court on the sixth floor of the MBK Shopping Centre. You can get here by taxi or take the SkyTrain to National Stadium.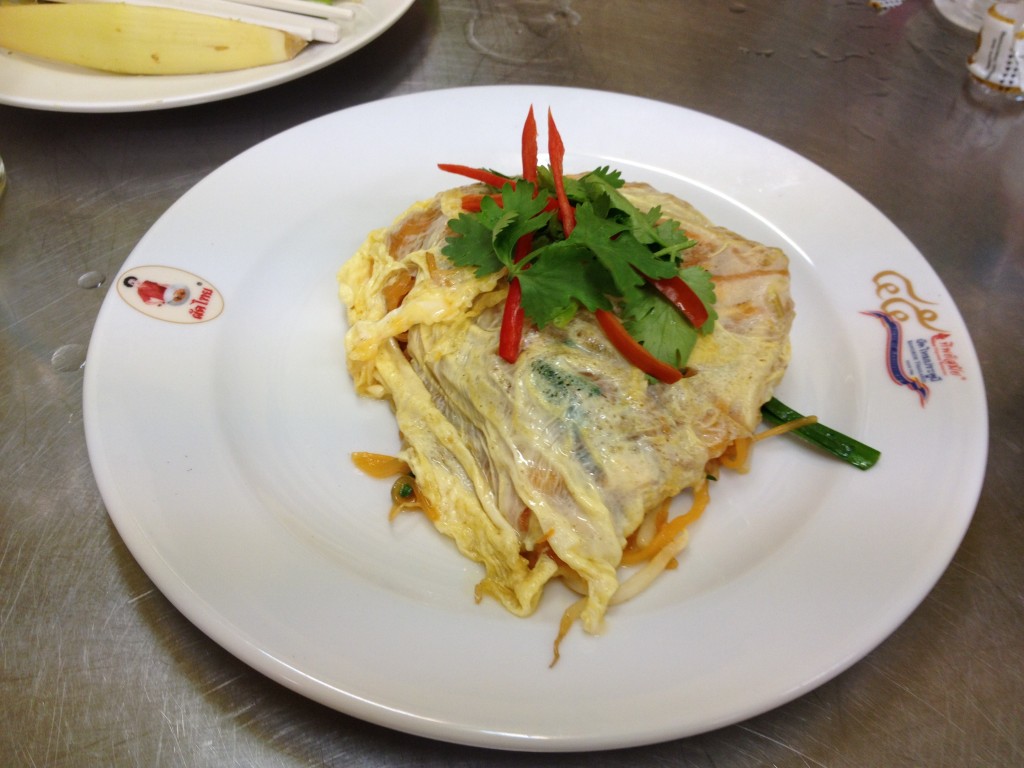 Pad Thai at Thip Samai
Thip Samai 
This little restaurant is renowned for its' Pad Thai. Don't be put off by the stainless steel tables and chairs. This is good food. Locals flock here and, since it was included in the latest Lonely Planet guide book, the odd tourist shows up too. The menu is small and is built to showcase Pad Thai in its varying forms.
Try the noodles delicately wrapped in an omelette. Be warned though - traditional Pad Thai comes full of tiny, crispy fried whole shrimp - eyes and all! If this isn't your cup of tea you'll need to do some explaining. One or two staff speak English but you're best to take a phrase book or have someone write "no little shrimp" down for you in Thai. There is a vegetarian option on offer. Prices are very reasonable, every dish is well under 100B ( US$3).
Thip Samai is close to the Khao San Road area, but not walking distance, so you could take a tuk tuk. From elsewhere you'll need to take a taxi. There's no sign in English but your tuk tuk or taxi driver should know where to drop you.
Mai Kaidee's
Mai Kaidee's is haven for vegetarians and vegans in Bangkok. Every item on the menu is vegan - filled with different types of soy and wheat proteins and loads of fresh herbs and vegetables. Everything is pretty spicy but staff speak English so you can communicate your desired level of heat.
The menu is extensive and there's a lot to try. I recommend the Tofu Tord to start followed by a Masaman Curry with brown rice and a Som Tam (green papaya salad). There are plenty of fruit shakes on the menu to wash your meal down. Prices aren't expensive, as with other local restaurants in Bangkok, dishes will cost you around 60 - 100B (US$2-3).
There are two locations in the Banglamphu area of Bangkok. Mai Kaidee's II is the nicer of the two in terms of atmosphere but the food is the same in both locations. Use the map on their website. They also offer cooking classes. maykaidee.com

Dinner at Roti Mataba, Bangkok
Roti Mataba
For something a bit different try out Southern Thai cuisine at Roti Mataba. The restaurant is TINY but there is seating upstairs. It's best to get there either early or late in order to get a seat. This place is popular. On offer are tiny bowls of different curries which are eaten mopped up with deliciously flaky roti breads.
Try the fantastic Masaman curry or the Chicken Mataba (stuffed roti). Get plenty of roti when you order. At least four or five per person. You won't be able to stop at one! You'll pay about 60B (US$2) for a curry and 10B (US$0.30) for a roti.
Roti Mataba is located on Phra Athit Road in Banglamphu, directly opposite the Phra Sumen Fort. It's walking distance from the Khao San Road area.
roti-mataba.net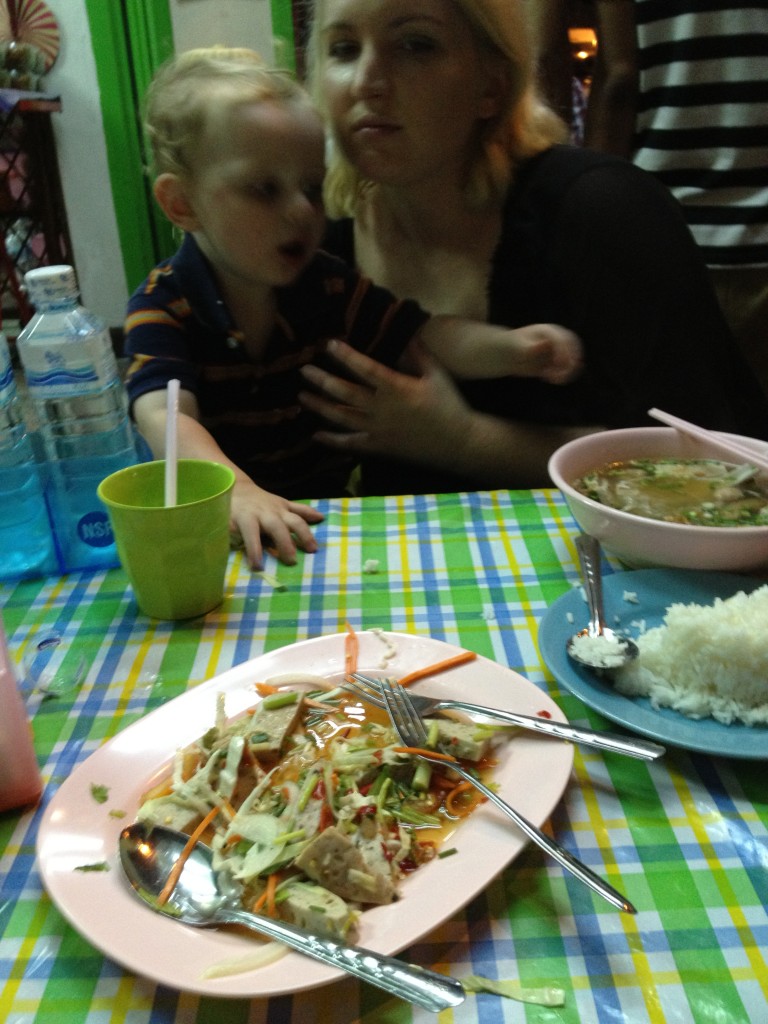 Eating Out at a Bangkok Street Restaurant
Bangkok Street Roti
On the Street
Anything, anywhere, anytime! You can find delicious eats on the street in Bangkok. Don't be afraid of eating from street vendors. Most are safe and hygienic. Look for stalls with a high turnover of customers. My favourite street foods are simple grilled meat sticks with spicy sauce, bowls of hot noodles with mysterious ingredients and, of course, Pad Thai. Best of all are the desserts! Banana roti pancakes covered in condensed milk or chocolate and mango & sticky rice.
About the Author
Bethaney Davies is one third of Flashpacker Family - a semi-nomadic, globetrotting family from Christchurch, New Zealand. They spend half the year at home and the rest out exploring and enjoying the world. Flashpacker Family has great tales from the road, tips on travelling on a budget & travelling with a toddler and information on living a location independent lifestyle.
All photos courtesy and copyright Bethaney Davies