Happy 98th Birthday, Arizona!
Today is Arizona's 98th birthday!
Arizona is a land of incredible beauty and diversity. From large desert areas to pine-covered hills and snow-capped mountain peaks. Not only is it home to the Grand Canyon,  is has over 20 other national parks and monuments. Everything from dormant volcanoes, to spectacular groves of giant saguaros, to ancient native American ruins, to a forest of petrified trees, and much, much more.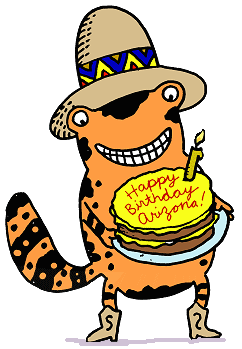 GilaBen.com was created by Mark A. Hicks, (my favorite) Illustrator, a native Arizonan, and is intended to be an entertaining source of useful information about the state of Arizona for teachers, students, and anyone else interested in learning more about the Grand Canyon State.
GilaBen.com has a lot of Arizona facts and coloring pages for students
in grades K - 4. The site is available in both English and Spanish and
is advertising-free.
L Forteau is the Special Children's Reporter for Wandering Educators