Photo of the Week August 16, 2010: Red Brick Road, Lijiang China
Red Brick Road, Lijiang China
I was up early in the morning to capture the sunrise over the rooftops in the town of Lijiang located in the Yunnan Province of China.  This old part of town had been 'refurbished' for tourists,  sporting canals, tourist shopping, and red lanterns.  However it did give a look into what villages in China could have looked like centuries ago.  By getting up early, I was able to capture the streets free of tourists and street performers and capture this sullen scene.  You can view other scenes from that early morning walk which allowed me see the 'real' town.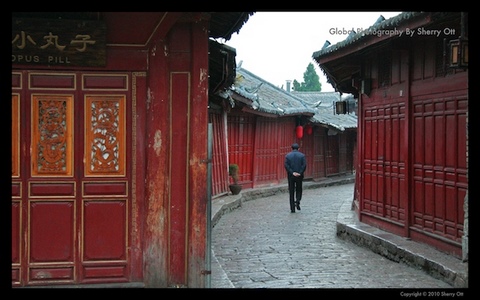 Sherry Ott is the Photography Editor for Wandering Educators.  She has been traveling the world for the last 3 ½ years with her camera as her main companion.  She brings us the Photo of the Week from her travels.  To view more of her photography, visit her portfolio of work at Global Photography by Sherry Ott.  Or if you'd like to read of her travel, expat, and ESL adventures, go to Ottsworld.
Photo courtesy and copyright Sherry Ott.