Photo of the Week August 30, 2010: The Flower Carpet - Brussels, Belgium
The Flower Carpet - Brussels, Belgium
This work of art only happens every two years in Belgium and I was lucky enough to be in the right place at the right time.  This Belgian tradition started in 1971 with the first Flower Carpet being laid in the famous Grand Place of Brussels.   Begonias are the star flower and they are packed together one by one, 300 to every square meter of the ground, (+/- 750.000 flowers) so tightly (no soil is used at all) that they won't be blown away by the first puff of wind, and they create their own microclimate.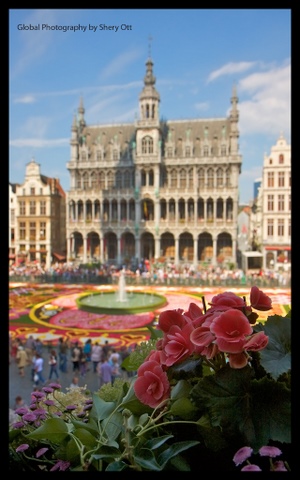 Sherry Ott is the Photography Editor for Wandering Educators.  She has been traveling the world for the last 3 ½ years with her camera as her main companion.  She brings us the Photo of the Week from her travels.  To view more of her photography, visit her portfolio of work at Global Photography by Sherry Ott.  Or if you'd like to read of her travel, expat, and ESL adventures, go to Ottsworld.
Photo courtesy and copyright Sherry Ott.