Photo of the Week May 3, 2010: An Eye on the Horses
An Eye on the Horses - Louisville, KY USA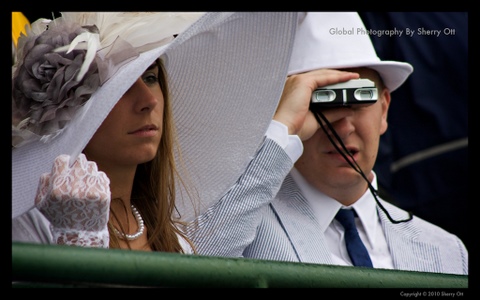 The 136th running of the Kentucky Derby took place on May 1st, 2010.  The most famous horse race in the world is not only about horses, but it is equally about culture and fashion.  The refined culture of the Derby is what makes it so unique.  Southern style in the form of big hats and seer-sucker suits were seen en masse.  This well-dressed couple looked out onto the Churchill Downs track while still looking good!
Sherry Ott is the Photography Editor for Wandering Educators. 
She has been traveling the world for the last 3 ½ years with her camera
as her main companion.  She brings us the Photo of the Week from her
travels. 

To view more of her photography, visit her portfolio of work at Global
Photography by Sherry Ott.  Or if you'd like to read of her travel,
expat, and ESL adventures, go to Ottsworld.