Postcard from Point Robinson Lighthouse
Imagine a peaceful, rural area just a stone's throw (or 3) from Seattle. That's the beauty of Vashon Island, and the connected Maury Island. Reached by ferry, Vashon Island is a gem. There's a movie theater, shops, and gorgeous winding roads, where you're immersed in the tall pines of the Pacific Northwest. At the far eastern end of Vashon Island, drive onto Maury Island.
You'll eventually arrive at Point Robinson, where there is a beautiful lighthouse. It's small, and often shrouded in fog (thus quite necessary). It's part of the Vashon Parks Department, as well as kept by the Keepers of Point Robinson group. There are two residences at the Keepers' Quarters that you can rent by the week.  In 2008, the 90-year old Fresnel lens was replaced by a plastic beacon. The lighthouse still works.
What can you see, at Point Robinson? An incredible view of West Seattle. A plethora of old logs, bleached by the sun and waves, and tossed high on the rock beach. And, of course, wildlife.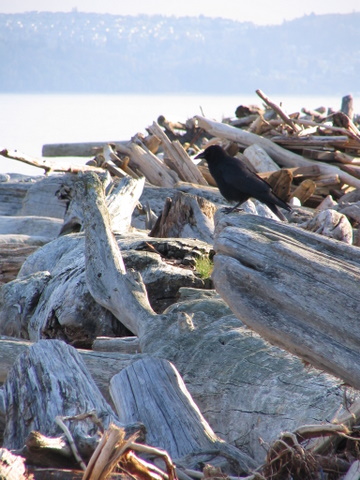 beach at Point Robinson, Washington