Things to do around Florence and Tuscany in the Fall
Things to do around Florence and Tuscany in the Fall
For anyone planning a trip to Tuscany this Fall, there are a lot of interesting events going on – some perhaps more geared to residents, so you can feel really cool discovering and attending something less touristy.
For further information and things to do in Tuscany, please see the official tourism site http://turismo.intoscana.it
September:
Florence: Mostra Felina – The international Cat show (Sept. 5-6 2009), Saschall (Lungarno Aldo Moro). A strange idea, but definitely not your average tourist thing to do. More info from Anfi.
San Quirico d'Orcia: Sept 12-13 is dedicated to motorcyclists! Organised for the fourth consecutive year by the San Quirico Motorcycle Club, two days dedicated to bikers from all over Italy, with music, food and stunt shows in the Via delle Scuole area.
Florence: In case you're into electronic music, the Nextech Festival is on Sept 17-19. I honestly cannot tell you much more than that.
Prato (Sept. 24-27) economics festival and associated music and exhibitions. The website is in Italian, but there will be talks by Nobel prize winners and others in English. Prato is historically an economic strongforce in Tuscany, known for its production of textiles to this day. There is an associated exhibit on the exchange of textile goods and fashion between Italy and the Tzars of Russia on in conjunction with this festival thru January 2010.
October: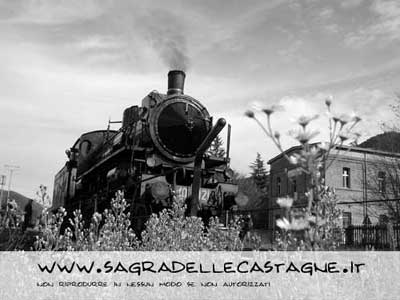 Marradi: The Sagra delle Castagne (chestnut festival) is a perennial favourite that lasts most of the month. Marradi is a small town in the mountain pass from Florence to Faenza on the road called, not surprisingly, the Faentina. There is a historic steam train (as well as the regular regional train) that takes you there through breathtaking scenery.
More chestnuts: If you like this idea, there is another chestnut-related activity that takes you by historic steam train to Casteldelpiano from Siena through the Crete Senesi, including the opportunity to pick your own kilo of chestnuts!
Florence: The Festival della Creatività (Oct 15-18) is a free event that welcomes "creativity" in any sense. It's a project of the Regione Toscana and organized by a related company, Fondazione Sistema Toscana, that wishes to promote creativity in Tuscany through contemporary art, economy, culture, and innovation. This year the theme is "The city of the future/ the future of the city". There will be conferences, booths, interactive activities, and the participation of important figures in the Italian and international art and science worlds. This is pretty much off the tourist radar, but there are aspects that will be of greater interest to visitors, like a section on food and wine books, childrens' activities, and a section called "Supernova" where there will be innovation of all types on display.
Siena: October 31st is not Halloween here, but it is Urban Hiking day. How's that for weird. There will be hiking around the streets of Siena on the theme of "The joy of trekking: tricks and treats walking in the city". For info see: www.terresiena.it.
November
San Giovanni d'Asso (SI): Annual sale and show of white truffles (Mostra Mercato del Tartufo Bianco) will be held Nov 7-8 and 14-15 in this small town that is famous for its truffles. There is a truffle museum here too - not to be missed!
Florence: 50 days of cinema in Florence (October 29-December 18 2009) is a huge international film festival. The full schedule will be up in the fall. Right now I can tell you that there will be sections of the festival dedicated to a range of tastes and interests. There's indian film, french, new italian, queer, contemporary artistic, documentary, women-oriented… you get the picture! With the usual film festival events like visiting movie stars, opening nights, parties, etc.
In December, look out for festivals exalting the new olive oil (raccolta olio nuovo).
Alexandra Korey is the Tuscany Editor for Wandering Educators. She is the publisher of http://www.arttrav.com, an art, travel, and Italian lifestyle magazine.
Comments (1)
Leave a comment