Traveling to Europe
There are many reasons to travel to Europe - each one of them is a gem, and to be cherished in their own right. Let's explore some of the joys of Europe.
History
Europe has such ancient history. Walk down any cobbled medieval lane, and note the very small passageways, the historic half-timbered houses, the pubs that have been around for hundreds of years.  I remember once in Strasbourg noting all these cookies in the window, in various shapes. I asked the baker and she noted that it was a tradition dating back hundreds of years.  Whether your passion is World War I battlefields or the crypt of Notre Dame, Celtic crosses or Viking history, the continent is your oyster, so to speak.  I was amazed at how short our own (U.S.) history was in comparison to Europe - just check the cemeteries to confirm.  Speaking of cemeteries, many European visitors are there to trace their family history - genealogy sites and societies about to help people find their roots in Europe. My father found a second cousin on his last trip to Germany. Oh, what a party!
Art
If you are interested in European classic art, there is no better place! Whether you are visiting churches, seeing the Sistine Chapel, or Michaelangelo's David in Italy; viewing the plethora of treasures at the Louvre; the Musee Rodin in Paris; the modern art in Berlin; or various art museums in almost every town, you're in luck. For a small entrance fee, you can while away the day looking at both ancient and modern works of art. Who could ask for anything more?
Natural Beauty
From the Highlands of Scotland to the beautiful Mediterranean beaches, Europe is full of gorgeous natural beauty - rivers, mountains, oceans, seas, fjords, valleys...the list is endless. Whether a lavender field in Provence or a Loch in Scotland, the beauty of nature always astounds me.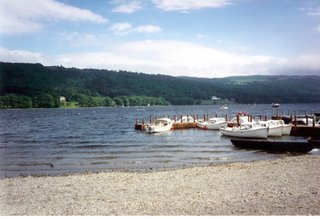 Loch Lomond
Music
Europe is a classical music lover's paradise. Beethoven, Brahms, Chopin, Mozart, Haydn - the list goes on and on. Add to it glorious music festivals (i.e., Savonlinna Opera Festival) or famous music venues (i.e., La Scala), and you've got a glorious reason to visit - combine the history of music and composers with current performances. Lovely.
Food
German bread, French cheeses, Italian wine, Spanish olive oil...the list goes on and on. Remember that hard-to-find bistro in Paris, that served the working-class Parisian with a wonderfully simple yet filling meal? How about the farm table in Italy, where everything was grown there or in the village, and it was the best meal you've ever had? Rhubarb yogurt in Scotland, Czech beer, Greek olives, Mediterranean seafood, fresh berries from Latvia, Irish salmon, cloudberries from Finland, Italian gelato, Slovenian potica...the list goes on and on.
Artisans
Find Greek pottery, a small one-woman lacemaker kiosk, vineyards, cheeses, the list goes on and on. Head into the grocery store, and see what is different! Explore local cuisines with culinary artisans.   Support the local economy by purchasing directly from the artisan, and you'll be rewarded in many ways - the unique handcrafted good or product, learning of the process from the artisan, and supporting local commerce.  You'll also avoid the tourist traps.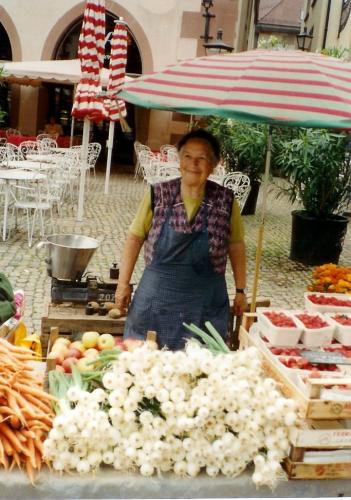 At a Market in Freiburg
Language
So many languages in Europe, so little time! My Latin teacher spoke 16 different languages. I am so embarrassed to only speak a few. Expand your horizons, and learn a new language before you travel to Europe. If you take a dictionary and try your hardest, your words will be rewarded with kindness, many times over. People just want to be understood, and you making that effort will ease any cross-cultural difficulties.
People
By taking the back roads in Europe, and visiting less-traveled places, you'll have many chances to make friends. While away the afternoon speaking to the owner of the cafe where you dined for lunch. You might find an incredible concert that night in the Marketplatz, or be allowed access to non-touristy places that have meaning to the locals.  You may end up with friends for life.
There are 45 countries in Europe. Most travelers from the U.S. typically visit France, Germany, Italy, and the UK.  However, each of the 45 countries in Europe are very unique and offer different cultural experiences.
In Europe, you can travel from country to country as we do here in the United States, from state to state.  You can travel via air, train, or car.  If you travel by air, you can get to places quickly and relatively inexpensively. If you choose to travel by rail, you can sit back and relax and observe the countryside, watching the rivers and fields go by.  Touring Europe by car is also a good way to go, in that you can visit places that aren't on major railways, exploring the back roads of Europe.
Once you step into Europe, a whole new world awaits you. Different cultural traditions, languages, foods, and customs are there to explore.  By increasing your intercultural knowledge, you open a door - to a new self, new knowledge, new friends, and new experiences.
Travel tips:
All European countries require a passport for travel. Some countries may require a visa, especially if you are staying for more than 30 days. Before you leave, please check the Embassy or Consulate of the countries you will be visiting to be sure.  24 European countries have signed the Schengen Agreement, which makes travel between their borders a bit easier.  If you have a Schengen visa, you may travel within those countries on just that one visa. 
The Schengen Agreement countries are: Austria, Belgium, the Czech Republic, Denmark, Estonia, Finland, France, Hungary, Germany, Greece, Holland, Iceland, Italy, Latvia, Lithuania, Luxembourg, Malta, Norway, Poland, Portugal, Slovakia, Slovenia, Spain, and Sweden. 
As with any global travel, if you encounter any problems or lose your passport, please contact your country's embassy.