Book Review: Haunted Highways
Haunted Highways - Spooky Stories, Strange Happenings, and Supernatural Sightings
Retold by Tom Ogden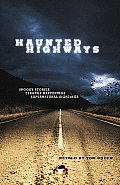 Have you ever wondered what it was like to travel down a narrow dark highway late at night? Well, in Haunted Highways, retold by Tom Ogden, you can see what it is like to feel scared when you see hitchhikers disappear into thin air in your back seat, or what it is like to see the ghost train with Lincoln's casket on board.
My personal favorite tale is the Ghost train, because the character named Jim describes it as a sad, silent sight - and that reminds me of the time I went camping at Yogi Bear Campground when I was younger. In the safety of cabin, I could hear the train chugging by slowly like it carried a beloved person. Each time I heard a train coming, I would look out the window to see if it was the ghost train.
I have always wondered what it was like to run into a soul that you believe is in trouble so you try to help them solve their problems, even though they are dead. Reading these tales, I determined that I would not like to meet a spirit because they cause someone pain. Even if you give a ghost a ride home, they mysteriously disappear - making you work up the courage to go ring the door bell so you can figure out where the person went. When the person comes to the door and you explain what happened, you get the door slammed in your face because the person's loved one has died...causing them believe you are playing a joke on them.
However not all spirits cause people pain, like in Telly's Phantom, a nice ghost name Henry helped a guy named Savalas get home after his car ran out of gas.

Therefore, from reading this book I learned that spirits are a lot like people who have beating hearts, because they are all different.
I would recommend this book to anyone who has a desire to see ghosts, trains, and souls that are not real, just spiritual.   
Contents include:
• The phantom nun who, for more than a year, ominously predicted the imminent eruption of Mount St. Helens
• Hawaii's Night Marcher warriors and the fire goddess Madame  Pele, who is still on the prowl for companions . . .
• The spectral horse-drawn funeral carriage of a South Carolina coastal resort
• The actor Telly Savalas's encounter with a long-dead good Samaritan on a rural Long Island road
• The Ghost Riders in the Sky who appear over the plains of Texas
ISBN 10:     0-7627-4937-7
ISBN 13:     978-0-7627-4937-9
Publisher:     Globe Pequot