Hawaii's 4th Annual Big Island "Talk Story" Film Festival, May 14-17
CELEBRITIES JOHN SAXON AND RON OSBORN HONORED IN PERSON
During Big Island Film Festival May 14-17
WAIKOLOA, HAWAI'I—The Fourth Annual Big Island "Talk Story" Film Festival celebrates independent narrative films in a number of ways:  with no less than 48 film screenings, panel discussions, social gatherings, Hawaiian music concert, and an intensive "Screenplay in a Day" class with Hollywood insiders.  Highlights also include Receptions and Salutes to honor celebrated actor John Saxon and filmmaker Ron Osborn, who appear in person at Queens' MarketPlace, Waikoloa Beach Resort, Friday and Saturday, May 15 and 16.
"Everybody loves the movies," says Executive Director/Founder Leo Sears.  "But one thing that makes our 'Talk Story' Film Festival so unique is the opportunity to rub shoulders with folks like John and Ron, who make movies happen.  When you meet a recognized actor and filmmaker in a social setting, I think it brings the dream a little bit more in reach for people. And it gives us a chance to share our beautiful Island with them, as they share their knowledge and experience with us."
John Saxon started acting in Manhattan during high school and played his first credited film role in Universal Studios' 1956 movie, An Unguarded Moment.  He has appeared opposite Marlon Brando in The Appaloosa, which he considers the most satisfying of all the movies he has worked on, and co-starred with Bruce Lee in Enter the Dragon.  His career portfolio lists hundreds of roles, including popular television series such as The Bold Ones, Gunsmoke, Falcon Crest, Dynasty, Melrose Place and C.S.I.  Saxon's film credits include Nightmare on Elm Street (1, 3 and 7), Fast Company, Battle Beyond the Stars, Beverly Hills Cop 3, the original The Unforgiven, and more recently God's Ear, Mercy Man, and War Wolves.  BIFF won't be his first visit to Hawaii, as he's also starred in both Magnum P.I. and Hawaii 5-0.
Meet John Saxon at a Reception and Salute in his honor, Friday, May 15, 4:30-6:30 p.m., at Sansei Seafood Restaurant & Sushi Bar in Queens' MarketPlace, sponsored by Sansei and Kenwood Winery. For reservations, call 883-0394.

Ron Osborn is an accomplished writer/producer with partner Jeff Reno, nominated for 4 Emmy's for work on three seasons of Moonlighting, as well as a Humanitas Award and a Writers Guild Award.  Osborn has written for TV series such as She Spies, The West Wing, Night Court and the 1980's hit Mork & Mindy, and has done numerous feature rewrites, including The Flintstones, and feature originals such as Meet Joe Black starring Brad Pitt.  His favorite job in 27 years of writing was as co-creator, head writer and executive producer on 70 episodes of the animated show Duckman, starring Jason Alexander, which was nominated for 2 Emmys and 3 Cable Ace awards.  
Meet Ron Osborn at a Reception and Salute in his honor, Saturday, May 16, 4:30-6:30 p.m. at The Studio, Queens' Marketplace, sponsored by Romano's Macaroni Grill and Kenwood Winery.  For reservations, call 883-0394.
"When times are tough, economically, you need entertainment," says Sears, "We want to help take people's mind off their troubles for a while and let them experience what it's like to be a filmmaker, right here on the Big Island.  We have a wide range of a la carte prices and a lot to offer, really something for everyone."
The 2009 Big Island "Talk Story" Film Festival is a four-day celebration of independent narrative filmmaking. Sponsors include Hawaii Tourism Authority, Hawaii County Product Enrichment Program, Waikoloa Beach Resort, Queens' MarketPlace, Hilton Waikoloa Village, Waikoloa Beach Marriott Resort & Spa, Sansei Seafood Restaurant & Sushi Bar, Romano's Macaroni Grill, Kenwood Vineyard, Audio Visual Services Hawaii, KWXX, This Week Big Island, North Hawaii News, West Hawaii Today, Hawaii County Film Office, Hawaii 50th Statehood Anniversary Commission and many others.
For the complete schedule and ticket information, visit www.BigIslandFilmFestival.com or call 808-883-0394.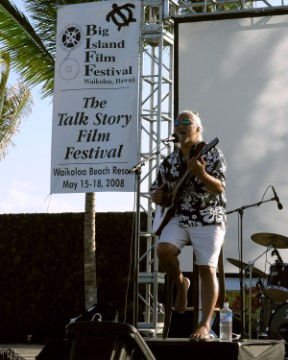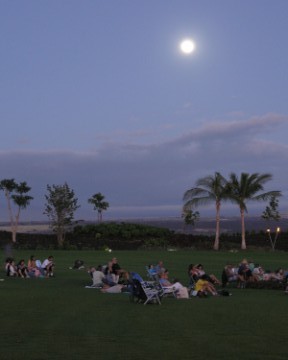 Photos copyright and courtesy of Anthony Valadon.
We've done several features on the Big Island Film Festival - including an 
interview with founder Leo Sears,  a 2008 post-festival update, and information on the 'Screenplay in a Day' in the 2009 festival.