Foodie Finds: 5 Great Places to Eat in Glasgow, Scotland
In five minutes in Glasgow city center, you will very likely hear five different languages spoken, and English with accents from five different regions of Scotland as well. The food is as varied, and while there are many top end restaurants that'll repay your exploration, you can also enjoy tasty food on a budget, within walking distance of city center.
5 Great Places to eat in Glasgow, Scotland: Kublai Khan. Photo: Kublai Khan
Khublai Khan
16 Candleriggs
Glasgow G1 1
+44 141 552 5646
Khublai Khan is actually one of those high end restaurants. It's worth it: Mongolian barbecue prepared to your taste from ingredients you select individually, presented by a kind and caring staff who are happy to help you choose among offerings which range from chicken to springbok to swordfish. Thing is, though, they often have mid day specials, where, with a slightly streamlined experience -- you choose a protein and select from about twenty sauce combinations, they choose the vegetables -- you may enjoy the same great food and atmosphere for prices ranging from five to about seven pounds. Dinner menu selections begin at about twenty pounds and go on up. Candleriggs is a street in the Merchant City area which is filled with top end restaurants of great quality, and it's also the home to the music venues City Halls and the Old Fruitmarket. Those other restaurants sometimes have budget friendly starters or specials, too, so if you see a place that catches your fancy, it's worth asking -- and if you're looking for fine food where budget is no object, behind the sometimes unassuming exteriors along Candleriggs you'll find several of the best chefs and restaurant staffs in Glasgow.
Blue Lagoon
branches in Argyle Street, West Nile Street,
Sauchiehall Street, and other locations
Fish and chips is the specialty at Blue Lagoon. You may order them together or separately, with fish selections usually including haddock, pollock, cod, and other sorts. Battered and fried, as you might expect; the chips are thick cut and very tasty. You'll be offered salt and vinegar over them if you'd like. Beef selections are also available, as is haggis, just in case you'd like to give that Scottish native dish a go. Most shops have squeaky clean blue and white tile decor, with a few stools at a counter and maybe a small table or two: Blue Lagoon is really meant for take out, and the prices reflect that, with most items under four pounds. I've always had great food at Blue Lagoon, but others say that late at night (most branches stay open well past midnight) there might be the occasional bit of food that's a bit tired. One way to avoid that is to go for their midday specials, which often offer fish combos for less than three pounds and knock twenty to fifty pence off the prices of items bought individually.
Pret a Manger
34 Sauchiehall Street
Glasgow, G2 3AH
No frying going on at Pret. Fresh ingredients rule the day, in sandwiches, soups, salads, and desserts. Fresh fruit, bottled drinks, tea and coffee are also on offer. There are many vegetarian and heart healthy selections, and while it's a bit less costly to get food to take away, if you like hustle and bustle, this location just down the street from the Royal Glasgow Concert Hall and in the midst of the city's busiest shopping area is a place to sit and enjoy that. Expect lines most times of day, but they move quickly, and a a large part of the sandwich and dessert selection is self service, which speeds things along.
Di Maggio's - Theatreland
163 West Nile Street
Glasgow G1 3RL
Just up the the street from Pret a Manger, in a less hurried location a block behind the Royal Concert Hall, is a branch of the UK chain Di Maggio's. Pizza is the specialty here, and you might also enjoy the selection of Scottish salmon preparations. Pasta dishes and desserts are on offer too. Prices are family friendly and you'll often find kids running about the light, airy dining room, but the relaxed staff has it all in hand. Fresh ingredients, generous portions, and welcoming servers make this branch of Di Maggio's worth your time. There's another nice one in RoyalExchange Square not far away off Buchanan Street, which also offers outdoor seating.
Cafe Source
St. Andrews Parish Church
1 St. Andrews Square, Townhead
Glasgow, G1 5PP, UK
+44 141 548 6020
www.standrewsinthesquare.com
http://www.journeytoscotland.com/glasgow-foodie-finds-cafe-source
Cafe Source is both a site for live music and underneath one. It's on the basement level of St. Andrew's in Square, an eighteenth century church whose nave has been restored into an acoustically and physically gorgeous venue for acoustic music. There are less formal performances in the cafe one of two nights a week, and concerts by well known artists in the main performance space upstairs. But about the food: it's traditional Scottish fare sourced where possible from local produce. You might choose rumbledethumps, which is a cabbage, onion, and potato dish, or perhaps haggis, which you may have in a vegetarian version if you prefer it to the tradtional meat dish. There's a a vegetarian shepherd's pie as well as a meat filled one also, and other tasty selections, tea and coffee service, and a bar. Saint Andrew's in the Square is in the Saltmarket area , about a half hour walk from city center. You can get within a couple of blocks of it by bus if you prefer. You'll want to keep an eye out late in the evening, however, and stick to the main streets. On foot, you'll pass by the Tron, another fine music and live theater venue, and the Tollbooth Steeple, a quite unmissable landmark and a good place to hop off the bus if that's how you're traveling.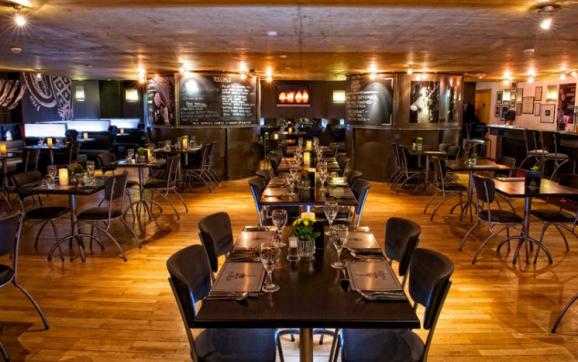 5 Great Places to eat in Glasgow, Scotland: Cafe Source. Photo Cafe Source
Concert Cafe
Royal Glasgow Concert Hall
2 Sauchiehall Street
Glasgow
The Concert Cafe is on the main floor of the Royal Concert Hall, with windows that look out over busy Sauchiehall Street and a menu that runs to sandwiches, Scotch broth, jacket potatoes with varied toppings, tea, coffee, and desserts . Food is fresh and inexpensive, and you order from the efficient staff at the counter and get to watch them put together your meal. Proceed on down the bar for tea or drinks and then carry your choices to one of the tables or couches around the room, and linger as long as you'd like. Around performance times it can be a madhouse, and at slower periods you may be one of only two or three people in the space. The staff handles both situations with smiling welcome.
Kerry Dexter is the Music Editor for Wandering Educators.
Kerry's credits include VH1, CMT, the folk music magazine Dirty Linen, Strings, and The Encyclopedia of Ireland and the Americas. She also writes about the arts and creative practice at http://www.musicroad.blogspot.com. You may reach her at music at wanderingeducators.com