The Definitive Guide to Moving to SouthEast Asia: Cambodia

It is with great pleasure that we share with you our latest book! Authored by Gabrielle Yetter, The Definitive Guide to Moving to Southeast Asia: Cambodia is not only a moving guide, but an essential travel guide to Cambodia. But I warn you - read just a few pages of Gabi's poetic writing, view a few of the dozens of colorful photos, and you'll soon be planning a visit to Cambodia. For her beautiful words, so descriptive of place and people, are also encouragement to explore the amazing country of Cambodia. From the wide array of delicious food to the excellent lists of things to see and do, from cultural etiquette to toilets to top tips, this guide is truly a window into the unique beauty that is Cambodia.
NOTE: For locations of Gabi's virtual book tour, scroll to the end of the article. You'll find more wisdom about Cambodia, all over the internet!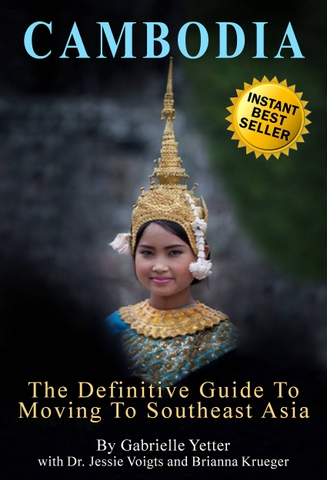 If you're planning on moving there, then this is your Must.Have.Guide, the one that tells everything - weather, languages, safety, money, visas, bringing your pet, transportation, internet access, housing, jobs available to foreigners, educational opportunities, expat social clubs, costs of every day items, medical care, living there with kids, and more.
The book is beautifully illustrated with a insightful photos, showing the variety of experiences that comes from being in Cambodia.
This is the first in a series of guides we're publishing on moving to Southeast Asia - and I have to say, I am thoroughly impressed with Gabi's meticulously researched book, her knowledge of the culture, extraordinary writing, and mastery of the issues that people moving to Cambodia face. Whatever someone may experience in traveling or relocating to Cambodia, she's been there (and writes about it, here). This book was an instant best-seller on Amazon - for good reason. The reviews are stellar (we'd love for you to leave us one, when you buy it!), Gabi has an active Facebook page to answer questions and build community around travel to Cambodia, and you're truly given a serious, thoughtful look into the culture and people of Cambodia. Such advice from an insider is pure gold.
One of the many faces at Angkor Wat
We caught up with Gabi, to give you the inside scoop on Moving to Cambodia. Here's what she had to say...
Please tell us about your new book, Moving to Cambodia...
My book is designed for anyone going to Cambodia -- whether it's for two weeks or two years -- as it will help them cut corners and make things easier to navigate. I have lived here almost three years and am naturally curious about everything around me, so I hit the ground running and plunged into finding out all I could about life and things to see and do in this country.
The book is based on my own personal experience of living here and deals with a wide variety of subjects such as how to find the best (and worst) places to live, how to be respectful of Khmer culture, where to find the best restaurants (and what to eat), what to do with kids (and where to school them), hot tips about lesser-known places to visit, what to bring with you (and what to leave behind), what things cost and how to be safe.
Sunset on the south coast of Cambodia
What is your background in Cambodia?
I moved to Cambodia with my husband, Skip, in 2010 when we were posted here by Volunteers In Asia to work with NGOs, and fell in love with the country.
During the past three years, I've spent time with a wide range of people -- from volunteer workers to corporate expats to Cambodian colleagues and tuktuk drivers. I've travelled to farflung provinces doing research for foreign donor documents and for a cookbook about traditional Cambodian desserts. I've been into the simple homes of poor farmers and visited fancy hotels for wine tastings. I've sampled snake and tarantulas in roadside food stands and dined on imported oysters and sushi in fancy restaurants. I've learned about the customs and traditional health regimen of village communities, and I've learned first-hand about expat medicine for stomach bugs and bouts of dengue fever (for my husband).
I'm not one to sit still so I dove into learning and doing everything I could. I joined online groups and attended local classes, interviewed local people and researched weekend getaways, edited an entertainment guide to Phnom Penh, and discovered sides of this country that most tourists never get to see.
Cambodian dessert
View from the top of Bokor Mountain, in Kampot
Why did you write this book?
I wrote this book so I could share my experiences with people who were visiting Cambodia for the first time -- and to expand the knowledge base of people who have already spent time here.
Over the past three years, I've received dozens of inquiries from people who found me online and I've helped them figure out how to travel around the country, how to settle here, and what to look for when they arrive. I wanted to make this knowledge available to a broader audience (and still respond individually to anyone who has specific questions, since one book can't possibly cover everything that everyone wants to know).
One of the tiny faces of Cambodia
What would readers be surprised to find in your book?
There are specific anecdotes about people who live here that best illustrate the way of life as it's impossible to describe it without seeing it. I talk about personal boundaries and how Cambodians express anger or discomfort, and I write about the way westerners are treated here, which came as a big surprise to us (postively, so).
What is the difference between your book and other books on Cambodia?
While there are many books out there that describe where to go and what to do in Cambodia, my book delves deeper into lifestyles, customs, and stories about the way things are done. Since I have worked as a volunteer and freelance writer for three years, my varied experiences have provided me with a kaleidoscope of insights into living in Cambodia that can only be found by someone who has lived, worked, and experienced life in this country.
Since things change constantly and there's something new happening all the time, I have a Facebook page that people can follow to keep updated with stuff happening in Cambodia, as well as share their experiences, submit their photos, and ask questions about the country.
Afternoon tea
Ready?
Visit Gabi's Facebook page and join in on the discussion
Purchase the book from Amazon: http://www.amazon.com/dp/B00BX5FWJU
Virtual Book Tour:
All photos courtesy and copyright Gabrielle Yetter
Cover photo courtesy and copyright John Rizzo
The Definitive Guide to Moving to SouthEast Asia: Cambodia
Comments (1)
Leave a comment