An Irish Getaway: Pier Cottage

I've got something very special today to share with our Wandering Educators. You'll remember that we're headed to Ireland and Scotland this fall for a month, and that we're sharing our travel resources as we learn and go! We've partnered with Homeaway Holiday Rentals for our accommodations. Homeaway Holiday Rentals offers the largest selection of rental properties: 210,000+, worldwide, and also the largest selection of traveller reviews, so people can read about past guests' experiences and book direct with more confidence. They have a huge number of properties in Ireland and Scotland specifically, namely 900+ in Ireland, 800+ in Scotland.
There were many reasons we wanted to rent a home instead of staying in a hotel, including more space, privacy, flexibility, the chance to eat in and out, all the benefits of a real 'home' - and also of course the chance to slow down, relax, go at your own pace and enjoy a different kind of experience.
So, we wanted to experience slow travel and living like locals. To that end, we found 2 fantastic properties (both by water, you know we're water people) in Southwest Ireland and Inverness, Scotland. Today I'd like to share where we'll be staying in Ireland, Pier Cottage.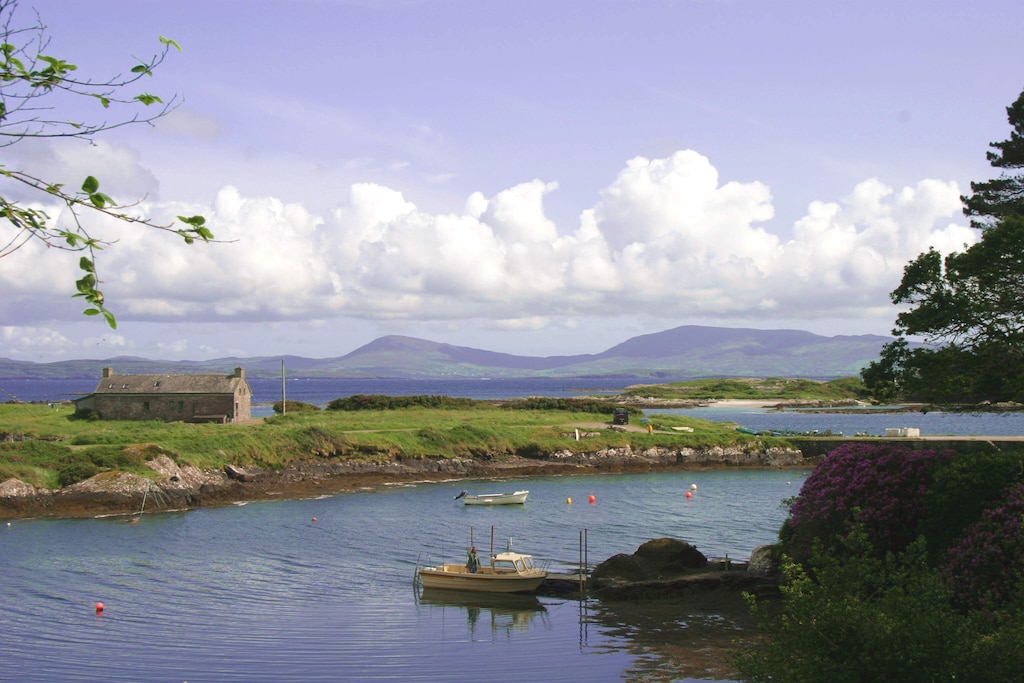 Pier Cottage
Pier Cottage first drew me in because of the location. When talking with Ireland experts, we decided we wanted to stay near Kenmare, in Southwest Ireland. The food, culture, and natural attractions just seemed like a great fit for our family. I spent HOURS on Homeaway Holiday Rental's site, dreaming of how and where we'd live in Ireland for a few weeks. Several things were critical for us, including internet connectivity (so we can keep you apprised of our adventures!), proximity to water, handicap accessible, and kid-friendly. I had several places on a list, but when I found Pier Cottage, I knew we'd found home. From the extreme closeness to the sea, to the warmth of the owner, Susannah Adlington, we KNEW. This is the place for us. Guest reviews only confirmed for me that Pier Cottage is a very special place. Pier cottage is one of four buildings on the property, ranging from the glorious manor, Westcove house, to the Stables, Garden Cottage, and of course Pier Cottage.
We were lucky enough to sit down and chat with Susannah about the property, local activities, history, markets, restaurants, and more. Here's what she had to say...
WE: Please tell us about the Cottage and Westcove House...
SA: Pier Cottage is the only remaining cottage of three or four that were originally built as coastguard cottages on this small peninsula - probably in the 17th century - possibly earlier.  Apparently a lot of smuggling took place in this secluded little cove...  I have sent 'Brief History of Westcove House' which will tell you more about the Pier itself and also about Westcove House, which my father bought in about 1960.  There are several books recently written by local historians which I will look into for you especially if I can locate any info on the internet - certainly during your stay you will meet many interesting local residents who will be delighted to 'fill you in'.
In brief, Westcove harbour provides shelter and year round access on a treacherous coast where many other local harbours face west rather than south, and as such are redundant for much of the year when strong westerly gales are common.  Before the mid-nineteenth century the only roads to reach this remote part of Kerry took tortuous routes over the mountain to avoid the bog near the coast, and the sea would have been the easiest way of reaching the property.  During the late seventeenth and eighteenth centuries smuggling to the continent was common amongst Irish land owners to avoid crippling taxes from the English, and it seems highly probable that Westcove would have been a perfect landing point for the widespread illicit trade in wool and alcohol.  For all these reasons it is likely that there was a house on this site for many centuries before the existing one was built.
Westcove was confirmed by Charles I as the property of the Siggerson family of Ballinskelligs, and restored to them again in 1697 after all property was confiscated by Cromwell in his brutal Irish campaigns.
Westcove House follows a typically eighteenth century plan, the main staircase dividing from a central hall to various wings and probably dates from around 1740.  John Cade Siggerson often did business with Daniel O'Connell, who wrote to him hoping that Cade was, "safe at home in his castle" -a figure of speech showing that Westcove was considered a handsome residence at the time. The property includes Westcove House, The Stables, Garden Cottage, and Pier Cottage.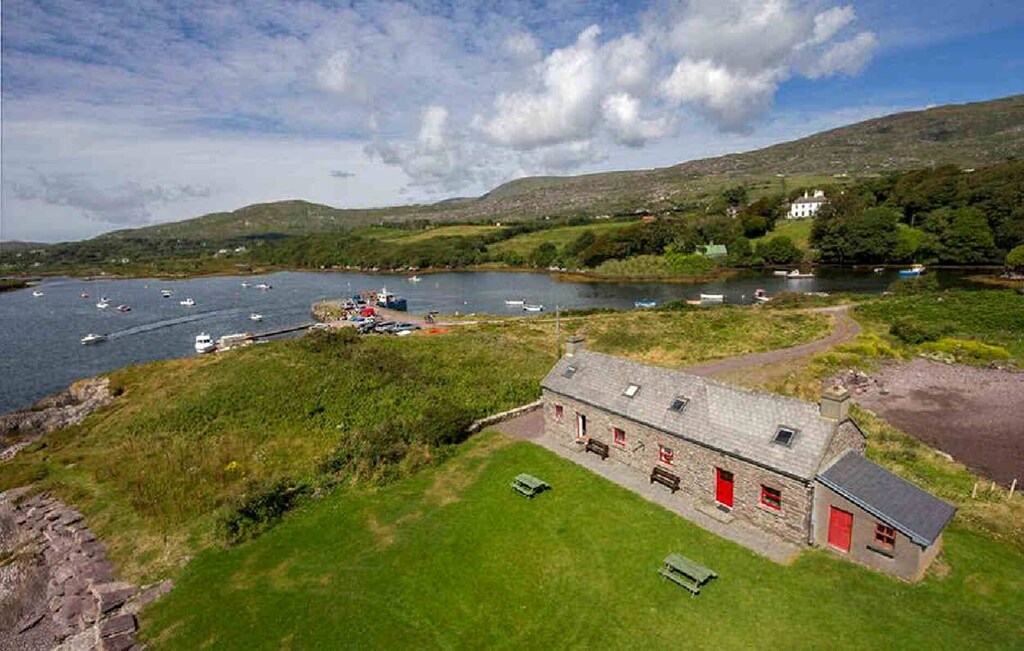 sea view of Pier Cottage, with Westcove House in the background
WE: What activities are available nearby?
SA: We are on VRBO but for all our visitors, I have a sheet on 'Outings and local walks' so you have it to hand! Highlights include Derrynane House (the house of Daniel O'Connell, the "liberator"); a wonderful beach at Derrynane where you can also have fun at Derrynane Watersports; Abbey Island; Eagle Rock Equestrian Centre; Staigue Fort; a Llama farm; the Kerry Way Walk; Sea fishing with John or Michael O'Shea; and fishing from the shore or salmon or trout fishing at Lough Currane.
WE: What is the history of the Cottage?
SA: The history info sheet will tell you why my parents bought the House, however Pier Cottage only came on to the market in 1990, so, as my father had sadly died in 1989, my elder son and I managed to persuade my mother to invest in it, mainly in order to make sure the cottage would be preserved and not converted unsympathetically for commercial purposes - i.e., we couldn't bear the thought of it turning into something like a caravan camp.  We first converted the West End as this had been partially modernised, although no-one had used it for years and a couple of years later an architect friend helped us plan the renovation of the East End - I will tell you more about this when I see you in September.  I think you will agree that the flexibility which resulted in the two ends being modernised as individual but inter-connecting cottages has worked out really well!  Another reason for buying Pier Cottage is the thought that should the family no longer be able to afford to keep Westcove House, The Stables, and Garden Cottage, at least Pier Cottage will always provide a sanctuary for us in this very special and unique location.....  I'm sure you will see what I mean when you visit.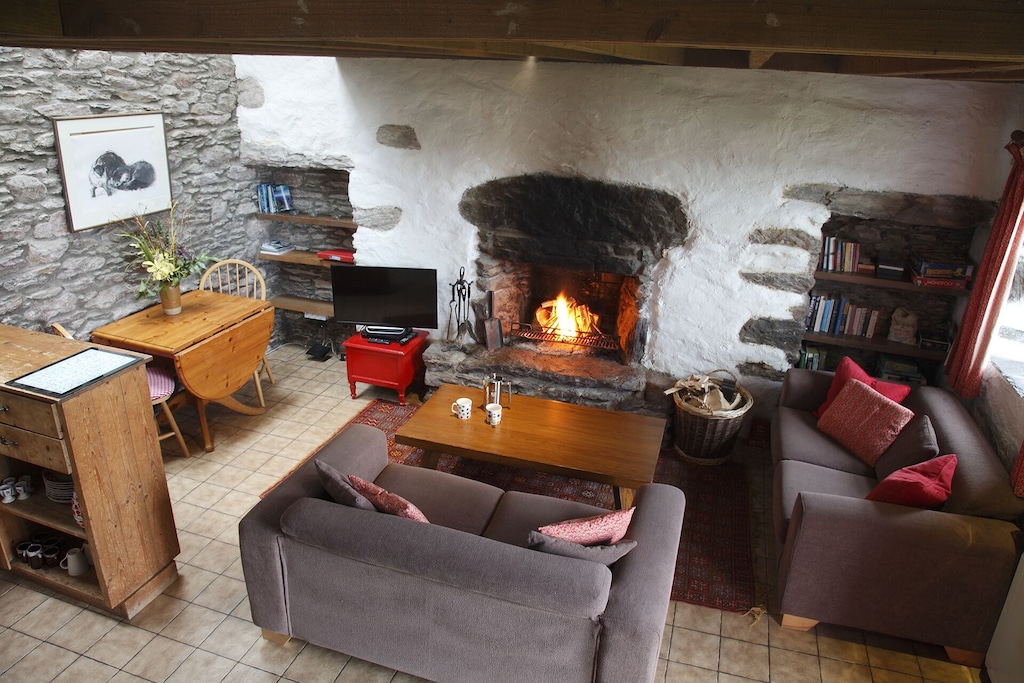 Pier Cottage - east end sitting room
WE: Are there markets nearby?
SA: There are grocery stores in all the local villages - the nearest one is one mile away at Castlecove although you have to drive about 20 minutes to Sneem or Waterville to find small 'supermarkets' but in Kenmare and Caherciveen (40 minutes drive) there are larger ones ....  For a huge Tesco you would have to go to Killarney - an hour away but this takes you over the McGillicuddy Reeks (the highest mountains in Ireland) and past the famous Lakes of Killarney, a really stunning and beautiful drive... children may need travel sickness pills as the roads have many hairpin bends!  As for markets, from May to October, most little towns and some villages have really good weekly markets - local produce, plants, crafts etc - in fact there is an excellent one in Caherdaniel, 3 miles away on Fridays.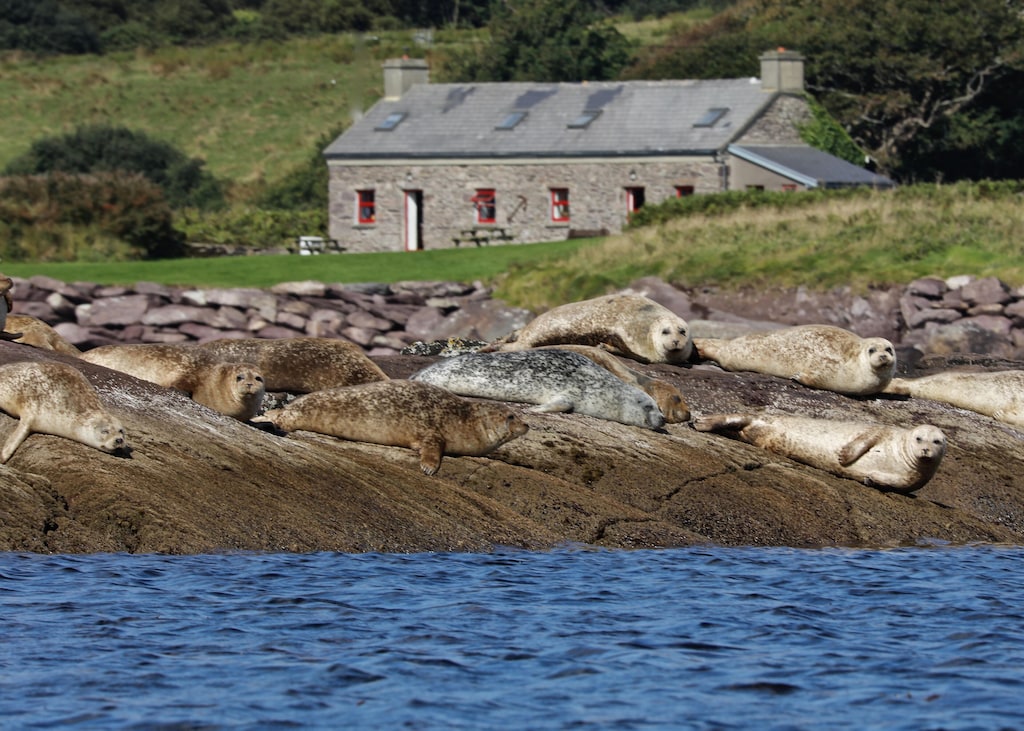 Seals on rocks near Pier Cottage
WE: What are your favorite local restaurants and/pubs?
SA: Every year, we compile a list of a selection of local pubs and restaurants, but we also encourage our guests to report on their experiences of eating places as they tend to change for better or worse and it is very hard to keep up with them all ....  We are lucky to have The Blind Piper only ten minutes away - excellent food and a friendly pub atmosphere.
WE: Is there anything else you'd like to share with us?
SA: There is so much more to tell you about this wonderful area but I wouldn't know where to start ......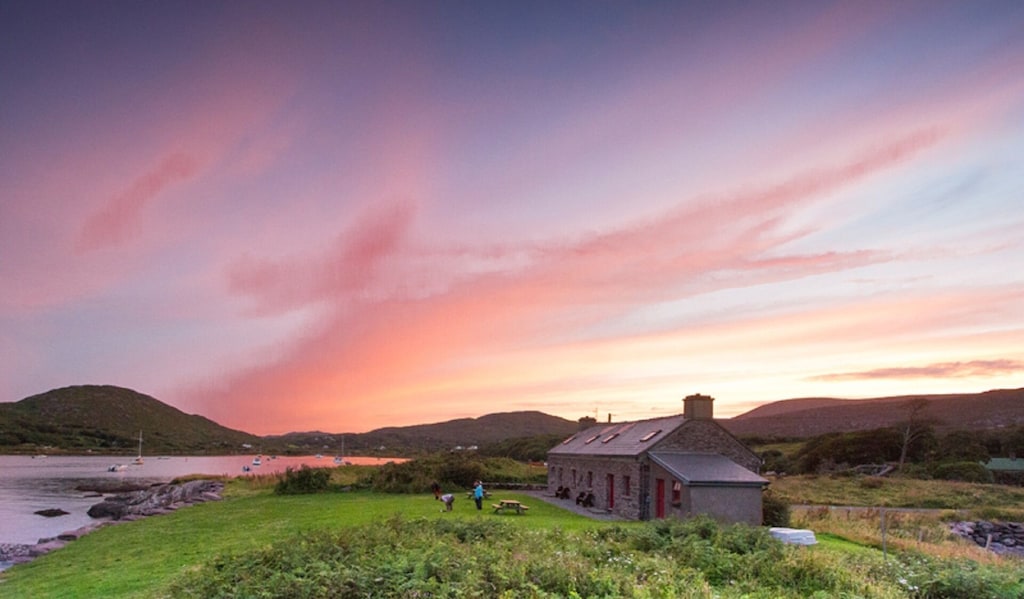 Late evening view from Westcove House
WE: Thanks so very much, Susannah. We can't WAIT to get to Pier Cottage and explore for ourselves. Wandering Educators, check back this fall when we'll share our experiences at Pier Cottage!
All photos courtesy and copyright Susannah Adlington, Westcove House