Sir David Attenborough's Journeys to the Other Side of the World: Further Adventures of a Young Naturalist

You might perhaps be familiar with Sir David Attenborough as creator and presenter of well-known and much-awarded television and radio programs including Life on Earth, Civilization, and Blue Planet. He's an elder statesman of sorts of broadcasting, a respected spokesperson for the natural world and about climate change.
What about his early days, though? You can learn about how things were for him back six decades ago in the book Journeys to the Other Side of the World: Further Adventures of a Young Naturalist, which is published by Two Roads Press.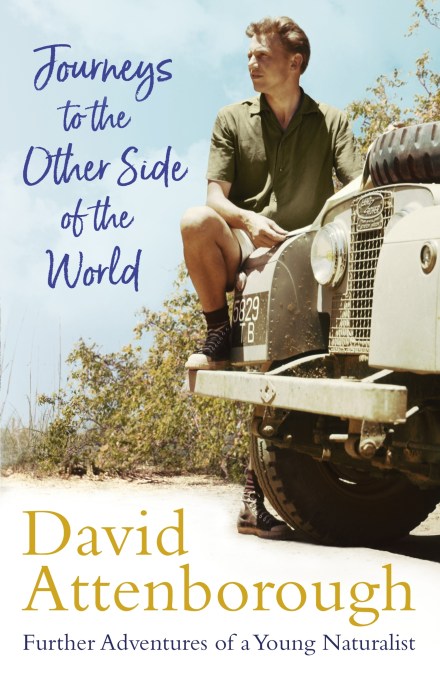 It's a compilation and reissue of three books Attenborough wrote early in the 1960s, with a newly written introduction by Sir David. In it, he points out that some things have changed in the sixty years since he took these journeys, including political situations, television filming processes and equipment, and some of the arts, cultural, and wildlife situations he explored. "Nonetheless I have left the accounts of these places and events essentially as I wrote them," he writes.
Both filming wildlife and at times catching examples of it to send back to the London Zoo were a focus of early journeys. As circumstances changed, increasing interest in filming and in learning about the culture and lives of people who lived in the then remote places Attenborough and his camera people visited became a focus, also.
That's reflected in the stories Attenborough tells. In New Guinea and in Madagascar, the focus was to do with wildlife. In Vanuatu, Tonga, and Fiji, life ways of the people came to the fore. In Northern Australia, both aspects hold a good bit of the storytelling
It is a strength of Attenborough's style that though he mostly follows the structure of this happened, then this happened, then we did this, which could become tedious in less skilled hands. However, he creates a path you'll want to follow. This works whether he's speaking of trying to photograph the elusive bird of paradise in New Guinea, or learning the how and why the land divers of Pentecost in what is now Vanuatu build their towers. I most enjoyed the stories of connection with the community where they stayed to witness an important ceremony in Tonga, and their experiences  discovering cave paintings in Northern Australia.
With 413 pages and many, many stories, you will find your own favorites.
Journeys to the Other Side of the World: Further Adventures of a Young Naturalist
by Sir David Attenborough
Two Roads Books
413 pages $26.99 usd
Kerry Dexter is Music Editor at Wandering Educators. You may reach Kerry at music at wanderingeducators dot com.
You may find more of Kerry's work in National Geographic Traveler, Strings, Perceptive Travel, Journey to Scotland, Irish Fireside, and other places, as well as at her own site, Music Road.