Hidden Treasures: The Gift of (Another's) Home
Part One of this story can be read here:  http://www.wanderingeducators.com/best/traveling/hidden-treasures-two-swiss-chinese-canyon.html
When I stepped off the ferry from Indonesia and passed through Singaporean immigration with such speed that I was left nearly dumbfounded—it took two minutes, max—I noticed that I was feeling rather giddy.  For the past 26 hours I had been traveling by bus and boat from Sumatra, which is why I was now muddy and smelling pretty ripe.  To emerge into the air-conditioned, efficient world of Singapore after such a crushing journey made the mind dizzy.  Imagine Tom Hank's scrawny, scraggly character in Castaway being rescued from the island and rushed directly to the Marriott in Houston.
Michael and Evelyn
Transportation in Singapore was not at all like hiking through a Chinese gorge
What I'm trying to say is, I had just been dumped into a five-star hotel of a country.  And it was nice—really, really nice.
I had been backpacking through Asia for six consecutive months.  Four months earlier while in southwestern China I had come to know Michael and Evelyn, two Swiss who were living in Singapore, while on a three-day hike through Tiger Leaping Gorge.  Now that I had reached Singapore I looked forward to staying two nights in their home.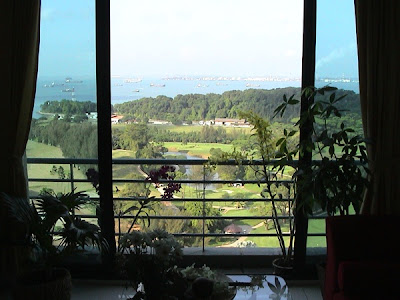 The view from Michael and Evelyn's home
The apartment complex's pool where I enjoyed an evening dip
Many people do not understand that extended travel is not the same as a long, leisurely holiday.  It's a heck of a lot of work sometimes, and the traveler requires occasional R&R to keep from falling apart.

And this is where Singapore came in.  Particularly Michael and Evelyn's apartment.
My hosts attending to their studies

Myself, attending to my relaxation (and catching up on the news)
I spent my first few days at a hostel in another part of the city, where I concentrated on my writing and photography.  For my final two days in the city I relocated to Michael and Evelyn's place and spent more time just relaxing.  This meant:  access to a laundry machine (a washer, I think they call it) where I ran my stained and putrid clothes through two cycles and witnessed a miracle as they came out clean; a view of one of the busiest waterways in the world (the Malacca Straits) from the living room window; the ability to leave my belongings strewn across my bed without worrying about someone stealing them; access to a clean fridge and kitchen.
My grungy clothes preparing for a needed wash
An ad for perfume, but the slogan also describes the cathartic effect of staying two days with friends
Mostly, though, staying in their apartment meant that I had access to the laughter, warmth, and encouragement of friends.  I had a place that felt a little like home, a place where I was invited to be at home, and to be with friends who knew what it was to need a break from the road.
In the Chinese gorge, we saw signs warning of the dangers of falling off the trail.  In Singapore, only signs of the dangers of objects falling on us.
Joel Carillet, chief editor of wanderingeducators.com, is a freelance writer and photographer based in Tennessee. He is the author of 30 Reasons to Travel: Photographs and Reflections from Southeast Asia. To learn more about him, visit www.joelcarillet.com.