The Empathy Advantage: Coaching Children to be Kind, Respectful, & Successful

"Nothing is more important than empathy for another human being's suffering. Nothing—not career, not wealth, not intelligence, certainly not status. We have to feel for one another if we're going to survive with dignity" - Audrey Hepburn
 
I have long believed in the power of empathy and the need for more of it in our classrooms and our boardrooms. 
I introduce myself as an empath and have a life philosophy to be a good human. As an educator, my classroom focused equally on character development and social emotional learning as it did on history, geography, and civics lessons. Infusing empathy in our next generation is paramount to conducting cross-cultural conversations and engaging in a civilized society. 
I recently read The Empathy Advantage by Lynne Azarchi, which focuses on empathy, its profound power and ability to enhance connection, benefit society, elevate individual relations, and in essence change the world.
I, too, believe in empathy's immense power.

 
Thankfully, today, social-emotional learning is vigorously discussed. Its characteristics, value, and impact are seen in summer camps, youth groups, meditation movements, and character development seminars. Today, we find ourselves less using phrases like 'soft skills' and more using those of 'people skills'. Today, research shows that those people skills like kindness, compassion, and empathy not only benefit the young, but allow for positive connection, conversation, and civil discourse in the young at heart. 
 
Azarchi capitalizes on her experiences at Kidsbridge to share tools, stories, lessons, and vision for empowering empathy across all spectrums. She focuses her chapters on the varied age groups and ways to infuse empathy in all aspects of our daily interactions. Filled with tips, engaging activities, and quiet conversations, The Empathy Advantage truly finds ways to help parents and the entire community of educators coach the next generation on the values, benefits, and life lessons of kindness, respect, compassion, and empathy. 
 
This book can benefit anyone seeking guidance on how to add more empathy-based activities, conversations, and actions into a home, school, youth group, or community environment. Discussing case studies, real-life examples, and actionable tenets and lessons, Azarchi helps to advise and coach both adults and children through difficult conversations and situations employing countless nuggets of wisdom about the powerful life lessons of empathy's example.
 
Encouraging more empathy in our world is a good thing. Engaging others to teach empathy is a good thing. Actively working on our empathy is a good thing. 
Together, with guidance from kindness gurus, we truly can add more heart into our relationships, add more compassion to our connections, and elevate our empathy muscles. Empathetic young people grow into empathetic adults. Those adults bring their people skills to all of those big decisions, policy conversations, and public forums.
Teaching kindness can quite literally change the world for the better.  
 
Recommended.
 
We were lucky enough to chat with Azarchi about her book, inspiration, and more. Here's what she had to say…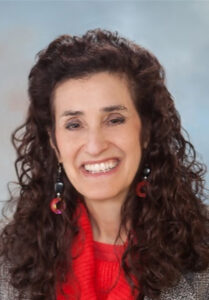 Please tell us what inspired you to write this book…
As Director of the Kidsbridge Youth Center, I have educated more than 30,000 students in New Jersey in bullying prevention, stereotype knowledge, religious diversity, diversity appreciation, anti-bias, anti-racism, and mindfulness. I took everything I learned about empathy and social-emotional skills through research and practice for more than 20 years and put it in this book. I don't think that adults value the benefits of empathy and other social-emotional skills for the next generation. My research-based book asks readers to both listen to the experts who regale empathy, and to appreciate empathy's unique value for our children.
How does this book fit into your life's work?
This IS my life's work. I want to help and coach parents, grandparents, teachers, college students, professors, and other adults to illuminate that empathy is critically important and the path forward to a more civil and respectful society.
How do you think teaching empathy can change the world for the better?
If we can inculcate life skills for youth—empathy for others and empathic action where children and teens value diversity and take action by shunning: the concept of "the Other," name-calling, bullying, and exclusion—then we are strengthening democracy while pushing back on bias, discrimination, and hate.
What are three major points about the necessity and teaching of empathy that you hope readers take away from your work?
Empathy is the most important social-emotional skill.
Empathy can be taught by adults—parents, caregivers and educators. It CAN be increased from what we are born with.
Self-empathy, empathy for others, and empathic action translates into enormous benefits: kindness, respect, and a more cohesive society. 
What's up next for you?
I am writing a book to coach adults—parents and educators—on how to teach their children and students to fight bias and discrimination more proactively. 
Where can readers find your work?
Books are sold on Amazon, Barnes and Noble, and independent bookstores, including bookshop.com. 
For more information on my background, press, blog, reviews, video shows (i.e., "Empathy in Action," where I interview adults making a difference in our community) and podcasts, please visit Lynneazarchi.com. 
For more information on my 20 years of work with students and educators, please visit Kidsbridgecenter.org 
Is there anything else you'd like to share with us?
To actually move society forward in the years and decades ahead, we must ensure that our children are more carefully and actively taught empathy, anti-bias, anti-racism, and empowerment to advocate, i.e., become Upstanders. To help youth understand bias, inequities, and discrimination, we need to paradigm shift to teach all of our children at younger ages and more consistently.
Let's ask ourselves: What do we want for our children and what are we going to do about it?
Stacey Ebert, our Educational Travels Editor, is a traveler at heart who met her Australian-born husband while on a trip in New Zealand. Stacey was an extracurricular advisor and taught history in a Long Island public high school for over fifteen years, enjoying both the formal and informal educational practices. After a one year 'round the world honeymoon, travel and its many gifts changed her perspective. She has since left the educational world to focus on writing and travel. She is energetic and enthusiastic about long term travel, finding what makes you happy and making the leap. In her spare time she is an event planner, yogi, dark chocolate lover, and spends as much time as possible with her toes in the sand.
Check out her website at thegiftoftravel.wordpress.com for more of her travel musings.