Travel Writers' Secrets: Top Toronto Travel Tips

Get ready and fasten your seatbelts! We're about to embark on an Epic Canadian Road Trip, driving from our home in Kalamazoo, Michigan all the way out to St. John's, Newfoundland (yes, a ferry will be involved). Why? Well, I'm the co-founder of Writing Walking Women, and we chose St. John's as the site of our conference this year – MUCH more on that to come! And, our daughter, Lillie (13), said that every teen should have an epic road trip. SO.
To that end, I've asked my travel writer friends for their top secrets in all of the major towns we're driving through (and visiting). I'm learning so much – and can't WAIT to visit all of these extraordinary Canadian places. Please check back, as I'll add more travel writers' secrets to each location's article – sharing the best of Toronto, Montreal, Quebec City, New Brunswick, Prince Edward Island, Nova Scotia to Cape Breton Island, and, of course, Newfoundland. 
For now, here's an insider's look into Toronto. It is a diverse city, a melting pot that boasts thousands of ethnic eateries, arts and culture, water, secrets, history, learning, the outdoors, hot summers and cold winters, ice cream and noodles, hockey and baseball. It's a city that thrives on culture – and our travel writer friends share their best tips on all of the above – and more.
If you want to splash out and have both a delicious dinner AND an iconic experience of Toronto at the same time. book a window seat at the restaurant atop the CN Tower starting about one hour before sunset. As the restaurant revolves, you can watch the sun set and the lights of the city come up, all the skyscrapers twinkling below you like jewels. 
View of the Toronto skyscrapers from the CN Tower. Photo: BreatheDreamGo
My photo tour of Toronto post has some ideas of family friendly places to go, including Chinatown, the St. Lawrence Market, the CN Tower, the Art Gallery of Ontario and renting bikes. 
The Distillery Segway tour was fun, and kids 12+ can go on it. There was a sake stop (not good for kids), but the Distillery District in general would be a good destination even without the Segway aspect.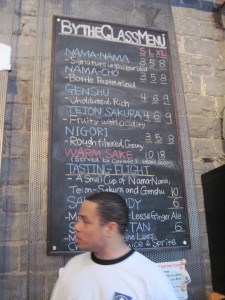 Photo Debbie Abrams Kaplan, Jersey Kids
(whom I asked about ethnic food, ethnic neighborhoods, and accessibility...)
For great ethnic food, try:
Sabai Sabai, great Thai food. Mengrai and Sukhothai are also delicious but do have stairs.
Little India on Queen does a buffet, and Banjara is good.
Love Golden Turtle on Ossington for giant cheap bowls of pho.
King Cafe is a great Asian veg place in Kensington Market, which is a must-visit area.
Coffee: Sam James for sure. They're to-go spots. Capital Espresso is my fave. Sense Appeal is good but also has stairs, though I'm not sure if you can get coffee while avoiding them.
Yonge-Dundas Square. Photo Wikimedia Commons: Pedro Szekely
Ethnic neighborhoods:
Keep in mind that these are in various stages of gentrification, but have at least some flavour of their origins. Some are not identified with a particular group but are still distinct neighbourhoods in one way or another.
Little India: You can find great Indian food all over Toronto (and especially in Scarborough) but this neighbourhood has that as well as markets full of authentic ingredients and shops selling Indian jewellery and clothing. (Gerrard St. around Coxwell)
Little Italy: A hot nighttime spot, in the day you can't go wrong with the gelato or espresso. The international magazine store on College between Bathurst and Crawford has a great selection. (Along College St. west of Bathurst)
Wikimedia Commons: Xavier Snelgrove
Little Portugal: Increasingly a hip spot, with record shops and bars, you can still find great chicken along this strip of Dundas West. Avoid at all costs during World Cup games, unless you are actually trying to watch a game. (Dundas West west of Bathurst)
Roncesvalles: Many of the longtime Polish shops are closing as owners retire, but this neighbourhood is still worth visiting for the bookstores, cafes, cute shops, and proximity to High Park. The widened sidewalks make it particularly pedestrian friendly. Go south to enjoy the beach and have a snack or drink by the water at the Sunnyside Pavilion. (Roncesvalles Ave. north of Queen Street West)

Wikimedia Commons: Sookie
Chinatown: Toronto actually has two Chinatowns: the older one along Gerrard St. at Broadview Ave. and the newer large one along Spadina Ave north from Dundas St. West. The newer one is a particularly great spot for inexpensive Chinese food, dim sum, and pho (I know, not Chinese).
Wikimedia Commons: chensiyuan
Koreatown: This area isn't as well known as Chinatown, and is much smaller, but is a great source for Korean beauty supplies, K-Pop, and adorable stuffed animals. (Bloor St. West west of Bathurst)
Kensington Market: A must-visit in Toronto, you'll find a bit of everything here, from thrift shops and specialty supermarkets to cafes and great restaurants. Make sure to visit Good Egg for great books and homeware, get a gift at Kid Icarus, and eat a gigantic burrito at Big Fat. (Augusta, west of Spadina)
Queen West West: Get past all the chain shops on Queen West to hit the good stuff, including restaurants like The Drake and Terroni. Get a macaron at Nadege and Japanese snacks at Sanko before heading over to Tealish for loose-leaf tea and Type for great books. (Queen West west of Bathurst)
Leslieville: This is the neighbourhood fuelling the west-vs-east feud in Toronto, thanks to an explosion of coffee roasters, great restaurants like Ruby Watchoo, and Left Field Brewery. Watch for the pair of stores selling great vintage LPs. (Queen East east of Broadview)
The Annex: North of the university, this strip along Bloor is a reliable spot for a relaxed vibe. Visit Fresh for veggie fare, or try one of many cheap sushi or ramen spots. Guu Izakaya is always fun and has an outpost here, and the ROM is just east. (Bloor St. west of Spadina)
The Danforth: Head to Greektown if you're craving souvlaki, but that's not all you'll find along Bloor East. There's a store that specializes in hot sauce, a few great bakeries, and a Pizzeria Libretto as well.
Parkdale: This ever-evolving strip is home to some of Toronto best restaurants, including Chantecler and Parts and Labour. Hit up Boreal for gelato, or Mother India for roti. Don't miss the Gladstone for brunch, and Capital Espresso is the place to get a great coffee. (Queen West west of Dufferin)
Ossington: Impossibly hip but also full of fun shops and great food. Golden Turtle is home to great, cheap pho, and Sam James is a must-visit for coffee. Check out the Lakeview at the top of the Ossington strip, as well. (Ossington north of Queen West)
The new Toronto streetcars are accessible to everyone as they no longer have steps to get in. The best place to catch one is on Spadina Avenue. 
The Toronto Islands are the largest car free urban community in North America. Escape the cars and traffic of the city and let your kids run free on the grass. 
Photo Sarah K. Pittard, Solo Mom Takes Flight
Toronto is one of the most multi-cultural cities in the world. Many countries are represented amongst neighbourhoods dedicated to a specific culture through shops and restaurants. Try food not only from the popular downtown Chinatown but from the second Chinatown east of Broadview Avenue on Gerrard Street East. 
The Toronto sign from the Pan Am Games is staying until late Fall 2015. The letters look best at night and you are allowed to sit in them for photos. 
Photo Sarah K. Pittard, Solo Mom Takes Flight
The Canada Life Building on University Avenue is visible throughout downtown. If you are wondering about the weather, the top of the building is actually a weathervane. If the top light is green the weather is clear. A flashing red indicates rain and a flashing white means snow. If the lights are moving up towards the sky the temperature is getting warmer and if they are moving down towards the building, it is getting colder. 
The friendliest squirrels in Toronto are found at the Law Society of Upper Canada located at Queen and University Avenue. The gates are open to the public during the day. The squirrels particularly like peanuts. 
If you are lost in Toronto, look for the CN Tower, which is located to the South West. Walking away from it? You are headed North. Want to visit the CN Tower? You can skip the long lines and avoid the entry free by booking a table at the kid-friendly 360 restaurant. 
Pirate Life is new and great fun for kids.  
Photo Sarah K. Pittard, Solo Mom Takes Flight
And some inspirational articles:
50 Things to do in Toronto This Summer with Kids
Best Restaurants in Toronto Beachs 2015
Time Tremors Treasure Hunt at the AGO
Food suggestions:
Ice Cream? Try Summer's: http://www.summersicecream.com/
Iconic Toronto Pizza can be found at Libretto's – there are locations throughout the city,
Bannock serves all-Canadian food – from the entire country! 
The best restaurant view in town is found at Canoe.
There are a ton of great Chinese restaurants in Toronto! Find good ones here:
http://www.blogto.com/toronto/the_best_chinese_restaurants_in_toronto/ (Taste of China is real Chinese food – try it!)
http://tastetoronto.ca/top-5-chinese-restaurants-chinatown/ (this one includes a link to Mother's Dumplings – a must-visit)
Be sure to visit Uncle Tetsu's Cheesecake – it's new and delicious! 
Wikimedia Commons: Alex Indigo
I got the chance to visit Toronto for a conference back in 2013.
As a primarily food-driven traveler, I really enjoyed the city's diverse culinary options. My favorite stops were the ethnic food stalls and restaurants near Kensington Market, the Saturday morning fresh local farmer's market at St. Lawrence Market, and Toronto's many local breweries--Bellwoods was a personal favorite. 
One really unique experience is a visit to the Toronto Islands, a group of islands just off the city center. There are short ferries that take you to the larger islands for a day trip, but nature and adventure lovers should consider a paddle tour of the remote passages between the Toronto Islands. After a short small group canoe or kayak ride, the noise of the city fades to the sound of birds, your oar dipping into the water, and the wind whistling through the trees.
A daytrip worthy destination outside of Toronto is the town of Stratford, Ontario. While the town is best known both for their annual Shakespeare festival and for being pop star Justin Bieber's hometown, there is a lot to do for foodie travelers, including farm-to-table restaurants, self-guided food tours, and farm tours.
The Harbourfront Centre is a location for music, arts, festivals, and all sorts of activities of interest to adults and children both, featuring artists from Ontario as well as internationally touring musicians and visual artists in residence. There are dance performances, talks, classes, and films, as well as places to shop and to eat, and quite often free arts and music events. There is, for example, a long running series of free classical music concerts every summer.
A piece of classical music expressed through -- trees and plants and flowers? Just so, at Toronto Music Garden. Classical cellist Yo-Yo Ma collaborated with landscape designer Julie Moir Messervy to create this expression of a cello suite by Bach. There are sculptures by Canadian artists in the garden too.
Hugh's Room is the place to go in Toronto for top notch acoustic and singer songwriter performances, from Canadian artists as well as internationally touring musicians. It's basically a dinner (or lunch) and show sort of thing: you come an hour or two before the gig, have a meal (the food's very good) and keep your seats for the performance. There is a lighter bite and dessert menu too in case dinner isn't in your plan.
The CBC (Candadian Broadcasting Corporation) is Canada's national broadcaster. Artifacts and interactive exhibits from its beginnings in 1936 to the present, as well as occasional previews of upcoming projects, are features of the CBC Museum on the main floor of the Toronto Broadcast Centre. Sometimes, there are music performance in the building's lobby and in the Glenn Gould Studio.
Want to learn about the visual arts in Ontario and Toronto? The Art Gallery of Ontario is a fine place to begin. Extensive collections feature regional artists, and there are many other sorts of art to explore as well. There's a collection of Old Masters, for example, and a large collection of historic photographs, as well as the largest collection of art from Oceana in Canada. There are classes, talks, and several places to eat at the museum as well. You might want to note that Wednesday evenings are usually free admission times.
Saint Lawrence Market. There's a farmer's market on Saturdays, an antiques market on Sundays, and speciality shops and restaurants open during the week, as well as an art gallery upstairs. This renovated 1845 building is a community hub and also a place National Geographic's editors have named one of the best farmer's markets in the world.
 
Music to accompany our Epic Canadian Road Trip
And here's a playlist put together by our Music Editor, Kerry Dexter - regional music to make a soundtrack for your visit to Toronto
Toronto is a center for the Canadian music industry -- all genres. Several musicians who have been associated with Toronto and Ontario at varied times in their careers:
Singer and songwriter Gordon Lightfoot: his songs Sundown, Early Morning Rain, and Wreck of the Edmund Fitzgerald are but a few which have become classics of contemporary folk, all of which can be found on Gordon Lightfoot - Complete Greatest Hits.
Singer and songwriter, author and broadcaster Sylvia Tyson rose to the top of the folk revival scene as half of the duo Ian and Sylvia, and went on to a highly respected solo career which she still pursues. She also performs as part of the group Quartette. You Were On My Mind and River Road are two of her best known songs. You can find them on River Road & Other Stories.
Loreena McKennitt is a harpist, singer, and composer whose music draws on Celtic music and legend. Her distinctive sound and creative crossing of musical boundaries have won her millions of fans worldwide. An album to look for is The Journey So Far - The Best Of Loreena McKennitt.
Leahy is a band made up of brothers and sisters whose music encompasses many strands that have influenced and continue to inform the music of Ontario, among them musical traditions from Ireland, Scotland, France, and Cape Breton. An album to look for is In All Things.
Have you been to Toronto? What did you love most? Please share!
Word photo: Benson Kua, Wikimedia Commons, adapted by Wandering Educators