Top Ten Travel Gift Recommendations for 2010
It's the time of year to look back and see what we just LOVED, that inspired or accompanied our travels. Here's a list of our favorite Travel Gift items, the 2010 version - and a few more than ten, it turns out. Here's our baker's dozen + of fantastic, inspirational, wearable, travel-able items: books, technology, music, accessories, clothing, bags, and luggage. We've featured all of them, interviewed the creators/authors, and highly recommend them to our Wandering Educators.
BOOKS
1. You've got to start with an inspiration to travel. Well, we don't need much help with that, but every single time I pick up our chief editor Joel Carillet's extraordinary book, 30 Reasons to Travel, I am amazed at the humanity that Joel so incredibly shares with us. You can read our review and interview, and then head over to http://www.joelcarillet.com/ to get your very own copy. In fact, get one for all the travelers you know and love. Perhaps for me, the best of the book is the underlying premise that the choices that we make in life, and in travel, contribute to our experiences. As an intercultural educator, I truly believe that to explore a culture fully, we must open our eyes, hearts, and minds. This book does just that. Hands down, the best book on travel, cultures, and photography I've ever seen.
2. Heading to Europe? I've got a great pair of books for you to explore - Good Night and God Bless (vol. 1 & 2), in which our Travel With a Spiritual Twist Editor, Trish Clark, explores Monastery and Convent stays. Trish Clark's unique travel guide, GOOD NIGHT & GOD BLESS, A Guide to Convent & Monastery Accommodation In Europe, Volume 1: Austria, Czech Republic, Italy, dishes up the details on affordable accommodation, local tourist information, and places of pilgrimage. Bathed in the golden light of history and religion, the author's enticing travel tidbits and anecdotes will appeal to real life and armchair travelers alike. It is also the Winner of the Silver IPPY Award 2009 - Travel Guide Books! Volume 2 covers France, Ireland and England. Truly an excellent resource for alternative accommodations in Europe. Find out more at http://www.goodnightandgodbless.com/
3. HOW often do we read a book that truly, incredibly, deeply, changes your life?  Hardly ever for me, to be honest. I recently found such a book - it is Patti Digh's book, life is a verb: 37 days to wake up, be mindful, and live intentionally.   Her essays touch the deepest parts of ourselves - saying yes, being generous, speaking up, loving more, trustng yourself, and slowing down. Indeed, this book is nothing short of a treatise for all of us - for peace, intercultural learning, and noticing the small things in life that mean so much. Head over to Patti's site, http://www.37days.com, and prepare to embrace life in new ways. Truly, a life-changing gift, for yourself or others.
TECHNOLOGY
4. Well, this next one goes *along* with technology, for you Kindle lovers. Our Artist of the Month and good friend Lyn Belisle is one talented artist, and I cherish my Kindle cover that she created. Imagine the serenity of Jayavarman, layered with gorgeous papers, colors, textiles, stamps, wood, stone, and even a coin - all with a modern twist. Does this sound like something you'd like to see?  That's my Kindle Cover.  Lyn notes, "I'm making smaller collaged journal and e-reader covers and portfolios – I'm happily creating handmade pieces of art to cover and protect electronic reading devices! It's incredibly enjoyable, kind of art-meets-tech, form and function, surface decoration with purpose." There's nothing like creating beauty for technology, and surrounding yourself with art. Get one, before you travel (or read your Kindle, or even take notes on travel, as I do).
You can find Lyn at  http://mythlyn.blogspot.com
5. We love languages! We've recently started learning French, courtesy of Mango Passport. Their language learning system (online) is incredible - our 8-year old daughter has NO problem with picking it up quickly (but maybe we should be looking at how quickly us fossils learn?). Highly recommended - look for our review soon.   Languages include English, French, German, Greek, Hindi, Japanese, Mandarin Chinese, Portuguese, Russian, Spanish, and Thai. We're THAT excited!
http://www.mangolanguages.com/
6. We've discovered an extraordinary way to learn more about the world. Iconic Guides is an excellent resource for travelers to learn about the Ancient World. Currently, Iconic Guides offers a plethora of audio guides to Egypt, Japan, and Greece. When you dig into Iconic Guides, you will be elated at the depth of knowledge that is now available at your fingertip (and ears).  These guides are for the thinking traveler, written by a thinking traveller.
 
MUSIC
7. Our dear friends at IrishFireside are multi-talented. Not only do Corey Taratuta and Liam Hughes run a guesthouse in Ireland, Knockahopple Cottage, but Liam's an accomplished Jazz singer. We were lucky enough to snag a copy of Lemon Twist, Liam's latest cd. It's awesome - mellow, jazz classics that make you smile. Liam's vocals are strong and sure, with an excellent jazz band backing him up. You'll be glad you got several copies of Lemon Twist - one for yourself, and several as host gifts when you travel. Spread the joy.
 
ACCESSORIES/CLOTHING
8. We've only recommended ONE travel clothing company, the whole time we've been publishing Wandering Educators. ExOfficio clothing incorporates many excellent and thoughtful features, including french seams, security zip pockets, flat finish seaming, indestructible buttons, a thumb loop, saddle stitch shoulder seams, and a floating pocket and loop. What is even more extraordinary is the fabric. Engineered for a variety of environmental issues, the fabric can provide sun protection (SPF 30+), bug-free (Insect Shield), wicking (dri-release fabric), wrinkles (wrinkle-free fabric), and more (stain-resistant, water-resistant, high-strength, windproof, thermal, quick-drying, odor resistant, and eco-conscious).
ExOfficio is rightly famous for their quick-drying underwear. We use ExOfficio underwear whenever we travel - they are extremely comfortable, lightweight, and didn't bunch or bind.
9. I've found an incredible Nepalese company that makes the most extraordinary handloomed Pashmina, called called Sunrise Pashmina. These Pashmina are so very beautiful - and the story behind Sunrise is pretty cool, too. We were lucky enough to interview Seth Sicroff, our Nepal Editor (who is also the force behind Mountain Legacy and Moving Mountains, all focused on development and peace).
If you love beautiful, global goods, this is the real thing.
If you're interested in finding out more about Sunrise Pashmina, please head to:
http://www.sunrise-pashmina.com/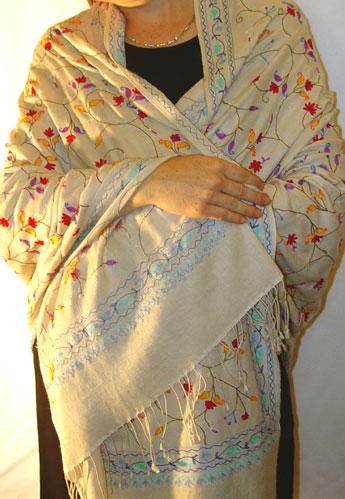 10. You know how you are always trying to get things smaller & lighter before you travel? Whether it is wardrobe, luggage, or even your wallet - every little bit counts. I was so pleased to find PaperWallet - a thin, light wallet that is just perfect for traveling, and available in solid or designer designs. Imagine a bold, environmentally friendly fashion statement at a price that's easy on your wallet.  In fact, it IS your wallet.  Just in time for the holidays, Paperwallet has released its first series of Designer Art Wallets!
BAGS
11. Been looking for the perfect travel bag for your photo gear? Want to bring along a laptop? Me, too. I've spent AGES on the internet looking for a bag that can carry all of our photographic equipment (DSLR, lenses, flash, professional video camera, and small flip type video camera and digital camera for our daughter) as well as our laptop - and all the assorted cords that go along with it. I despaired. THEN I found Crumpler.
The bonus about Crumpler? They are an extremely cool indie bag company, making extremely cool indie bags. Head to:
 
our Crumpler bag in Mallaig, Scotland
12. Love wearing the world?  Air Wear is a great product line that celebrates traveling to far reaches of the world. Each product features one of 90 different global airport codes, from Tokyo to Tierra del Fuego. I've got the LAX bag, but really need a GLA hat, I think...
Created by Jason Solarek, these airport designs are just too cool for words. Head to:
http://www.myairportcode.com/
our AirWear at Lake Michigan
LUGGAGE
13. fishpond is the well-established older brother to lilypond, designed for an outdooor/fishing market, but readily transferable to the durable luggage market for travel. fishpond and lilypond are both well-designed, with great features and fantastic colors that stand out from the crowd of black suitcases with red or neon orange markers. fishpond bags - all their gear - are incredibly durable and very attractive. PLUS, they are a philanthropic company - they donated a gorgeous Moonshadow bag to our Passports with Purpose this year. We took the fishpond Bumpy Road Cargo Duffel on our trip to Ireland and Scotland this fall, and it was an incredible piece of luggage. Highly recommended!
our fishpond bag in Ireland
15. Another favorite luggage line for us is High Sierra Sport. I can't tell you how pleased I am with our two bags from the ATGO line  - they are lightweight (always important), durable, and have TONS of innovative functionality. The Carryon Business Upright can hold my laptop, and there are tons of pockets. We also got the 22-inch expandable wheeled carryon. It is also light, offering a TON of space and lots of zippers and creative pockets. The coolest part is the back - there is a zippered compartment that hides backpack straps! Both are in the Black Vertical Plaid (would you choose any other color, for a trip to the Celtic Isles?) and if that isn't the coolest looking pattern. My husband keeps coming out and looking at it, saying how COOL and cute it is. We love them
There you have it, our travel goods roundup for 2010!
Happy New Year, and safe travels!
Comments (2)
Leave a comment