Sunrise Pashmina
Here at Wandering Educators, we are sometimes happy to recommend global apparel. I've found an incredible Nepalese company that makes the most extraordinary handloomed Pashmina, called Sunrise Pashmina. These Pashmina are so very beautiful - and the story behind Sunrise is pretty cool, too. We were lucky enough to interview Seth Sicroff, our Nepal Editor (who is also the force behind Mountain Legacy and Moving Mountains, all focused on development and peace). Seth was instrumental in helping Sunrise Pashmina develop into a true global business. Here's what he had to say...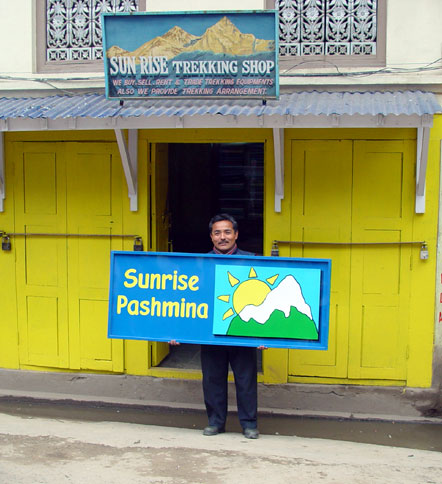 WE: Please tell us about Sunrise Pashmina...
SS: Sunrise Pashmina is a small company that I established in collaboration with Tsering Choekyap a second-generation Nepali from a Tibetan refugee family. Until 2007, Sunrise sold various accessories beside pashmina -- especially silver and stone jewelry. Now we sell only handloomed pashmina products. My wife Empar and I handle Internet marketing for Sunrise, but Tsering also supplies several other companies directly, including Pure and Simple, which markets primarily on British QVC television.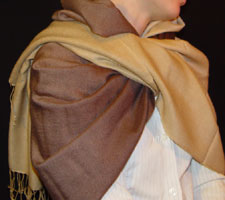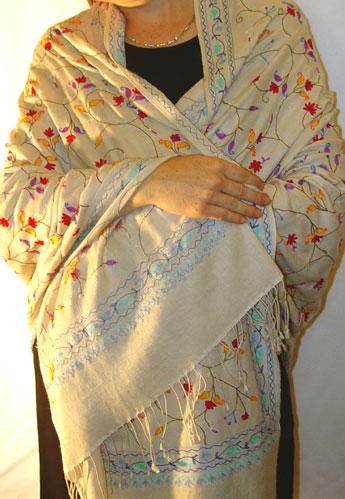 WE:  What exactly is pashmina?
SS: The short answer is that pashmina is cashmere -- the fiber or fabric made from the undercoat of domestic goats.  These days the word pashmina can refer to the pure cashmere fabric, or to a silk and cashmere blend, or to a particular style of shawl (generally with twisted and knotted fringes).
The longer answer is somewhat more complicated. Most dictionaries will tell you that the word pashmina derives from a Persian word meaning "wool," but the word has been used rather loosely for hundreds of years, and arguably could refer to any conventional woven fabric, whether sheep's wool, cashmere (goat hair), shahtoosh (the endangered chiru antelope), or even cotton. Nowadays, most so-called pashminas are labeled as blends of cashmere (or pashmina) and silk, usually 70% pashmina/30% silk. Labels notwithstanding, a high percentage of shawls designated as pashmina or pashmina/silk are adulterated with sheep wool, cotton, acrylic polymers, or viscose rayon.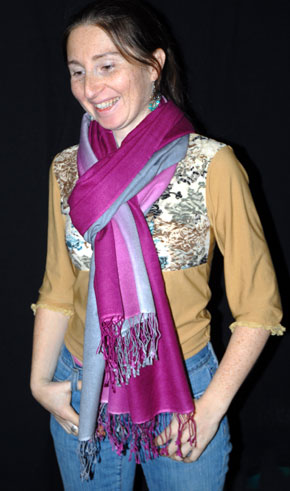 WE:  How did Sunrise Pashmina start?
SS: In 1999, Empar and I went to Nepal to make arrangements for a volunteer/study program that we were initiating. Bridges: Projects in Rational Tourism Development aimed to promote independent backpacker tourism in remote mountainous regions as an economic alternative to extractive development (logging, mining, hunting, hydroelectric). We believed that it was not enough to enhance local assets (such as teahouse lodges, trails, and so on); we thought it would help to revive the Jhochhen Tole (" Freak Street") area of Kathmandu, where the shoestring travelers had traditionally hung out between treks -- as opposed to Thamel, the more upscale tourist area, which is dominated by the kind of packaged tours that typically escort tourists in tented caravans, and contribute very little to the local economy.
Over the months that we were working in the Freak Street district, we talked to many shopkeepers, many of whom were highly skilled craftspeople. We thought they could make a lot more money if they exported their goods directly to Western retailers and end-users; however, these people had no access to credit card merchant accounts, much less Internet. Tsering Choekyap had been operating a used trekking equipment shop for twelve years, but wanted to switch to pashmina production. At that time, these shawls were the subject of an amazing international fashion fad, with prices ranging from $250 to $400 and more. We ended up agreeing to set up a Web site for him.
WE:  Who creates the Pashminas that Sunrise offers?
SS: Tsering started out by building a loom in his home. He hired a weaver, but all of the other work is done by independent "subcontractors." He has arrangements with the yarn seller, the dyer, the embroiderers, the beaders, and the shippers. Tsering and his wife Pema finish and pack the orders in their home.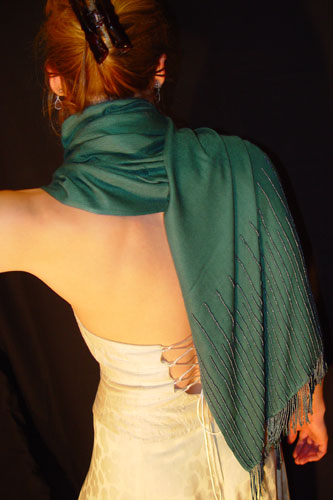 WE: Does Sunrise have a store in Nepal?
SS: Tsering converted his Freak Street trekking outfitter to a pashmina shop back in 2003, but the tourist trade was badly hurt by the Maoist insurgency that the shop was not profitable and he closed it. There were other problems beside the decline in souvenir shopping. Far too many pashmina shops had sprung up, and the fall-off in sales led to cut-throat competition, entailing not just inventory dumping but also product adulteration. People who are not familiar with pashmina are easily cheated, and when word got out, sales dropped across the board.
WE:  What products does Sunrise offer?
SS: We sell fullsize and medium shawls in 100% pashmina, as well as 70/30 and 50/50 pashmina and silk blends. We also offer mufflers (five-foot scarves), and baby blankets. All our products are made to order, so the customer can specify the color, embroidery, beading, jacquard, and ombre (two-tone gradient dying). We are also just about to start offering hand-painted pashminas.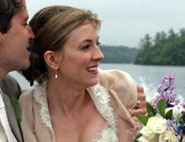 WE: Does Sunrise give back to the community?
SS: In the beginning, we hoped that Sunrise would be a model copied by other craftspeople in the Freak Street area. We made room on our Bridges-PRTD Web site for three other merchants and took orders for them, but we've ended that arrangement. We do commission locally made earrings, totes, and purses, which we give our customers free of charge.
However, things have changed over the past five years. A lot of money has come in, due to Indian investment and development. The family-owned lodges now have to compete with hotels. There are many Internet cafes, used even more by Nepali teenagers than by tourists. Most of the silversmiths and other craftspeople have their own Web sites and have arrangements to export their goods. I wish I could say that Sunrise is responsible, but that would be like Al Gore claiming to have invented the Internet. At most we got people gossiping about Tsering's success, and piqued curiosity. Bridges-PRTD has undertaken other projects in Nepal, although we now do so through Mountain Legacy (www.mountainlegacy.org), a Nepali non-profit that we initiated.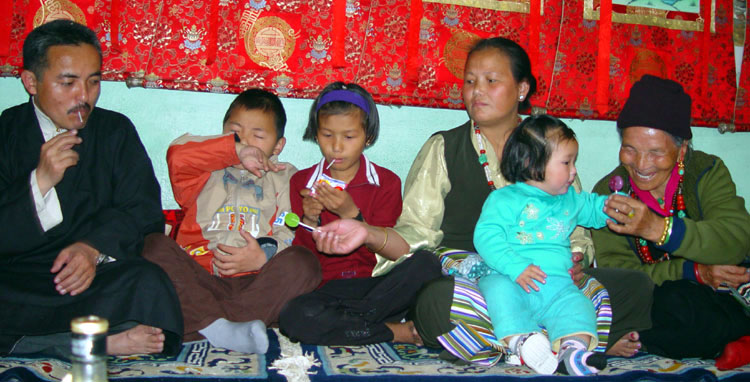 WE:  Is there anything else you'd like to share with us?
SS: There are a lot of modes of travel and travel ideologies, and there is always a temptation to become dogmatic about what is best for the world. Personally, I'd like to propose "Participatory tourism" (or partourism) as a model worth promoting -- at least in developing areas of the world. The idea is simply to get involved. Don't just pass throug: find a way to contribute.  The Sherpas have become the masters of sponsorship -- it seems that a significant number of trekkers and mountaineers decide to help out their Sherpa hosts (and especially the children) over long periods of time. They pay for education, facilitate visas, exchange homestays, offer advice and mentorship, and so on. Most other Nepalis know about this phenomenon, but are not adept at encouraging sponsorships. However, if you approach your travel with a predisposition to dig in, help out, come back, make a difference... you're likely to find a ready welcome and friends for life.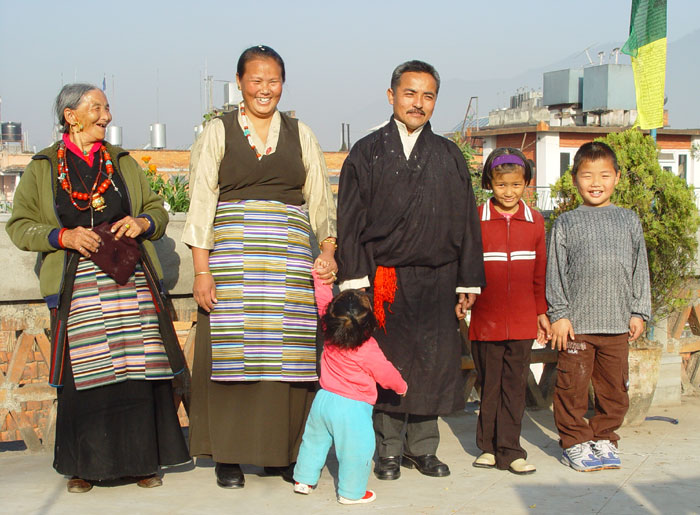 ================
Notes from Tsering Choekyap
My grand parents are from Kyidong region in Tibet close to Langtang Himal in Rasuwa district of Nepal. With some significant reasons, they left Tibet before the Red Chinese occupied Tibet and they settled in a place called Nagathali at Rasuwa district of Nepal which is in border between Nepal and Tibet. My father, (late) Dhamchoe, and his two brothers and one sister were born in that place Nagathali. Since the time passed away we were told our grand parents were expired in that place Nagathali by black magic which happens many in such remote places during the expiry period of our grand parents my father and his two brothers and one sister were just children - they'd suffered lot to live in.
When my father and his two brothers and one sister were grown up, then they start working in others' houses as servant just for food to survive that's all I knew about my parents past life.
My father and his wife Pasang move to Kathmandu for better life and for more options because they already had enough hard tired life in the villages. At the beginning time in Kathmandu, my father and mother they both made hand crafted things such as bags and woollen jackets by hand stitching and goes to the tourists shops to sell the things they made. They learned how to make these hand crafts things from a person who was very kindness and mercy to others. Also he suggested my father to admit me in government school they did worked very hard in their life. Also some time my father went trekking with help of others as a porter but again did suffered much because of English language then he used to advise me always day and night that I should learn English language strongly to able to stand on your own to live in this world.
Then slowly slowly I am also grown up adult in age of fifteen years my father he did open a small tiny shop that sells the hand crafted things made by my parents. This went on for several years then after that my father advised me to change our business into a trekking equipment business. He saw some one that owned a trekking business which was doing very well and the person became very rich in a short period then we slowly slowly change our business into trekking equipments business. My father's vision was right - it was great for many years did improved well at that time I used to go to school in the morning time from 6.AM to 9.30 AM and after that I go to open the shop all day long till 8.PM.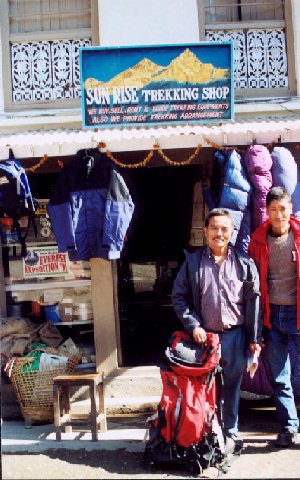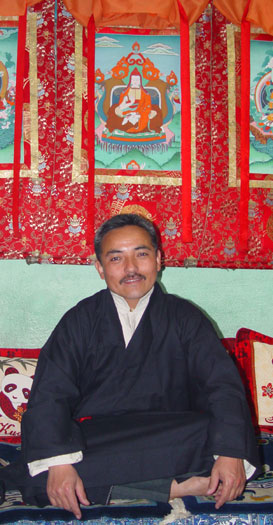 We stopped the trekking business because since we met the Bridges people we've decided to do the pashmina business together.
I have done arranged marriage in order to my father's wishes and I am happy with my marriage to Pema. I have now three children - two daughters and one son in age of elder daughter Nyima Bhuthi 17 years, Son Tenzin Norphel 15 years and younger daughter Tsering Yangzom 8 years. They are in school studying, two in grade nine and younger doughter in grade two. I would like to see that my children will become a doctor, engineer, computer engineer, charter accountant or a professional businessman  - whatever in among these given options. Anyway that was my wish, yet I don't know what they like to become I wish them the best. Let them have their own choices to make their future bright.
Most important is regards His Holiness the Dalai Lama. We believe him as our spritual living God not only by us all the Bhudhism peoples all over the worlwide believe him as their spiritual living God and respect him strongly from their inner heart feelings. He is the heart of all of us all over the world wide we deeply and strongly with our full strength of our body and heartly pray for his long life and wishing him a peaceful return to Tibet in the great Potala place very soon. Then only the world will remain in peaceful all over the countries, otherwise there is always a ? mark.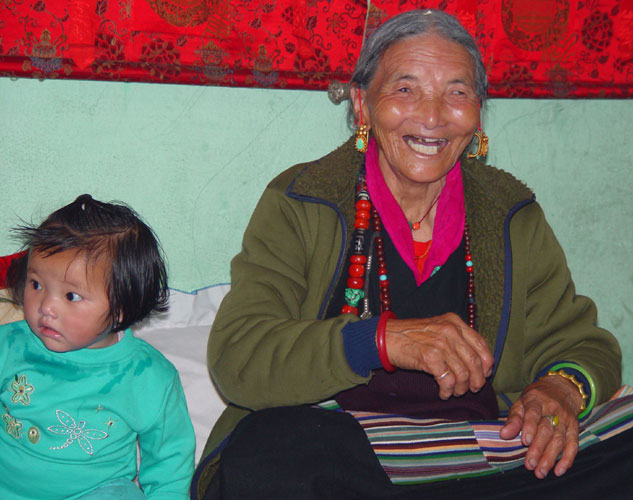 If you're interested in finding out more about Sunrise Pashmina, please head to:
http://www.sunrise-pashmina.com/
All photos courtesy and copyright of Sunrise Pashmina.
Disclaimer: Wandering Educators has no fiscal relationship with Sunrise Pashmina.
Any link on this site may be an affiliate link that earns us money if you purchase a product – THIS IS A GOOD THING!
Also, please see our article on MBT Shoes in the marketplace.