Photo of the Week April 5, 2010: Coming and Going
 Coming and Going - Lamu, Kenya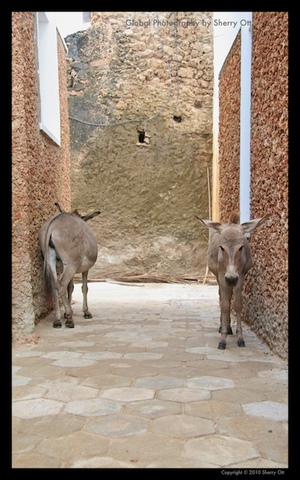 The small beach town of Lamu, Kenya is one of my top 7 locations in the world.  Lamu is Kenya's oldest town; the port of Lamu has existed for at least one thousand years. The beach is never-ending and the town is a maze of small winding pathways that no motor vehicles can fit through.  Therefore the only way to get around Lamu is on foot, bicycle, or by donkey; donkeys were 'parked' everywhere!
Sherry Ott is the Photography Editor for Wandering Educators. 
She has been traveling the world for the last 3 ½ years with her camera
as her main companion.  She brings us the Photo of the Week from her
travels. 

To view more of her photography, visit her portfolio of work at Global
Photography by Sherry Ott.  Or if you'd like to read of her travel,
expat, and ESL adventures, go to Ottsworld.