Photo of the Week February 1, 2010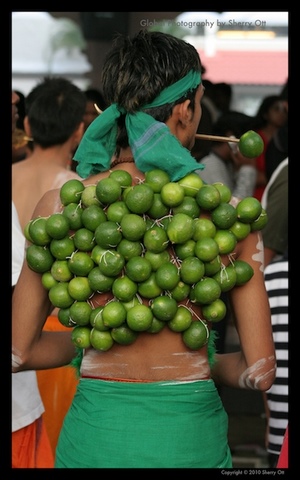 Singapore

The Tamil Hindu festival of Thaipusam is only celebrated in 5 places in the world.  I was lucky enough to experience it in Singapore in 2007.  With my camera I was able to capture a close up view of the body piercings which are meant to show a family's devotion to the god Murukan, the personification of wisdom.  In this photo, each of the limes are attached to the man's back with small little metal hooks stuck through his skin.  He also has a rod pierced through his mouth with a lime on one end which you can barely detect.  Even though the piercings may appear gruesome, I loved the color in the shot.  Thaipusam was celebrated this last weekend on Jan. 30, 2010.
Sherry Ott is the Photography Editor for Wandering Educators. 
She has been traveling the world for the last 3 ½ years with her camera as her main companion.  She brings us the Photo of the Week from her travels. 
To view more of her photography, visit her portfolio of work at Global Photography by Sherry Ott.  Or if you'd like to read of her travel, expat, and ESL adventures, go to Ottsworld.