Postcard from Bhutan
Postcard from Bhutan
This photo was taken at Taktsang Monastery (Tiger's Nest) in Bhutan. It's the most iconic image of the country and revered by locals and tourists alike. 
A popular legend goes that the former wife of an emperor was a disciple of Guru Rinpoche. She turned herself into a tigress to fly the Guru on her back from Tibet to this sacred site. Guru Rinpoche then meditated and emerged enlightened as 8 manifestations of an incarnation.
Guru Rinpoche is credited with bringing Buddhism to Bhutan and his image can be found throughout the country.
Taktsang is part of a complex that includes several temples that appear to barely cling to the side of the mountain. Monks live and study in and around the temple complex.  As you walk up to Taktsang, you'll pass many of them going up or coming down the mountain – like this young monk.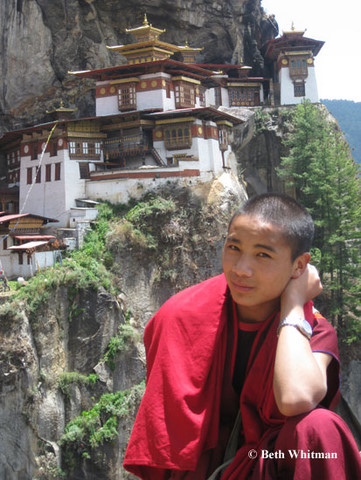 Hiking up to Taktsang is not as difficult as you might think. The path is relatively wide and well-trodden. It snakes back and forth up to the halfway point, where a café is located. Beyond that it turns a bit steep and then, starting at a viewpoint, there are stairs that take you down and then (agonizingly) back up to Taktsang. It is so well worth it!
Bhutan is quite sensitive about keeping their culture and religion protected. As such, all travelers must be part of a tour accompanied by a guide and driver. If you're interested in visiting Bhutan yourself, you can join one of our women-only Bhutan tours http://wandertours.com/destinations/bhutan/
Beth Whitman is the founder of WanderlustandLipstick.com