Robert Burns: Inventing Tradition and Securing Memory Worldwide
Robert Burns (1759 – 1796) is Scotland's National Bard, but he is also one of the world's most widely commemorated poets.
On the 25th of January, Burns will be commemorated throughout Scotland and internationally at Burns Suppers, his diverse body of poetry, song and prose having captured the imagination of communities and individuals across the globe.
Robert Burns in Central Park
This tradition dates back to the first ever Burns Supper held at the poet's birthplace in Alloway, Ayrshire, in 1801. However, this is not the only way in which we remember and celebrate Robert Burns, his life and his literary legacy. Robert Burns is also memorialized, and his reputation transmitted, through objects and public monuments dating as far back as the late eighteenth century.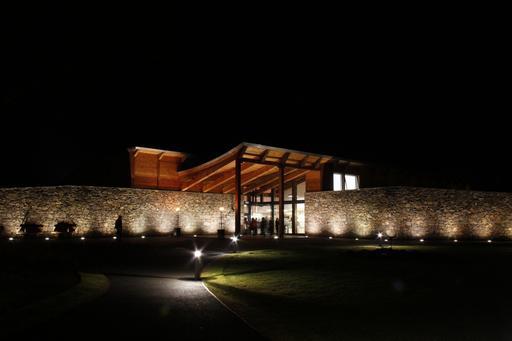 Robert Burns birthplace museum, Alloway
Burns-related memorabilia and statuary is the subject of a significant research project: 'Robert Burns: Inventing Tradition and Securing Memory, 1796-1909'.
The project, a collaborative venture between the University of Glasgow and the University of Dundee, has produced two new web resources which enable the whole range of images and items used in the transmission of Robert Burns' reputation into the sphere of cultural memory to be openly available for consultation in one place for the first time: a detailed online catalogue of Burns statues and major public memorials erected prior to 1909, and a taxonomy of private and domestic Burns-related objects produced during the same period.
The database of monuments and statues to Robert Burns includes images and detailed information regarding history and location for public memorials in the United Kingdom (from Ayrshire to London); the United States (from New York to San Francisco); Canada (from Victoria to Toronto); Australia (from Sydney to Melbourne); and New Zealand (Dunedin).
The study of Burns-related statuary and material culture has shown that Burns' biography, reputation, and favorite poems were often influenced by monuments and mementoes of the poet, rather than documentary records.
For example, to date, the legend of Burns and Highland Mary remains shrouded in mystery. And yet, statues of Highland Mary were being sculpted as early as 1842. Manufacturers in the 19th century produced a multitude of 'Highland Mary' objects: from napkin rings, to porcelain busts and snuffboxes allegedly made from the thorn under which she was courted by Burns. And so, the legend was propelled by the manufacture of statues and objects throughout the course of the 19th and early 20th century.
Relics of the poet, the areas where he lived, and even the trees he touched helped create an image of Burns as a secular saint. The project team encountered a vast number of objects 'made from the wood of' different locations associated (at times convincingly so, and sometimes very tenuously) with the poet.
Much is to be gained from an understanding of the way in which different materials 'beyond text' create and preserve the cultural memory of the poet and his works across the globe. And so, if you have encountered any Burns-related statues or objects on your travels, we'd love to hear from you, and to see your pictures.
Learn more:
Robert Burns Inventing Tradition and Securing Memory Project
Centre for Robert Burns Studies Facebook
Centre for Robert Burns Studies Twitter: @GlasgowBurns
 
Pauline Mackay is a graduate of the University of Glasgow. Her PhD, 'Bawdry and the Body in the Work of Robert Burns: The Poet's Unofficial Self', examines Robert Burns's reserved oeuvre. Pauline began work at the Centre for Robert Burns studies in 2008. In 2011, Pauline was appointed as Postdoctoral Research Associate to the AHRC-funded project 'Editing Robert Burns for the 21st Century'. Pauline provided research support to the editors of a multi-volume edition of Robert Burns's work which will be published by Oxford University Press.
Pauline has published widely in Burns studies. She has carried out research at several major Burns collections in the UK and abroad, and in 2010 she was the recipient of the W. Ormiston Roy Memorial Fellowship for Research in the area of Robert Burns and Scottish Poetry at the University of South Carolina. She is regularly invited to deliver public talks about her research in the UK and abroad, and she has an established relationship with the Scottish Media, recently appearing on Radio 4's 'PM' with Eddie Mair, BBC 'Reporting Scotland', and on several TV documentaries for STV and the BBC. Pauline also undertakes outreach activities as part of the Royal Society of Edinburgh @ Schools programme.
In December 2013 Pauline was invited to become a consultant for the Scottish government's 'Scottish Winter Festivals' programme. Pauline is the course convener for Level 2 Scottish Literature and co-convener of the new Honours course, Memorialising Scottish Culture & Literature. She also lectures on Level 1 Scottish Literature, Level 3/Honours Irish & Scottish Literature, and Honours Scottish Journeys. She has previously taught on the Honours English Literature Course, Romantic Literature from 1780-1840.
Pauline is Secretary to Burns Scotland (formerly the DNBC) and is a member of the steering group organising the first World Congress of Scottish Literatures, held at the University of Glasgow in 2014. You can find her on twitter at @MackayPAG
Photo credits:
NYC Photo: Dr. Pauline MacKay
Burns Birthplace Museum photo: Burns Birthplace Museum
Burns Biography photo: Dr. Jessie Voigts