Lonely Planet Not for Parents Travel Book

A book review of Lonely Planet Not for Parents Travel Book
Lonely Planet Not for Parents Travel Book: Cool stuff to know about every country in the world, by Michael Dubois, Katri Hilden, and Jane Price.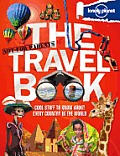 This is a large, hardcover book. The endpapers are maps!  The book is organized by geographic region, and then each country has its own page. They teach you a LOT about all the things about each country, such as cool things to know, events, creatures, culture, places, and things.
In the beginning, it shares how to say hello in their language, the population, languages spoken, money, capital, and area, as well as a map of the country.
It teaches you the highlights of each country and customs. For instance, Greece has the top 5 mythical monsters, including Medusa (and harpies, the minotaur, cerberus, and cyclops). Here are some other highlights of each country:
In Ireland, you can kiss the Blarney Stone (you have to kiss it upside down!).
In Scotland, they have tiny horses, wear kilts that represent their clans, and there are bagpipes (and haggis, and the Loch Ness Monster, aka Nessie).
In France, you can learn that there are 1,665 steps to the top of the Eiffel Tower - and there is a maze of skeletons in the Catacombs.
In Egypt, you say Marhaba to say hello! They have a lot of ancient gods that were worshipped. People gave gifts to the gods. And, in Egypt, they MOVED Abu Simbel because of a dam! One of the most famous pharoahs there (at least now famous) was Tutankhamen.
In Malaysia, they have the world's stinkiest flower, the Rafflesia. And, it doesn't a stem or leaves. PU!
In Thailand, you can ride a Tuk-Tuk!
In Indonesia, you can fly sky lanterns at a festival.
In China, they have the Great Wall, one of the 7 wonders of the world. Also in China, you can see panda bears (so cute!).
In Guatemala, they have tiny cute little dolls called worry dolls - you can give your worries to them! I have a set.
In the United States, we have tornadoes (aka twisters).
In Grenada, you can see Jason deCaires Taylor's underwater sculptures of people and furniture and even a bike!
In Barbados, you can see flying fish!
I love this book because it is fun - you can learn a lot about so many places. It makes me want to travel! I also like the title!! Recommended to kids of all ages.
Lonely Planet Not for Parents Travel Book
ISBN13: 9781742208145
ISBN10: 1742208142
Published 2011.
 L Forteau is the Kids Reporter for Wandering Educators
Note: we received a review copy of this book from Lonely Planet. Thank you!