Journeys in Words: Chronicles of Avid Travelers, vol. 1
Our first book from our teen travel bloggers is now available on Amazon! This is a compilation of writing from the Spring, 2012 term of our Youth Travel Blogging Mentorship Program.
You've followed along as these teens - Anne Driscoll, Austin Weihmiller, Emily Zumchak, Hannah Miller, Kathryn Blanco, and Shelby Lewis - wrote a weekly article for their assignments in the class. We asked them to pick their three favorite articles, to be compiled into a book. And - here it is!
We have books published for each term (look for volume II and volume III, Fall 2012) - and our teen travel bloggers are now Published Authors!
In this book:
You'll find an authentic Chinese recipe, stories, family, places to visit...
Anne, dumplings
You'll travel the world with these teens...
Emily, Italy
Visit markets of all kinds...
Hannah, camel market
Kathryn, Stew Leonard's
They've circled the globe, shared amazing places...
Austin, Hawaii
Life is about living!
Shelby, interview with a world traveler
Six globetrotting teens with a love for writing.
Journeys in Words: Chronicles of Avid Travelers, Volume 1: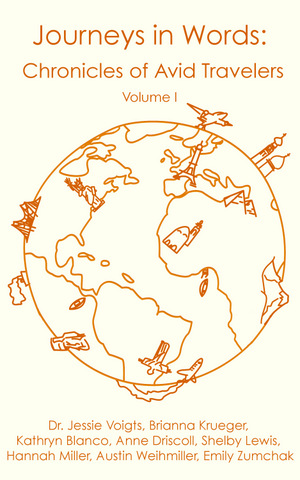 http://www.amazon.com/dp/B00C9HJQQQ