Shipwrecks of the Great Lakes: The SS Daniel J. Morrell
The approximate 6,000 ships that have succumbed to raging storms attest to the power of the Great Lakes. As I traveled, writing and compiling information for my three-volume travel series, Exploring Michigan's Coasts, I heard or read the tales left behind by those ill-fated ships. They add a somber, but compelling backdrop to Michigan's waterways. 
The SS Daniel J. Morrell rests on the bottom of Lake Huron in the Thumb Underwater Preserve. The Morrell went down in 1966 near the shores of Harbor Beach. Today, each of her halves sits upright in about 200 feet of water. They stand as a testament that not all the ships that sank in Huron's November wraths did so in the late 1800s or the early 1900s before GPS and better weather-predicting tools. Even today, a great ship cannot always escape Lake Huron when she is riled.

Downbound St. Clair River opposite the Pine River just below the St. Clair Inn on November 25, 1966 at 5:00pm. This is the last known photo for the Daniel J. Morrell. (Photo by Emory Massman, via boatnerd)
The Daniel J. Morrell, a 356-foot freighter, had transported coal, grain, and sometimes stone during her working days. But she was primarily an iron ore carrier, and she was heavily loaded for her last trip of the year—a trip that unexpectedly extended the Morrell's season. She had been called at the last minute to replace an out-of-commission sister ship.

Photo: BGSU University Libraries Historical Collections of the Great Lakes 
A blizzard swept down to challenge the Morrell's journey. As midnight ushered out Monday, and Tuesday arrived, the tempest grew angrier. Temperatures dropped to 20 degrees. The morning hours terrified even the bravest of seamen. In the early hours of December 1, the unthinkable happened. The Morrell was ripped apart.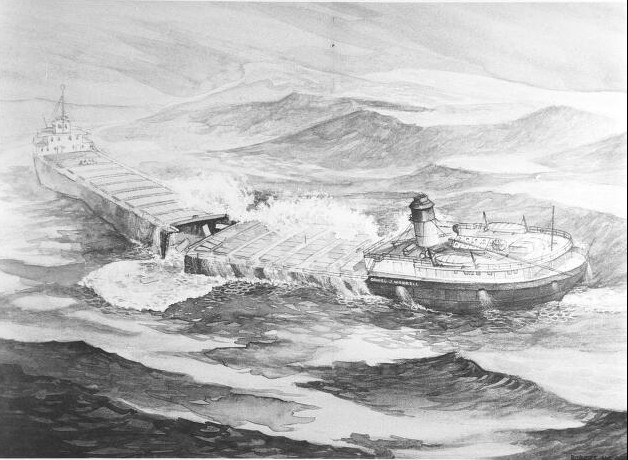 Drawings by Robert McGreevy of the Daniel J Morrell on the bottom of Lake Huron
One man survived. He had a story to tell, but survivor's guilt (or maybe what they now call PTSD) kept him from sharing many of the details for 25 years. Contemplating his ordeal was too painful to think about, let alone put into words or commit to the pages of a book. Eventually, the passage of time and support of friends and loved ones convinced him to write Shipwrecked: Reflections of the Sole Survivor. Dennis Hale dedicated his book to the 28 shipmates and friends who perished that grim voyage.
Hale, a deck watchman, felt he shouldn't have lived when everyone else aboard the Morrell was dead. Upon rescue, he was taken to Harbor Beach Community Hospital, where he was treated for hypothermia and dehydration. A priest administered last rites.
Hale had missed the ship's departure. He arrived in port to see the Morrell clearing the harbor. He called the captain and was told to meet up at the next stop. If he didn't make it, he'd forfeit vacation pay and a bonus. It's hard to say he was lucky to have made the next stop, but that was how he felt at the time. 
As evening set in on November 30, Hale was reading Carl Sandburg's Lincoln, which he found dry. With reading a drudgery, he laid aside the book and turned out the light beside his bunk. It was 10:00 or 10:30 p.m. 
Around 2:00 a.m., he was awakened by what sounded like a cannon blast. Books fell from shelves. He tried to turn on his light, but continued darkness rewarded his effort. The ship's alarm pierced the night air. He managed to reach above his bed, grab, and put on his life jacket. He made it to deck and was told the ship had buckled and the bottom was likely gone. He knew they'd soon be in the water. 
He felt his way back to his cabin for more clothes, but in the pitch blackness he was only able to locate his peacoat. That, his shorts, and his life jacket were what he had to keep him warm for the ordeal ahead. The crew boarded lifeboats. It all happened so fast they couldn't get off an SOS. Hale and three mates occupied one lifeboat. From it, they sent off flares.
Within six hours, two of the sailors with him lost their battle against the bitter elements. Several hours later, the third of Hale's mates died. Hale, the lone survivor, wondered how long before he, too, would lose the struggle. 

Morrell life ring recovery. Photo: Roger LeLievre Collection 
The storm continued spitting snow and ice with gale force as it tortured the near-dead sailor. On December 1, the body of a Morrell crewman was spotted by the vessel G.G. Post. Soon after, Hale was rescued by a Coast Guard helicopter. He was the SS Daniel J. Morrell's sole survivor.
Click through to read excerpts from Royce's three books exploring Michigan's coasts:
Julie Albrecht Royce, the Michigan Editor for Wandering Educators recently published a three-book travel series exploring Michigan's coastlines. Nearly two decades ago, she published two traditional travel books, but found they were quickly outdated. This most recent project focuses on providing travelers with interesting background for the places they plan to visit. Royce has published two novels: Ardent Spirit, historical fiction inspired by the true story of Odawa-French Fur Trader, Magdelaine La Framboise, and PILZ, a legal thriller which drew on her experiences as a First Assistant Attorney General for the State of Michigan. She has written magazine and newspaper articles, and had several short stories included in anthologies. All books available on Amazon.
Help promote Michigan. Books available on Amazon.