7 Best Places to Visit in New Zealand
New Zealand is a green paradise set out in the middle of the South Pacific Ocean, and worthy of awe. However, many visitors only have a month to explore, which is far less time than this sub-tropical island deserves. I myself have lived here for more than ten years, and I haven't seen everything. But if you're worried about time, here is my list of the seven best things to do and places to visit in New Zealand, on both the North and South Islands.
1.    Central North Island- Hairy Hobbit feet!
Two of New Zealand's more famous attractions are located in the middle of the North Island. The first is the geysers and hot springs. Produced when water is heated underground and rises to the surface, this process (known as a geothermal system) often happens near currently active volcanoes, or volcanoes that have been active in the past. Rotorua area has over fifty of these interesting occurrences, as well as bubbling mud. Though it is interesting to look at, bubbling mud has a rather pungent odour.
Photo: Sarah Albom
Northwest of Rotorua is another fun attraction - Hobbiton. Located in Matamta, this Shire village is worth visiting for any Lord of the Rings fan, myself included. On Young Adventuress, travel writer Liz wrote an article about her experiences there on her blog, which has plenty of pictures and is worth a look for Hobbit lovers as it is packed full of the Shire-folk.
2. Admire the indigenous wildlife
New Zealand broke off from Pangaea (the prehistoric supercontinent) early on, and this seems to be the reason that there are no large native mammals in this country. Instead, there are a few exotic birds and reptiles, one of the most well known being the Kiwi bird. A rare, flightless bird about the size of a chicken, Kiwis are New Zealand's national bird. They can be viewed in zoos, but since they are nocturnal it is extremely rare to see any in the wild. Another interesting animal is the tuatara. The only living descendants of the dinosaurs, they are larger than lizards and almost extinct. Not all of our animals are hard to see, though. Glow-worms are common in many places, and can be seen as long as it's dark. One of the best places to see these little critters is Waitomo, where Jen of the Edventure Project has a page on how to see them for free.
Pukeko. Photo: Zoe Dawes
3. Ski on active volcanos
Also on the north island is Mt Ruapehu, a skiing resort and an active volcano. With two eruptions and a lahar (destructive, fast-moving mudslide) in 2006 and 2007, it offers an interesting experience. There are several other mountains that can be skied on, and Bethany of Flashpacker Family has a compilation post about all of them, as well as their terrain and convenience.
4. Observe the government in action
Wellington is the capital of New Zealand, and though it is actually not the biggest city of the two islands, it has plenty of attractions. What I consider to be the best is Te Papa, the national museum. It is home to an extremely well-preserved colossal squid, one of the only in the world, lots of Māori art (Māori sailed over from Polynesia 1000 years ago), and the best bit: the trolls from the Hobbit. Rhonda of Laugh Quotes shares other interesting attractions, such as watching Parliament, taking a cable car, and tips on how to visit Wellington in two days.
Colossal Squid, Te Papa museum. Photo: Gabriel Miller
5. Stand in awe of the majestic west coast
The South Island's west coast is one of the beautiful icons of New Zealand. With waterfalls just five minutes walk from the road, gorgeous fjords at the Milford Sound, and pretty beaches, it is one of the best places to see the rustic side of New Zealand. My favourite attraction in this area is the glaciers. With over 60 of these icy mountains, it is certainly a wonder to see. Two of the glaciers, the Fox glacier and the Franz Josef Glacier, are among the most assessable in the world. Tracy of Vagabond Family has helpfully written on how to visit both, as well on tips on what to bring with you.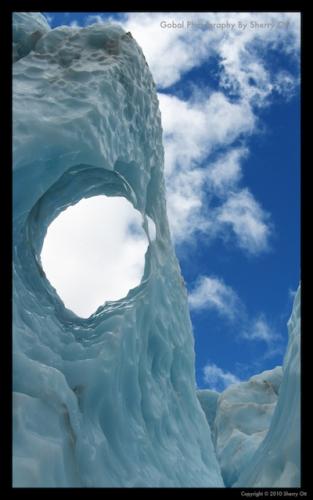 Photo: Sherry Ott
6. Watch the post-earthquake rebuild of Christchurch
Christchurch is a common place to go whale watching, as well as see the Antarctic Centre, which has plenty of penguins and a stimulated hourly snowstorm. However, visiting Christchurch is not entirely about tourism. New Zealand lies on the ring of fire (a ring around the Pacific and Nazca tectonic plates that is home for over three quarters of the world's volcanos and 90% of all earthquakes), and in 2011, Christchurch found out what this truly meant as they were rocked by a 6.3 magnitude earthquake. They have slowly begun to repair the city, but half-rubble houses still stand and it is interesting to walk among the ruins. Talon of 1 Dad 1 Kid writes about the experience, and shares lots of photos.
downtown Christchurch. Photo: Julie Royce
7. Photograph the adventure capital of the world
Near several of the more known south island ski mountains is Queenstown. This picturesque town isn't only stunning in winter, as Barbara of Hole in the Donut will tell you when she describes the view of the Remarkable mountains and the curious rise and fall of Lake Wakatipu's water level. With a high-rising gondola and interesting history, Queenstown, the self-proclaimed adventure capital of the world, is one of the best places to visit in New Zealand.
From Hobbit villages to scenic mountains, New Zealand is an amazing place. Coming to this piece of paradise is like stepping into a different world. What do you think are the best places to visit in New Zealand?
Sarah Albom is a member of the Youth Travel Blogging Mentorship Program