The Best of Turkey: An A-Z Guide
Turkey – this ancient, complex culture calls to travelers. Whether you love food, music, culture, archaeology, friendly people, extraordinary landscapes, once-in-a-lifetime experiences, architecture, books, or art, Turkey has it all. If you're planning a trip to Turkey, we've got you covered. 
I asked my travel writing friends  - and fellow White House Travel Bloggers (we're headed to Turkey next week, courtesy of Turkish Airlines!) – for their best Turkey travel tips. Soon, I'll add my own, and those of my fellow #WHTravelBloggers, so check back! 
The White House Travel Bloggers welcomed at the Newseum, hosted by Turkish Airlines
Want more travel tips for Turkey? Follow along on twitter: 
#widenyourworld and #lovefromturkey
Photo Natalie Sayin, Turkish Travel, adapted by Wandering Educators
 
Before we dive into the A-Z Guide, here are the best websites that focus exclusively on Turkey. They will have articles on all of the categories below – and I can guarantee once you dig in, you won't want to leave!
Lisa Morrow runs Inside Out in Istanbul - a site that I am forever digging into, for her astute insights about Istanbul (and Turkey). Bonus: she's an educator!
Natalie Sayin runs Turkish Travel - a complete guide to travel to Turkey. We recently interviewed her for her best travel tips, but be sure to dig in deeply to her expansive, interesting site!
Tom Brosnahan runs Turkey Travel Planner - it's also a complete guide to everything Turkey! We interviewed him back in the day - and he's still going strong.
Turkey's for Life has great recipes, details life in Fethiye, shares Turkey travel tips, and espouses slow travel. 
And our article, #WidenYourWorld: Most Influential Travel Bloggers Share the Best of Turkey, is a good overview!
Photo Natalie Sayin, Turkish Travel
Accessibility
Finding Unexpected Joy in Turkey
Airlines
Turkish Air, of course!  http://www.turkishairlines.com/
What's It Really Like to Fly Turkish Airlines Business Class?
Behind the Scenes with Turkish Airlines: Food, Safety, Training, and Smiles
Behind the Scenes: Turkish Airlines Headquarters in Istanbul
5 Reasons to Plan a Layover at the Turkish Airlines Lounge Istanbul
Books
Tom Brosnahan's Bright Sun, Strong Tea – an interview with the author about his Peace Corps experiences that started a love for Turkey.
Books about Turkey, at Turkish Travel 
Photo: Olives in the market. Mark Yee
Culture
Virtual Field Trip to Turkey to #WidenYourWorld
Turkish Culture – A Guide to Social Traditions 
Citizen Selfies and My Trip to Turkey
Travel Eater shares thoughts on Turkey 
Baby-friendly places - Nobody beats the Turks
Travelling in Turkey: my love hate relationship with no resolution 
7 Things You Must Do in Turkey
Turkey, Blindness, and the Philosophy of Traveling Slow 
Transitional Enigmas: Living in Istanbul, Turkey: The Queen of Turkish Cities
Introduction to Mosques in Turkey
On the Making of Turkish Carpets: Culture, Skill, and Meaning
Photo: Escape Artistes
Drink
Getting Your Buzz with Turkish Coffee 
Don't Call It 'Turkish' Coffee, Unless, Of Course, It Is
 

Photo: Sharon Yee
Black as Hell, Strong as Death, Sweet as Love 
For the Love of Turkish Coffee
5 Simple (Yet Little Known) Rules to Enjoy Turkish Coffee
The best Turkish Coffee in Istanbul 
Turkish Tea: How to Make, Serve and Drink 
Sipping Raki in Istanbul, Turkey
Hammam
Bathing with Strangers: What to Expect at a Turkish Hammam
Exploring Istanbul — Our First Turkish Baths 
What to expect at a Turkish bath house in Istanbul
You Want Me to Do What? 4 Things to Know About Your First Turkish Bath
History
Homeschooling history—literary sleuthing in Istanbul 
12,000 Years Of Struggle, Spirituality, and Sanctuary in Southeast Turkey
Ephesus: An Ancient City Full of Surprises
Istanbul's Waterways: Rich Historic Roots of a Very Contemporary City 
Our Lady of Electricity: Istanbul to Taos
Untouristed SE Turkey: Beauty and Hospitality in an Ancient Land 
Dolmabahce Palace: Last Historic Days of the Ottoman Empire 
5 Historical Places in Turkey That Everyone Should Visit
Visiting the House of the Mother Mary
Photo: Heads of Mt Nemrut. Turkish Travel
Istanbul
So you're visiting Istanbul: read this 
A  video by the Vagabrothers – Top 10 things to do in Istanbul!
20 things women should know about Istanbul (it's for everyone, actually!)
How to Get the Most Out of Istanbul: A Highly Opinionated List
10 Amazing Sights to See on a Study Abroad Weekend in Istanbul
The Ancient Art of Ebru Painting in Istanbul
Top 10 Things to Do in Istanbul
The Spice Market in Istanbul Gives an Unexpected Gift
Photo: Head of Medusa at the Basilica. Mark Yee
Nine misconceptions about Istanbul 
The Blue Mosque - astounding details
Photo: Shopping at the Grand Bazaar, Istanbul. Sharon Yee
Through the eyes of an Educator: Istanbul 
Wheels down: Navigating Istanbul with a baby
Photo: Fresh fish! Talia Klundt
Photo: Sharon Yee
Exploring Istanbul by Neighborhood 
Exploring Istanbul — The Suleyman Mosque
Exploring Istanbul — The Ayasofya 
Hagia Sophia in Istanbul, Turkey: Photos and History
Exploring Istanbul — The Blue Mosque 
Photo: Spices, Istanbul. Sharon Yee
Getting Istanbul Wrong – Again! 
A Guide to Study Abroad and Living in Istanbul: The Queen of Cities is Fascinating and Memorable 
How to do Istanbul in Six Hours
The Other Side of Istanbul's Spice Bazaar
Photo: Leeches at the market. Escape Artistes
Photo: Sharon Yee
Learning
Ten interesting facts about Turkey 
Academic papers on Turkish History
Music
Galata Mevlevi Whirling Dervish House and Museum 
The Whirling Dervishes of Turkey 
Photo: Transitions Abroad 
Photo: Sharon Yee
Outside of Istanbul
10 Best Things to do in Cappadocia 
Hiding a Geocache in Cappadocia
5 (wait, 6!) Great Activities for Kids in Fethiye, Turkey 
Our first trip to the completely-awesome Fethiye fish market 
Göreme, Cappadocia — Definitely Worth It 
Ballooning in Cappadocia – Photos!
A Hidden Gem in Southeastern Turkey: Visit Şanlıurfa
A CITY OF CAVES // Cappadocia, Turkey (video)
Why You Need to Visit Sanliurfa and Mardin, Turkey – Before Everyone Else Does
Holy Wisdom and Heavenly Food in Trabzon, Turkey
Photo: Ballooning in Cappadocia. Escape Artistes
A Spotter's Guide to a Turkish Waterpark 
Surprise Adventure: Turkish Men Playing Yard Games 
This Frozen World, Like Snow in Midsummer 
Photo: Pamukkale. Escape Artistes
The hot springs and antique pool of Pamukkale, Turkey 
The highs and lows of Cappadocia, Turkey
What Would YOU Buy at This Great Turkish Arts Market?
Transportation
Day Dreaming – the Ferries of Istanbul 
Photo: Ferry, Istanbul. Turkish Travel
And the best for last!!
What to eat
Honestly? Start at IstanbulEats - they've got everything covered!
Eating Asia has a great section on Turkish food 
Also, Culinary Backstreets
Photo: Mark Yee
Savor Istanbul with a Walks of Turkey Food Tour
Eating Istanbul: Experiencing Turkish Flavours 
5 Mystery Turkish Foods Vs. Tourist
8 Family Friendly Dishes from Turkey
Photo: Sharon Yee
Turkish Street Foods: Ice Cream, Mussels, and More!
Katie Parla's Istanbul food (swoon)
Istanbul – gateway to the culinary world 
Love this site: Delicious Istanbul
Photo: Turkish delight. Sharon Yee
Photo: Turkish desserts. Sharon Yee
Food from Turkey: A Country's Cuisine Reflects The Essence of its Culture
Eat Smart in Turkey tours (we love them!)
Food on Foot in Istanbul: A Tour of Traditional Culinary Treats
Stretchy, Super-Cool, Turkish Ice Cream!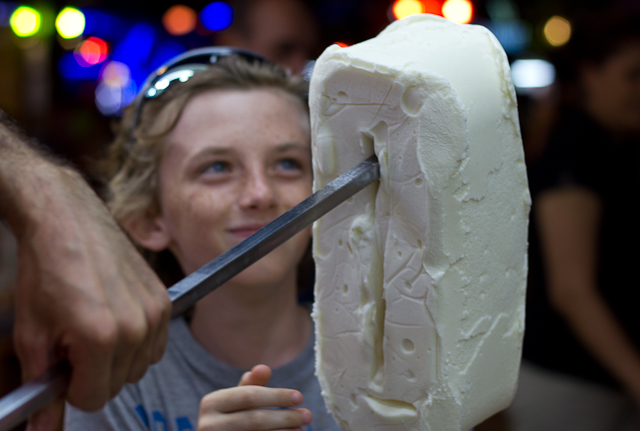 Photo: Stretchy Turkish ice cream! World Foodist
Eight Turkish Foods to Try Before You Die 
Photo: Turkish delight! Sharon Yee
Food for a Quid: Turkish Stuffed Mussels (Midye Dolma)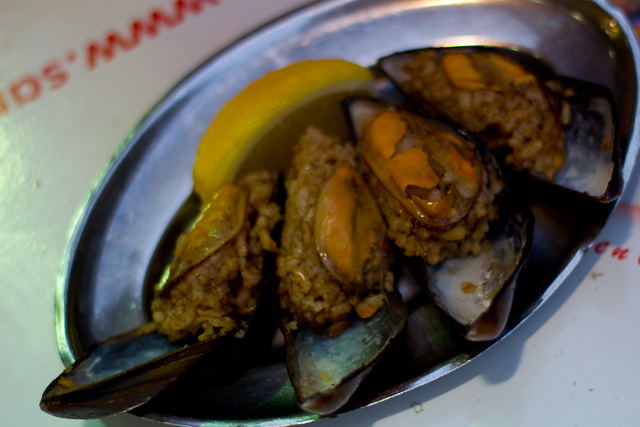 Photo: Turkish stuffed mussels. World Foodist
Get inspired by the amazing photos of Turkey by my friend, Lola Akinmade.
Do you have more to add? What are your favorite things to see, do, learn, and eat in Turkey?