The Mystery of Myanmar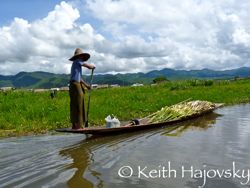 The longboat glided silently through the water, as the narrow channel opened up into the large expanse of Inle Lake. The shores seemed very far away, their green mountaintops disappearing into misty clouds. We passed other boats occasionally; mostly fishermen who swung their nets overhead and moved their wooden craft with a unique one-legged rowing method, their sinewy limb wrapped around the oar in a style not used anywhere else in the world.
The former land of Burma is shrouded in history, mystery and controversy. Due to its oppressive government, it is one of the least-visited Southeast Asian countries – a shame, as it has much to offer in beauty, history, people, and culture.
While the ethical debate over tourism rages (does it support the ruling party or help individual citizens more?), local people are hungry for visitors and need the dollars they bring. It is a safe and welcoming place for travelers, who are guaranteed enchantment in the endless temples, friendly and curious people, and gorgeous landscapes.
International flights arrive in Yangon, where one full day will suffice to check out the colonial city. "I had heard several people say that Yangon really doesn't have that much to offer and should be skipped," says Keith Hajovsky, a travel guide and consultant who offers small group tours to Myanmar. "Although I wouldn't want to spend several precious days there, I completely disagree. The Shwedagon Pagoda alone makes Yangon worth a short stay."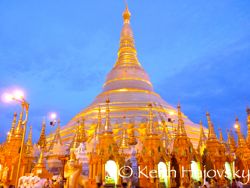 The awe-inspiring Shwedagon dominates Yangon's skyline and is a spectacular sight at sunset, its massive 1,500-year-old dome, made with 60 tons of gold, rising up to greet the night sky. The pagoda is surrounded by a monastery and hundreds of smaller stupas that light up as evening falls. "No matter what religion you are I think it would be incredibly difficult to not be moved by the atmosphere there," Hajovsky says.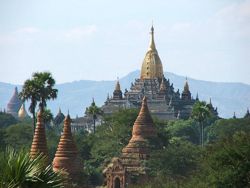 Most travelers quickly depart Yangon for smaller outlying towns that offer incredible charm and artisan crafts handed down through generations. 11th Century Bagan, land of a thousand ancient temples, lies northwest of Yangon along the banks of the Ayeyarwaddy River. Rent bicycles or hire a horse cart to cover the vast plain of Buddhist devotion along which hundreds of temples, small and massive, dot the landscape. This was the main driver of Hajovsky's desire to visit Myanmar, and he says the experience didn't disappoint. "If you are willing and able to climb a few of the designated climbable temples then the views are even more magnificent. Even a novice photographer can easily get some shots that make you think of National Geographic material possibilities."
Eastward from Bagan lies Inle Lake, a magical place where villages and monasteries rise from the water amid floating gardens, hill tribes inhabit the shoreline, and the only way to get around is by longboat. This is the only place in the world where silk is woven from an unusual source: lotus flowers. Burmese people regard the lotus as the most sacred of flowers; it is said that when the Buddha was born he walked seven steps, and a lotus sprung up at every footfall. It is the noblest Buddhist offering that can be made, and the tradition of weaving lotus silk began as a way to create monk's robes. Watching the process take place in a workshop such as the fourth-generation Myat Pwint Chel, in Inpawkhon Village, sitting on wooden stilts above the water while villagers boat past to the market, is like stepping back in time two hundred years.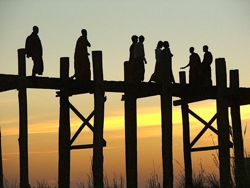 There are many other magical moments around Inle Lake; glide through floating gardens in a longboat, and visit Nga Phe Kyaung, otherwise known as the "Jumping Cat Monastery." This small home to about a dozen monks, set on stilts in the middle of the lake, proved so remote that even the monks grew bored and soon began teaching the many resident cats how to do tricks such as jumping through hoops. The small monastery is incredibly interesting, and several times a day the monks put on a show with their cats, asking only for small donations. As with most Burmese people, the monks are eager to talk to outsiders and so the monastery presents a rare chance to engage in lengthy conversation with the Buddhist novices.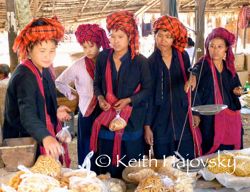 "Just cruising around the lake in the open-air boat with the scenery in the background would have made the long journey to Inle more than worth it," Hajovsky says, but highly recommends visiting the local markets in nearby villages. "You can see up front and close how many of the people from the nearby towns and villages live and interact, including many of the hill tribe women dressed in their traditional, colorful clothing." The market at Indien village is particularly lively, and a very short covered walk up the hill brings you to an incredible pagoda complex, with hundreds of crumbling pagodas that have been left where they've fallen. You feel a bit like Indiana Jones wandering around these holy ruins, and it's just one more example of how different the Burmese experience is from other well-worn Asian tourist paths.
Hajovsky urges travelers to coincide their visit to Inle Lake with the Phaung Daw Oo Pagoda Festival in October, and in fact has scheduled his 2011 Myanmar Tour to include the festival. During the week-long festivities, a Buddha statue travels from one temple to another, getting around the way everyone else in Inle lake does it: by boat. Music, dancing, firecrackers and fun accompany every movement of the Buddha as virtually all the local residents and visitors mingle for the party.
"Myanmar was one of the most interesting and unique places I have ever been," says Hajovsky, an Asia travel expert who once spent two years journeying through Southeast Asia. "Myanmar is not the easiest country to travel in independently, but the rewards are by far more than worth it. In many ways I think it gives a glimpse of what it was like to experience Asia fifty or more years ago, and this combined with its rich cultural history and breathtaking views makes it one of the most interesting places in the world that I have ever visited. On top of that I found the people to be some of the kindest, most gracious individuals that I have ever encountered in all my travels. And knowing how difficult most of their lives are, especially compared to the incredibly privileged life I have, made me appreciate their kindness even more."
Resources:

Read more about Keith Hajovky's experiences visiting Myanmar, or his Tips for Traveling in Myanmar.
Stay at Governor's Residence in Yangon; Thiripyitsaya Sanctuary Resort in Bagan; and Shwe Inn Tha Floating Resort in Inle Lake.