Postcard from the Masai Mara National Reserve of Kenya
This photo was taken deep in the Masai Mara National Reserve of Kenya, on a stunningly beautiful day in which the air in this vast expanse of land seemed almost still.  We almost didn't see the cheetah as the browns and oranges and golden tones all blend into one another in a landscape so visually sweeping.  She was perched on a large rock that gave her an advantageous view of the plains, likely looking out for her next meal.  Our overland vehicle pulled up not 50 feet away and we watched her in the stillness as she scanned the horizon.  These are the moments that bring us to the great plains of Africa.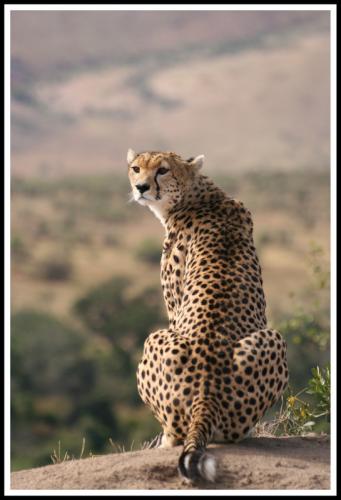 The Masai Mara is essentially the northern continuation of the much larger Serengeti National park in Tanzania.  The entire Masai Mara Reserve covers about 580 square miles and is where over 2 million Thompsons gazelle, wildebeest, and zebra migrate annually.  People travel here from all over the world often in the hopes of seeing the 'Big Five' ~ comprised of the lion, the cape buffalo, the black rhinoceros, the African elephant, and the leopard.  The Masai Mara ecosystem boasts one of the highest lion densities in the world, and is also home to over 550 recorded species of bird.
The Mara is patrolled by rangers to ensure that poaching is relatively non-existent within the borders of the Reserve, and the number of vehicles allowed at any given animal sighting is strictly controlled, helping maintain the feel of authenticity while you're out on a game drive, and arguably limiting the impact on the animals being viewed.  The eastern border of the Masai Mara is a 5-6 hour drive from Kenya's capital Nairobi, and near the end the road gets rough.  But it's more than worth the trek, and once there you'll understand why many believe that this is the cradle of civilization.
Photo credit: Sean Benner
Heather Thorkelson has been an adventurer for as long as anyone can remember, having visited 18 countries by the time she was 18, lived in 5 different ones by the time she was 23, and had reached all seven continents by 32. She is an avid outdoors-person, devoted mom to a Portuguese water dog, and lives with her partner Sean in Toronto when they are not out traipsing the far reaches of the globe. By day, she's a life coach who works with people to create the life they dream of, and she moonlights as Antarctica Travels' Social Media Ninja. She can be reached at heather @ antarcticatravels.com