Teaching Kids to Love Art
One of the questions I hear most often is from families looking to expand their kids' appreciation of art. I've written 7 Tips for teaching your kids to appreciate art museums to answer just that question.
But perhaps a more in-depth look is needed at how to teach kids to LOVE art, to feel at home in art museums, to be passionate and interested in art.
I wanted a broad range of answers for our Wandering Educators, and so I put out a call my fellow Family Travel Experts, and was overwhelmed with Art Goodness.
These writers? Their kids are SOOOOO lucky. And now, so are you…
General Tips on Visiting Art Museums
Here at Wandering Educators, writer and artist Laurel Perry Turner shows how important arts education is, in Exposing children to the arts - An Open Letter to Fine Art Museum Directors. Art museums that are welcoming to kids change lives - we've seen it in our own family. Love this article - it should be read by not only Museum directors and personnel, but families and artists. It's important to keep changing the paradigm, and bravo to art museums (like those listed here) who are leading the charge.
Kids painting their own Sistine Chapel. Photo courtesy Laurel Perry
At Gone with the Family, writer Lisa Goodmurphy shares 9 Tips For Taking Kids To An Art Museum. And I tell you – these tips are both a beginner's guide, and a reminder to even savvy-museum-going parents that kids need space. I think tip #10 should be to have your kid model fun poses, wherever you go.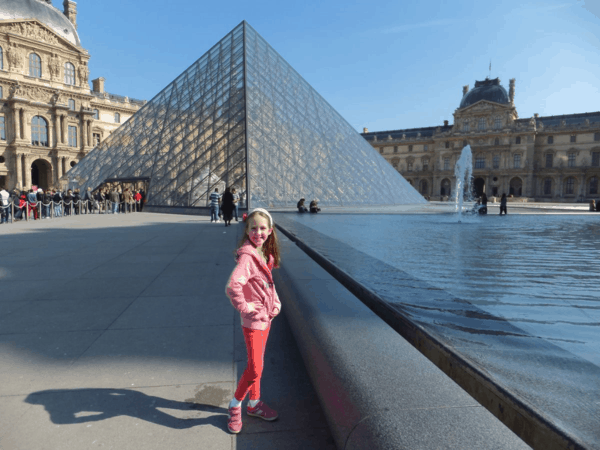 At the Louvre. Photo courtesy and copyright Gone with the Family
At Ramblecrunch, writer Renee D'Antoni teaches us How to Use Museum Audioguides and Podcasts with Children. It's a smart guide to a great resource on getting the most out of museum visits, with specific tips that share hard-earned knowledge. If you've not thought about enhancing your museum visits with podcasts and audioguides, this will persuade you!
At Mother of All Trips, writer Mara Gorman is an avid museum-goer. In Family travel tips: How to take kids to an art museum, she shows her art chops with helpful, specific tips on tours, educational programs, looking at specific artists, and more. Love it!
Photo courtesy and copyright Mother of All Trips
At Everyday Wanderer by Shutterbug Sage, writer Sage Scott shares 5 Tips to Help Kids of All Ages Appreciate Art Museums. What I love about her guide is that it addresses all kinds of art museum visitors - and fantastic ways to help everyone learn more about and incorporate art into their lives.
Louise completes a Shakespearean Mad Lib at a special exhibit at the Cincinnati Museum Center. Photo courtesy and copyright Everyday Wanderer.
smART Kids
At Suitcases and Sippy Cups, writer Jessica Bowers shares some fun with Art Boosts Brain Power: Ten Games to Play at an Art Museum.  First, she shares research that shows that art boosts brainpower! And then,  she gives you games to play at any art museum – can I just say, brilliant?!  She also has location-specific art flash cards, for the Chicago Institute of Art.
Photo courtesy and copyright Suitcases and Sippy Cups
At Museum Chick, writer Danée Gilmartin offers many articles under her MuseumKid Category. Our favorites for travel and inspiration? Her free art coloring pages - a great way to get kids into art (or refine their coloring). I must admit, I print ones off for myself, too.
At Family on the Loose, writer Ashley Steel speaks in Defense of the Worksheet. Click through to print off your OWN worksheet for any art museum. We print off three (one for each of us, plus more if Lillie's bringing friends) every time we go to an art museum. They're so much fun – and encourage both creativity and critical thinking.
At Break out of Bushwick, artist, art historian, faculty member in our Youth Travel Blogging Mentorship Program, and writer Melissa Banigan shares an Art History Treasure Hunt for Kids. The genius part is that it can be used for ANY art, anywhere. She notes, " As individuals, we know what we like. We have a firm understanding of what moves us. But how do we convey not only our own love, hate and understanding of art, but a society's understanding, to our children? […] I found, however, that keeping art alive wasn't working out so well when I just showed my kid pictures in books, lectured and brought her to museums. Somehow, I needed to make it exciting."
My own tip for smART kids is to find art you love on Wikimedia Commons, print it off, and DO something.  Color it, collage it, make it into a puzzle, blow it up and paint it onto a floor mat, art it up a la my friend and inspiration, artist Lyn Belisle and make original art, a book cover, or let your creativity reign. My latest love? This one:
Schwedischer Reiter aus Rothenburg o.d.T. Ernst Würtenberger, Oct 1883. Courtesy Wikimedia Commons
Which I might combine with this sample of Emily Dickinson's handwriting, in which she talks horses:
Photo: Biblioklept
Location-Specific Tips
At Jersey Kids, writer Debbie Abrams Kaplan shares 4 Ways to Explore the Metropolitan Museum of Art with Kids. With clear details, ideas, and even available discounts, this is a great guide. Also check out her article on American Museum of Natural History – 7.5 Ways to See it with Kids.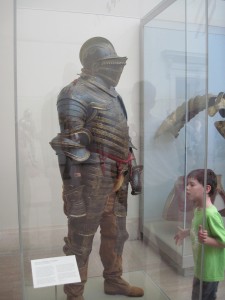 Photo courtesy and copyright Jersey Kids
More Met goodness! At Albany Kid Family Travel, writer Sandra Foyt shares How To Visit The Metropolitan Museum of Art With Kids. She includes tips to plan ahead and get ready, art adventures at the Met, books on art for kids, and a very helpful museum etiquette list for kids. With these preparations, your kids will not only be ready for the Met, they'll be ready for any art museum in the world!
At Go Big or Go Home, writer Traci Suppa explores the World's Largest Collection of Norman Rockwell Art in Stockbridge, MA. What I love about this article? Traci's sense of humor, as well as the acknowledgement of getting the most out of museum visits (and how to be flexible).
Photo courtesy and copyright Go Big or Go Home
At Live Do Grow, writer Elena Sonnino shares An Afternoon at MOMA with Kids. She notes, "there is not exactly a shortage of great museums for kids in New York City. As it turns out, starting with MOMA was perfect because of the size and activities to engage young artists as they explore the exhibitions." With helpful tips and bite-size art for kids, this is one museum not to miss.
At Luxury Travel & Lifestyle, writer Katie Wood Dillon (aka LaJolla Mom) shares Olivia The Pig's Tour Of The Metropolitan Museum Of Art. It's the perfect example of using children's books to make art museums more fun (a great tip if it's your first time!).  Katie notes, "In the end, we were able to keep her interested at the museum for 90 minutes, which is 89 minutes longer than I had anticipated. I credit my husband for having the creativity to turn The Metropolitan Museum of Art into an Olivia the Pig experience."
Photo courtesy and copyright Luxury Travel & Lifestyle
At The Barefoot Nomad, writer Micki Kosman shares a visit to the Renia Sofia museum in Madrid with her little ones (and some more cultural activities in Madrid). This is the kind of guide I love – not only to the art museum, but also to finding good food and kid-friendly activities.  I want to travel with her family.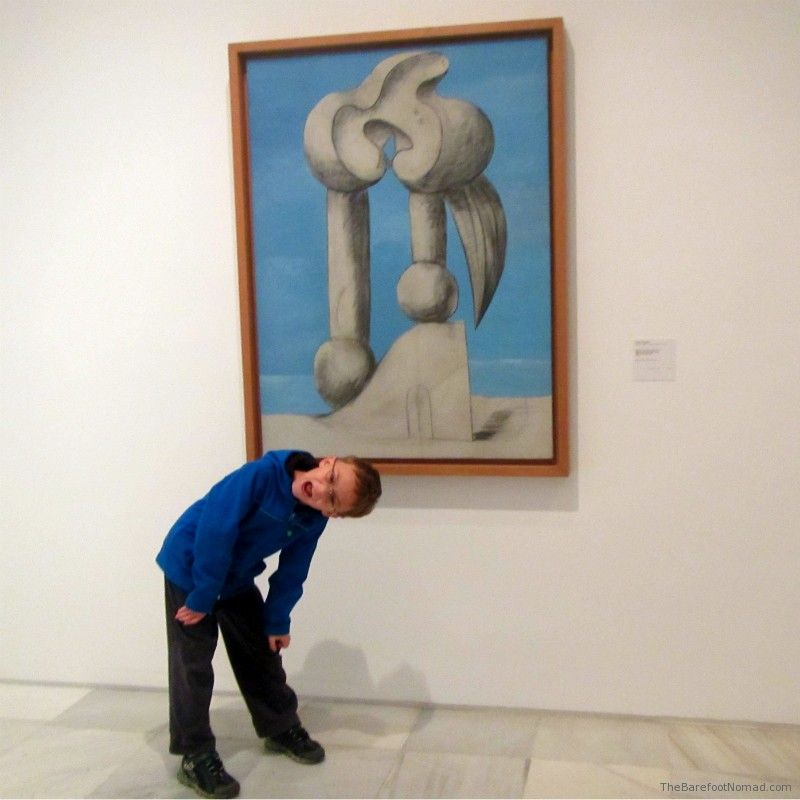 Photo courtesy and copyright The Barefoot Nomad
At To Europe with Kids, writer Sonja Leysen Key is completely honest about visiting the Louvre in her article, The Louvre with Kids. "I am not a huge art museum buff so I can hardly expect my kids to be. My husband has more patience for museums than I do, and my daughter has the patience of a saint in all things. My son, besides being a restless growing boy, probably gets his interest in art museums from me, but even he knows that when you're in Paris you don't miss the Louvre." Her tips are outstanding and definitely worth reading to make your Louvre visit easier.
Photo courtesy and copyright To Europe with Kids
At The World is a Book, writer Mary Penafiel Solio shares the Louvre with Kids: A night with the Mona Lisa. And who knew you could visit the Louvre at night? It's not only less crowded (a definite plus with kids), but it's MORE.  More fun, more space, more things to see.  Her kids are funny and definitely enjoyed themselves here.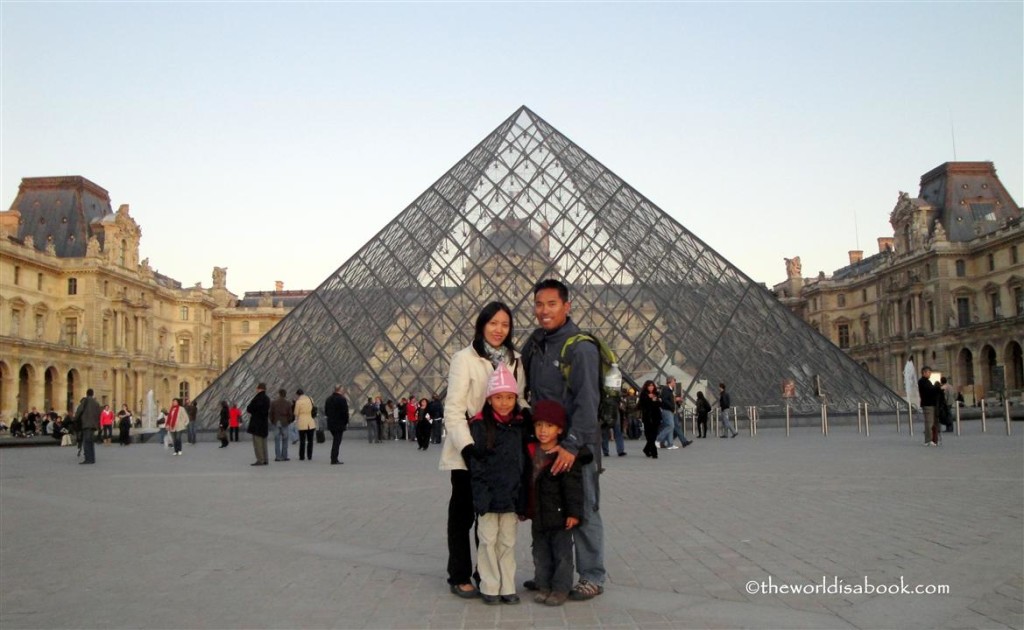 Photo courtesy and copyright The World is a Book
At Arrows Sent Forth, writer Nicole Wiltrout offers Tips for Visiting the Art Institute of Chicago with Kids. These excellent tips are useful for both the Chicago Institute of Art, as well as any art museum. She notes, "In my opinion, the Art Institute of Chicago is a model for making visits to a more adult-oriented museum not just family friendly, but family fun." She also recommends playing outside, in Millenium Park. Love that!
At Indy with Kids, writer Katy Mann gives all the details you need to know about Indianapolis Museum of Art Family Activities - including free times, and activities (and activity carts!) for all ages. I've been meaning to go here for ages - I think it's time! What a cool place.
Writer Holly Rosen Fink shares tips for all cultural events: include art museums, and will make your artistic life with kids much easier - and interesting.  She notes, "Culture is important to my kids because it's important to their mom. I make it a part of our daily life, and using the tactics I mention above, they want it just as much as I do."
And a tale…
At All Over the Map, writer Vero Autphenne shares a Foreign Field Trip Faux-Pas: A mortifying travel tale. I'm sure we've all been there, where we are surprised by our kids.  In this tale, she plays an art game with her son. "Raphael worked hard on his head and, as he folded it and passed it along to me so I could draw the torso, he said to me under his breath, "You'd better not mess mine up."  OK, no pressure.  I worked hard on my torso.  But he looked over, shook his head disgustedly and mumbled something about ruining his drawing."
What are your favorite tips for sharing your love of art - and art museums - with your kids? How do YOU teach your kids to love art? We'd love to hear more...
Note: this article was updated in 2017
Comments (1)
Leave a comment