Your Guide to the Best Resources for Learning at Home
Learning at home? The internet is a big place!! Here's our ever-evolving guide to the best free online educational resources. (Just started homeschooling? Read our New to Learning at Home? Start Here.) Let's go!
General 
Of course, the Smithsonian! They note, "the Smithsonian Learning Lab puts the treasures of the world's largest museum, education, and research complex within reach. The Lab is a free, interactive platform for discovering millions of authentic digital resources, creating content with online tools, and sharing in the Smithsonian's expansive community of knowledge and learning." Dig in here: https://learninglab.si.edu/
Open Culture links to the best free cultural and educational media on the web. What does this mean? Everything from online course to movies, audiobooks, ebooks, textbooks, language learning, k-12 education, music (including classical scores!) and more. This is one site to fall into quite happily: http://www.openculture.com/2020/03/use-your-time-in-isolation-to-learn-everything-youve-always-wanted-to.html
The Library of Congress offers digital resources in a variety of subjects, from history to culture to geography. You might explore the Leonard Bernstein collection, or civil war maps.
Project Explorer has hundreds of free videos for grades 3-12, including their new series Crash Test World (coming soon to Discovery Channel), and Doha Debates - a deep dive for High Schoolers into some of the most pressing issues of our time. We absolutely love this site that inspires global citizenship and intercultural learning.
Khan Academy is AMAZING! Have you explored it yet? There is almost everything under the sun there. 
The New York Times Learning Network. FREE! Teach and Learn With The Times: Resources for Bringing the World Into Your Classroom
The Library! Use your library card to freely access ebooks, audiobooks, music, and more, through the overdrive, kanopy, freegal, and hoopla apps.
Scholastic has launched a Learn at Home website with day-by-day projects to keep kids reading, thinking, and growing. 
KCET and PBS are offering free resources to expand learning and family engagement with their At-Home Learning on-air programming. Take a look: https://www.kcet.org/at-home-learning
PBS Learning Media has a large database of free learning resources: https://wgvu.pbslearningmedia.org/
Captivating, cross-curricular stories increase cultural awareness via Global Oneness Project. They say, "We believe that stories play a powerful role in education. Founded in 2006, as an initiative of Kalliopeia Foundation, we bring the world's cultures alive in the classroom using stories as a pedagogical tool for growing minds. Committed to the exploration of cultural, environmental, and social issues, we offer a rich library of multimedia stories comprised of award-winning films, photo essays, and articles. Companion curriculum and discussion guides are also available." https://www.globalonenessproject.org/
Brainpop has provided free access to their learning resources during school closures. 
C-SPAN Classroom has over 5,000 free video-based resources for teachers and students to use. Resources include topics such as civics, U.S. history, world history, economics and geography. 
Michigan Maritime Museum's online educational resources, from coloring pages and activity sheets to nautical activities online. https://www.michiganmaritimemuseum.org/learn/education-resources/
Free live classes on a plethora of topics, including basketball broadcasting, math, creative writing, space, virtual safari, and ocean exploration, at Varsity Tutors
https://www.varsitytutors.com/virtual-summer-camp-catalog?f_class_size=large-group&f_start_dates=on-or-after
Online Summer Camps
Our friend, travel writer and Mid Modern Mama, Angela Nickerson, has a great listing of online summer camps for kids.
Art & Art Museums
There are over 2,500 art museums that have made their collections available online for free. Learn more: https://artsandculture.google.com/partner?hl=en
Here are 10 favorites, thanks to our friends at Transitions Abroad:
1. Pinacoteca di Brera - Milano https://pinacotecabrera.org/
2. Galleria degli Uffizi - Firenze https://www.uffizi.it/mostre-virtuali
3. Musei Vaticani - Roma http://www.museivaticani.va/content/museivaticani/it/collezioni/catalogo-online.html
4. Museo Archeologico - Atene https://www.namuseum.gr/en/collections/
5. Prado - Madrid https://www.museodelprado.es/en/the-collection/art-works
6. Louvre - Parigi https://www.louvre.fr/en/visites-en-ligne
7. British Museum - London https://www.britishmuseum.org/collection
8. Metropolitan Museum - New York https://www.metmuseum.org/art/collection
9. Hermitage - San Pietroburgo https://bit.ly/3cJHdnj
10. National Gallery of art - Washington https://www.nga.gov/index.html
Another art resource is online art galleries, such as Saatchi: https://www.saatchiart.com/, Seattle's Henry Art Gallery, and The Phillips Collection at the University of Maryland 
The Census of Antique Works of Art and Architecture Known in the Renaissance is an interdisciplinary research database containing documentation centering on the classical tradition, a focus of Renaissance studies. 
Asian Art Museum: Inventive lessons and activities integrate Asian history, art, and more https://education.asianart.org/
Hello Artists! Art Contests, Museums, Art Games, Digital Art, Art Education, and Art at Home; a Google doc from https://www.instagram.com/mrsvelazquezart/
The Royal Academy presents Paul Gaugin in 60 seconds, from Gauguin and the Impressionists: Masterpieces from the Ordrupgaard Collection. Since you can't come to us, we thought we would bring a taste of it to you. In this video series, see a bite-sized biography of Gauguin, and take a deep dive into Renoir's 'Le Moulin de la Galette' and Manet's 'Woman with a Jug'. https://www.royalacademy.org.uk/exhibition/gauguin-and-the-impressionists-ordrupgaard#image-gallery
Architecture
The University of Kansas has an excellent list of resources for all kinds of architectural-related learning https://lib.ku.edu/locations/art-and-architecture/electronic-resources/architecture
Explore google for architecture, too… https://artsandculture.google.com/exhibit/prambanan-architectural-magnificence/eQIyCjd9u0u8Lg?hl=en
Books, books, and more books (and activities!):
From Edelweiss+, a digital catalog platform, special offers from publishers (full list here, select info extracted below):
Lonely Planet!! Get kids excited about the world around them with these free fun, quirky, and educational activities. Get Creative with drawing, designing and crafting activities, or get Quizzical with our puzzles and trivia. https://www.lonelyplanet.com/kids/activities
Sleeping Bear Press is supporting "At Home" learning by providing teacher guides and activity pages that are available to download for free at https://sleepingbearpress.com/teaching_guides
Mims House Books' backlist children's ebooks and audiobooks will be free until June 30. https://mimshousebooks.com/collections/ebooks
Quarto books is offering activity books and free downloadables that keep kids learning and having fun outside of the classroom.
https://www.quartoknows.com/blog/quartokids/quarto-kids-downloadables
Lerner Publishing Group is proud to support parents, educators, librarians, and readers of all ages with "Help at Home." The new site includes author videos, free downloads, and resources to help with virtual learning during these difficult times. https://lernerbooks.com/help-at-home
12-Story Library has opened up access to its full library of ebooks, each of which are paired with a unique resource web page with content updates, live news feeds, videos, image galleries, and lesson plans.  https://www.12storylibrary.com/
TOKYOPOP will be offering select digital titles for no charge through their free POP Comics app. The full list of titles and direct links can be found at TOKYOPOP.com/together and will be available from March 30th through the end of April 2020.
Wiley is offering free weekly resources for parents navigating teaching kids at home. Week one: a 14-page eSampler featuring six science experiments for parents, bookstores, and libraries. https://www.edelweiss.plus/#catalogID=4465308&page=1
Clavis Publishing is looking to bring some relief to parents and children alike by providing virtual story time with its authors! A number of videos have already been posted online of authors reading their own stories with more coming in the next few days. Additionally, there are a number of printable activity sheets (coloring pages, reading guides, etc.) available on their website. https://www.clavis-publishing.com/storytime
Barefoot Books has created free activity kits specifically for this highly unusual time to keep families busy with safe activities. Stay connected with others, manage anxiety, play global games at home and more! Their entire collection of singalongs is available for fun movement and music time; and they have video read-alouds of their books for viewers to enjoy.  https://www.barefootbooks.com/index.php?cID=83544
Bushel & Peck: Free online books and printable activities. https://bushelandpeckbooks.com/pages/a-care-package-from-bushel-peck-books
Nomad Press: Educational STEM videos, printable activities, ebooks, and classroom guides. https://nomadpress.net/the-learning-center/
Flowerpot Press: Coloring pages and 4 mask projects. https://www.flowerpotpress.com/activities.html
Coding
Code.org is a free site for learning coding, and is a nonprofit. https://code.org/
Coloring
The New York Academy of Medicine has an awesome online portal of coloring books from institutions around the world. http://http://library.nyam.org/colorourcollections/
I especially loved the University of Cambridge's offerings, which link to the resource itself, including the Cambridge University Library bestiary:


Cambridge bestiary coloring page
Geographic and nature coloring pages from one of our featured artists, Rachel Alvarez -- https://rachelalvarezart.com/coloring-pages
1,500+ free coloring pages to download and print: https://www.justcolor.net/
Fashion
We Wear Culture is an extraordinary look into the history of what we wear:
https://artsandculture.google.com/project/fashion 
Field Trips
Here's a comprehensive list of virtual field trips, over at Student Travel Planning Guide.
Games
Big Fish games has SO Many online games, but I love the hidden object ones. It's a great resource for when your kids get antsy: https://www.bigfishgames.com/online-games/genres/15/hidden-object.html
We also love Wizard101, which is an online game that teaches so very much, from strategy to math to typing to language to social skills–and is extremely fun to play together. The first few levels are free, but we have subscribed for years. https://www.wizard101.com/
Starfall is an online portal for games pre-K through grade 3. https://www.starfall.com/h/
Poisson Rouge is a subscription-based online learning games portal. https://www.poissonrouge.com/
Play Various Board and Card games with people you are socially distanced from (including a game very much like Cards Against Humanity): http://playingcards.io - tip: if it is glitchy, refresh!
Solitaired has great ART cards on their free online solitaire games!
Geography
Where are you? Play the Geoguesser game, for free! https://www.geoguessr.com/
Play Where in the World is Carmen Sandiego, with Google Earth: https://earth.google.com/web/data=CiQSIhIgYmU3N2ZmYzU0MTc1MTFlOGFlOGZkMzdkYTU5MmE0MmE
Keukenhof, in the town of Lisse in the Netherlands, is nicknamed the Garden of Europe. Their youtube channel will showcase videos of their gardens. Over 7 million bulbs will bloom this spring, with a total of 800 varieties of tulips. 
Global Street View
Google arts and culture has, you guessed it, street views of iconic monuments, sporting museums, and more, from around the world. Take a look! https://artsandculture.google.com/project/street-view?hl=en
History
The slider photos from Gettysburg's website are SOOO interesting. Take a look! https://www.nps.gov/gett/learn/photosmultimedia/then-and-now.htm
The Women's Suffrage Centennial Commission was created by Congress to coordinate the nationwide commemoration of the 100th anniversary of the 19th Amendment and women's constitutional right to vote. Their blog features interesting women and their stories! https://www.womensvote100.org/
The SCA has a fantastic collection of links ranging from SCA-specific to ancient/medieval/renaissance history related. https://www.sca.org/resources/research-links/
If you've got a kid that loves ancient Egypt, we truly love visiting the Institute for the Study of Ancient Cultures Museum at the University of Chicago. They have an online guide, as well as a free mummification game! Read our suggestions: https://www.wanderingeducators.com/best/traveling/kids-love-ancient-egypt-and-archaeology.html
And find more mummy goodness via the Kelsey Museum: The mummy of Djehutymose, a priest in the Temple of Horus between 684 and 525 B.C., may be missing, but he cheerfully informs his Facebook followers that his spirit (or "Ba") still lingers around his coffin at the Kelsey Museum of Archeology in Ann Arbor, Michigan. https://www.wanderingeducators.com/best/traveling/kelsey-museum-archeology-brings-ancient-egypt-modern-age.html
The Edinburgh and Scottish Team at Edinburgh Central Library share some online resources for discovering history and heritage. https://talesofonecity.wordpress.com/2020/04/09/discovering-history-online/
Language learning
Spanish Mama shares ALL kinds of learning and language opportunities in Spanish https://spanishmama.com/
Duolingo offers free language lessons. 
Make
Have you heard of bluprint? They offer a variety of resources (many free) to delve into a plethora of creative pursuits. https://www.mybluprint.com/
Skillshare is a wide-ranging resource for learning. I really liked Drawing as Self Discovery: 5 Ways to Start by Mari Andrew.
Math
A+ Click (free!) helps students become problem solvers; questions are based on the Common Core Standards in Math and go beyond by adding hundreds of meaningful practical problems and brainteasers.
Mental Health
Calm has free resources: Enjoy this curation of content hand-picked to support your mental and emotional wellness through this time.
Music
The Met Opera is streaming performances this week for free! https://www.metopera.org/
Berlin Philharmonic is offering no cost access to its archive of recorded concerts, interviews, education programs, films, etc, for one month, when you register with the promo code located at the top of their site.
All the companies that are offering free streaming online, for your operatic delight. https://operawire.com/a-comprehensive-list-of-all-opera-companies-offering-free-streaming-services-right-now/
At the Journal of Music, which is based in Ireland, there are all kinds of musical genres represented in this concert listing (mostly online, at the moment): https://journalofmusic.com/listings/events
The backstory of a slew of traditional music and musicians, over at Irish Music Stories with Shannon Heaton. 
Matt Heaton and the Outside Toys have daily singalongs at 10am est on facebook. Find them here: https://www.facebook.com/mattheatonmusic/
Our music editor, Kerry Dexter, shares a plethora of songs, stories, and musicians in her Music for Shifting Times column. In it, she notes, "Writers, artists, musicians, actors, creative people of all sorts, often ask the best questions, questions which have to do with real values, fundamental choices, important relationships.  As is true with any sort of art, these questions may at times be framed in poetic and indirect ways. Directly or indirectly, these works of creation help with reflection on such matters."
Into music theory? This is a fantastic resource: https://www.musictheory.net/
AllMusic is a comprehensive and in-depth resource for finding out more about the albums, bands, musicians and songs you love.  https://www.allmusic.com/
On Soundcloud, the Bodeckder Foundation, which partners with professional artists, writers, musicians, and educators to design and lead immersive program experiences for middle and high school students who are interested in exploring the arts, including those from traditionally underserved and underrepresented communities. https://soundcloud.com/halflingstudio
The Music Teachers National Association has compiled a list of best websites for kids, which is quite a researched sampling of the musical, youth-oriented websites on the Internet today. https://www.mtna.org/MTNA/Learn/Parent_and_Student_Resources/Websites_for_Kids.aspx
Music outfitters has compiled a list of excellent global music archives: https://www.musicoutfitters.com/resources.htm - they also have a music dictionary!
Online Universities shares The 40 Best Sources of Free Music Education Online, here: https://www.onlineuniversities.com/blog/2012/07/the-40-best-sources-free-music-education-online/
From my sister Cynthia, a music teacher: her best resorces:
If you would like to practice sight-reading: Sightreading Factory: free student accounts to schools closed for COVID, https://www.sightreadingfactory.com/ (just send them an email atsupport[at]sightreadingfactory.com , and they'll take care of you from there.)
If you would like to try your hand at some composing:
Chrome Music Lab: free interactive music making website https://musiclab.chromeexperiments.com
Musescore: Free music composition software, https://musescore.org/en
SmartMusic: offering free access through June 30th for COVID affected schools. Also has sight-singing practice. https://www.smartmusic.com/
If you would like to work on some a capella singing, like Pentatonix: Acapella: App to collaborate and sing with others in small groups, https://www.mixcord.co/pages/acapella
If you would like to brush up on your rhythm:
Rhythm Trainer — rhythmic dictation practice. There is a "B Mode" for modified (multiple choice!) The Rhythm Trainer
Online Drum groove/polyrhythm breakdown https://apps.musedlab.org/groovepizza/
If you want to practice singing with piano:
Accompanist: can be used for secondary school solo and ensemble practice, Appcompanist gives you full control over thousands of beautiful piano
Music Theory:
Breezin' Thru - This is an online music theory program that is offering FREE accounts  https://breezinthru.com/  
Two Minute Music Theory (YouTube channel) https://www.youtube.com/users/the1564studios/playlists
If you want to play some music theory games:
Kahoot: Online quiz games, free account through end of the year, https://kahoot.com/coronavirus-remote-offer/
Quizizz: Online quiz games in various subject areas, https://quizizz.com/
Music Tech Teacher (theory games) http://www.musictechteacher.com/music_quizzes/music_quizzes.htm
Free music theory flashcards and games: Free Music Theory Lessons, Games, & Resources | Music-Theory-Practice
If you are looking for some new songs to learn: Beth's Notes https://www.bethsnotesplus.com/find-songs, folk songs, chants
If you want to know more about how we actually sing: Voice Science Works - fantastic lessons and explanations of the vocal mechanism and how it functions. TONS of resources. https://www.voicescienceworks.org/vocology-toolbox.html
If you want to work on Ukelele: Fredonia Ukulele - one of my FAVORITE sites. Over 1,000 video tutorial songs. Teaches all the chords needed. SOOO FUN for all experience levels!! https://sites.google.com/a/fredonia.edu/fredonia-ukulele/home
Photos
Welcome to Smithsonian Open Access, where you can download, share, and reuse millions of the Smithsonian's images—right now, without asking. With new platforms and tools, you have easier access to nearly 3 million 2D and 3D digital items from our collections—with many more to come. This includes images and data from across the Smithsonian's 19 museums, nine research centers, libraries, archives, and the National Zoo. https://www.si.edu/openaccess


George Washington (Lansdowne Portrait), from the National Portrait Gallery
Dig into the Smithsonian's collections, one object at a time, through the snapshot program. https://www.si.edu/snapshot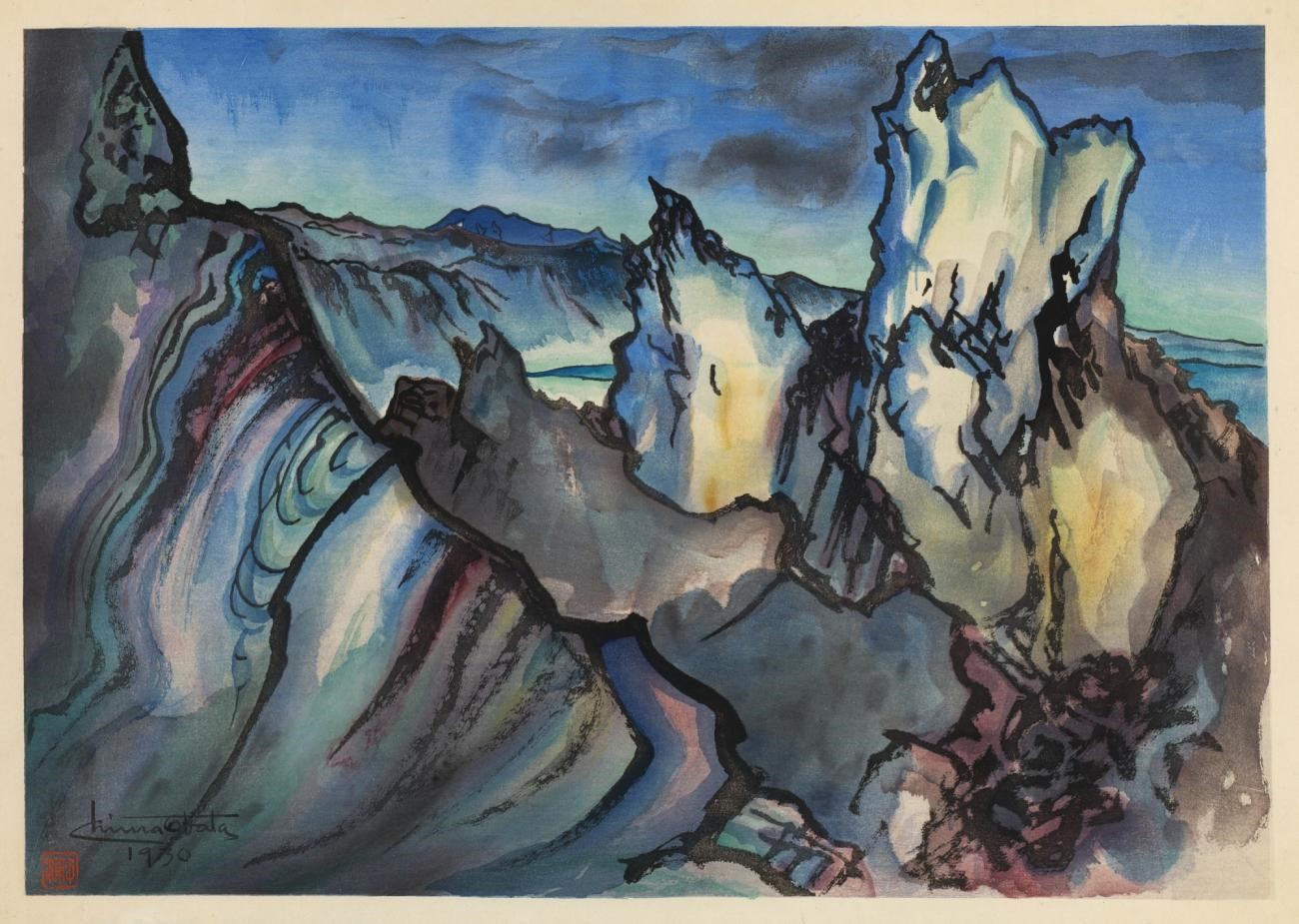 Chiura Obata, "Mono Crater," 1930, color woodcut on paper, Smithsonian American Art Museum, gift of the Obata Family, 2000.76.9, copyright 1989, Lillian Yuri Kodani
Science & Science Museums
I collated a guide to the best science museums around the world, as nominated by travel writers. Dig in, find your bliss, and explore their collections! 

Asap Science has lots of great videos including one explaining what a pandemic is.
Atlas Obscura has a fantastic article listing ways to do citizen science at home: https://www.atlasobscura.com/articles/citizen-science-at-home
The kids should see this also has kid-friendly information about COVID 19.
Crash Course is one of my favorite youtube channels. They have fun videos on lots of topics including science.
SciShows Kids has lots of great videos for elementary-aged kids.
Minute Physics, as the name suggests, has short videos that explain physics concepts.
Frost Science@Home, from the Frost Science Museum, gives web visitors the opportunity to explore free educational resources, videos, DIY science activities, and behind-the-scenes content.
Self-Care
As we collectively deal with the implications of social distancing, stay-at-home orders, and a global pandemic, questions of care and self-care have become important.
These books, issues, and articles made available by the Duke University Press investigate different ways that care can bind together individuals and communities where larger institutions or governments fail to intervene. They show how radical care is essential to enduring precarity and to laying the groundwork for new futures.
All content is free to read online through June 30, 2020.
https://www.dukeupress.edu/Explore-Subjects/Syllabi/Care-in-Uncertain-Times-Syllabus
Space
NASA has made all of their images and videos free to access! Head here, and then put in your own search parameters to narrow down the results. https://images.nasa.gov/


Backlit wisps along the Horsehead Nebula upper ridge are being illuminated by Sigma Orionis, a young five-star system just off the top of this image from the Hubble Space Telescope.
NASA Space Place has an online education portal for science education
https://spaceplace.nasa.gov/menu/parents-and-educators/
The Jet Propulsion Lab at the California Institute of Technology has images, posters, and even a complete guide to NASA space missions.
ISSLive is a good way to learn about the International Space Station https://isslive.com/interact.html
Storytelling
The Moth's Education program is publishing a weekly storytelling activity to help parents and educators with some at-home curriculum. https://themoth.org/dispatches/home-schooled-pastels-and-crayons-1
Theatre
One of our favorite theatre towns, Stratford, Ontario, is home to the Stratford Festival. Explore their site for reading guides, excellent videos, and more.
https://www.stratfordfestival.ca/
From interactive education to behind the scenes videos to my favorite, livestreaming of the extraordinary Meighen Forum events– this aspect of the Stratford Festical shares some of the richest educational offerings I have ever experienced. 


Meighen Forum
The Social Distancing Festival is livestreaming performances! https://www.socialdistancingfestival.com/
Kennedy's Center's Millenium Stage has full length performances!
15 Broadway Plays and Musicals You Can Watch On Stage From Home, via Playbill
National Theatre at home: Weekly showings of National Theatre live productions, starting April 2. They are hosted on youtube, and will be up for a week each! Productions include: One Man, Two Guvnors; Othello; Jane Eyre; Treasure Island; and Twelfth Night. https://www.nationaltheatre.org.uk/nt-at-home
Travel (definitely more to come; dig in on our site)
We love Irish Fireside-it's over a decade old, and was such an incredible resource for planning our trip to Ireland. Here's a great resource page, including Irish culture and heritage, in addition to travel. In addition, they have a fantastic app/site called Ireland Travel Kit, with site-specific interesting places (note: we have added several of our own Ireland travel tips here)!
Lonely Planet has a great article on seeing China's incredible cultural wonders online: https://www.lonelyplanet.com/articles/coronavirus-china-cultural-wonders-online
Field Trips! Here's a great list of Virtual Field Trip Apps and Websites via Commonsense.org. Many of their recommendations are free. https://www.commonsense.org/education/top-picks/virtual-field-trip-apps-and-websites
Another great list of virtual field trips: https://raulersongirlstravel.com/virtual-tours-from-around-the-world/
Webcams are a fantastic way to explore the world. https://www.webcamgalore.com/ has weather-related webcams, while https://worldcams.tv/ and https://www.earthcam.com/ showcase global life. 
Of course, the Monterey Bay Aquarium has a fantastic set of webcams: https://www.montereybayaquarium.org/animals/live-cams
Women's Achievements
Beth Whitman is the founder of Wanderlust & Lipstick, and has created the She's Bold podcast, which celebrates extraordinary women who are living life with courage and inspiring others along the way. Topics include travel, spirituality, philanthropy, adventure, music, nutrition, fitness, and more. https://shesboldpodcast.com/episodes/
Our National Parks website has an incredible portal devoted to women's history. Take a look: https://www.nps.gov/subjects/npscelebrates/womens-history-month.htm
Writing
The University of Louisville Writing Center has excellent and extensive resources on writing, including videos and handouts. 
Want to learn writing? Susan Dennard has a SLEW of articles on writing fiction! Sign up for her free newsletter for more. https://susandennard.com/for-writers/
Chuck Wendig is funny, shares author tips/interviews, and more on his site: http://terribleminds.com/ramble/blog/
Poetry: The Binghamton Poetry Project is offering fun, free lessons and writing activities for kids, as well as fantastic online events - see their facebook page to learn more:
https://www.facebook.com/pg/bingpoetryproject and find the lessons here: https://thebinghamtonpoetryproject.wordpress.com/author/thebinghamtonpoetryproject/
Of course, this guide is just the beginning. What are your favorite resources for learning at home?
Pin for later: