Wandering Educators Recommends: Best Books and Music of 2016

You know we're always digging into the backstory of what people create - it's one of the best parts of publishing this website. I love seeing the inspiration, drive, and focus of writers and musicians. Without further ado, here are our best recommendations for books and music we've reviewed in 2016 - with interviews!
Books
Children
Do you want to encourage your small travelers to get excited about change and exploration? We've all had those moments when entering into the new was scary. I've got a lovely new children's book to share with you that addresses this feeling - and shows how wonderful accepting and exploring change can be.
Written by our friend Gabrielle Yetter (who wrote the incredible travel guide and moving manifesto with us, Moving to Cambodia), Ogden, the Fish Who Couldn't Swim Straight is a book that is a must-read for families. Why do I love it so? It's about  being scared, and moving into something different, and adapting and adjusting. Along the way, the colorful illustrations make you happy and laugh, sometimes, at the expressions.
Chapter Book
The tale of two dogs who were left behind, by one of our editors (and one of my favorite writers), Winfred Peppinck, is a charming tale, one that is intended for both kids and their parents. You know those kind of books, where you are actually laughing while you read, because it is so clever? THIS IS ONE! 
I've never read a children's book that was so interesting, intruiging, and funny. The two rescue dogs (an important conversation started and teaching moment) are hilarious, the main human characters are recognizable. The story is one that will have your kids asking for just one more page tonight - in fact, I recommend starting early so you can finish it all in one lovely gulp. It's that good! 
Young Adult
"When every piece falls into place, it's like a dance, a delicate but powerful balancing act. The art of holding on and letting go at the same time."
Such is the beautiful writing in the winner of Elephant Rock Books' 2016 Sheehan YA Book Prize, The Art of Holding On and Letting Go, by Kristin Lenz. A fellow Michigander, Lenz has written a powerful story of family, finding yourself, and growing up. 
YA Adventure
The Drowning Shark focuses on social change, compassion for the world around us, and adventure. This is the quintessential action adventure, with flavors of international travel, intercultural understanding, a strong environmental statement, and a fierce, interesting, relatable heroine. Read it to your kids, buy one for all the tweens and teens you love, schedule a book club around it, inhabit Sierra's world and see how we, too, can help sharks - and safeguard our natural world. 
Teaching Abroad
What's it really like to teach abroad? Author and international educator Ann Marie Mershon shares her experiences in her new book, You must only to love them: Lessons Learned in Turkey. It's a fantastic read, full of tales of travel (one of the greatest benefits of teaching overseas!), classroom challenges and joys, living in Istanbul, cultural adjustment, and the daily life of a teacher abroad. 
Living Abroad
Everyone in the whole world knows by now that I am in love with Turkey. Whilst I was there, my schedule was too hectic to meet a new friend, Lisa Morrow, who lives and teaches in Istanbul. My loss – and next time! Isn't it crazy, how life goes like that? Lisa is a longtime resident of Turkey, and a thoughtful intercultural analyst. I love her website, Inside Out in Istanbul, and I love her book of the same name. She's a noticer, one who sees more than just the surface – and has the writing chops to describe it so well that we feel as if we are there with her. Not only do I avidly read her website, but when her book arrived in the mail, I dove in without taking a breath. And what a book!
She is one of the best writers on intercultural living I've ever read, and I highly recommend this book. It's a joy to learn about Turkey, Istanbul, and Istanbulites from an insider – it's a wonderful glimpse into another world.
Life as an Overseas Educator
Wondering about what life is like, teaching overseas? Global Educator Jill Dobbe has penned a fascinating, intriguing book that details teaching in Egypt, called Kids, Camels, and Cairo. In this book, she reflects honestly about moving a family abroad, teaching in a different country, and cultural adjustment. 
The book is honest, caring, interculturally sensitive, and clearly shares why international educators continue to do what they do, for years on end. 
Inspiration
Let me tell you about an inspiring couple that changed their lives. And before you think, "oh, I can't do that," I suggest reading the interview (and their new book, entitled Just Go!), and then seeing how you feel. 
There are many things I love about Just Go! The first is that Skip and Gabi's journey is detailed - honestly. It's hard to give up a life and choose another. I didn't realize how the details of this could play out, until I read otherwise. And while the getting there is tough, the BEING free is worth everything. You can tell this from every word in this book - that making these choices have changed Gabi and Skip's lives - for good. I'm impressed, and thank them for writing this book. Take it as inspiration, a guidebook, or a doable goal - but READ Just Go!, and incorporate it into your life. You'll be glad you did. 
On Writing
When I discover writers that I love, I dig in deeply to their words. They enrich my life, thoughts, reading. And, when I have the ability to share the talents of such writers? Well, this is one of the reasons I started this website. 
One such writer I found in a circuitous and fortuitous manner – Canadian author Marianne Brandis. Her writing is extraordinary. She has written historical novels, stories of place, creative non-fiction, and much more. Her reflections on the artist's workplace is a beautiful and a unique glimpse into the writing life.
Storytelling
My friend Sally, over at UnbraveGirl.com, won the Moth StoryHour Detroit Grand Slam a few weeks ago - I went with and was blown away by the storytelling talent, especially Sally's. Here we are in downtown Detroit before heading to the Little Gem Theatre (such a fantastic place!). Read more about Sally's story here, and listen to Moth stories here. It's pretty cool when your friends are so extremely talented - and recognized as such!
Travel Guides
Asia
The book Vietnam: 100 Unusual Travel Tips and a Guide to Living and Working There is one of the most important guidebooks I've ever read - and I am proud to publish it. When traveling, getting the local perspective is critical to understanding the culture and people of a place. Barbara Adam and Vu Vo have this covered – they not only bring an understanding of Vietnam, its history, and culture, but also interesting things that intelligent travelers want to know – etiquette, language tips, smart suggestions for families, and, my favorite, food. I'd fly to Vietnam tomorrow just from reading the expansive food section in this book. It's inspiring, beautifully illustrated with photos, and truly captures how much food is loved in this country.
USA
I've known travel writer Beth Blair for years, and have always been impressed by whatever she's written. And, as longtime readers will know, we love Unofficial Guides. Let me tell you - this book, the Unofficial Guide to the Mall of America? It's an incredible guide to the best mall in the US. And this comes from someone who doesn't like shopping!
City Guide
You know how it is: big city = overwhelming choices! You want a friend, a local to show you around. Luckily for us, author Gigi Griffis has a WHOLE series of travel guides, where locals share their best tips (we've shared her Italy guide here). Her newest is a guide to New York City, one of the most intimidating cities to travel to, for there are TOO MANY CHOICES for what to see, do, explore! It's called New York City: 10 Locals Tell You Where to Go, What to Eat, & How to Fit In - and it's the most genius travel purchase you can make.
Caribbean
I recently read Moon Guides Belize, by Lebawit Lily Girma, and let me tell you - I'm impressed. This is the best guidebook I've ever seen about Belize, and one of my favorite guidebooks ever. I dare you to read this and NOT plan a trip to Belize. I keep mine in the car, and it's filled with little slips of paper for all that I want to see and do. Honestly, with all those little bookmarks, the book is about 3 times the size as when it came into my grateful keeping.
Nature
Some books come into your life and stay with you. For whatever reason, they strike a chord and fit right in. And while this is rare, it does happen. One book that is forever lodged in my heart is Lassoing the Sun: A Year in America's National Parks, by Mark Woods. It's a personal look at natural spaces, at family and friends, at moving and doing, at being in nature. It's a thoughtful record of exploration and listening and thinking, of love, of essence of place. It teaches much, in a personal way - this is my favorite way of learning, through example and inspiration.
Memoir
Imagine traveling for over a year on your honeymoon - exploring family history, traveling off the tourist trail, and making a difference by volunteering long term. How would that affect your new marriage? In Sutay and Josh Berman's case, everything.
His new book, Crocodile Love: Travel Tales from an Extended Honeymoon, shares those travels, and gives readers a glimpse into a different way of traveling - and starting a marriage. 
Poetry
When I first heard of the book Escapism: Words + Photos, by Candice Lee, I was excited. Nature plus poetry plus lived experience? YES!
This is a story of a life, of struggles and finding self and the beauty of life - and nature. For when Lee needs to think and heal most, she heads to nature, specifically, to our national parks and other outdoor spaces. A poet, photographer, a phenomenologist digging deep, Lee beautifully shares her life. 
Cookbooks
I've recently fallen in love with the cuisine of Azerbaijan – thanks to the efforts of Feride Buyuran. With her new cookbook, Pomegranates and Saffron – the first comprehensive cookbook on Azerbaijani cuisine published in the U.S. – and her impressive and inspiring cooking website, http://azcookbook.com/, she's singlehandedly promoting Azerbaijani cuisine to an audience unfamiliar with it.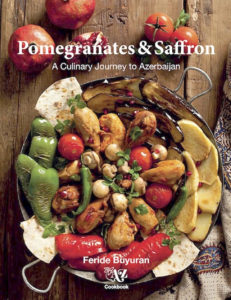 Cultural Traditions
Nature and the arts - they go hand in hand. I love outdoor theatre (especially Shakespeare) and concerts, for they combine the best of both worlds - being outside, AND the luxury of watching and listening to the arts in a special environment. And, of course, when you attend a concert outside, you bring a picnic - snacks, beverages, meals - and munch the whole time. It's glorious, and a way of life that attracts everyone. So when Gina Hyams published her latest book, The Tanglewood Picnic: Music and Outdoor Feasts in the Berkshires, I WAS IN. I love this book, and have from the moment I saw the cover. Reading it upped the love - the recipes do so even more. 
Music
Concert
We loved the band of brothers, AJR, before we saw them perform live this weekend with another fantastic musician we love, Ingrid Michaelson. But after seeing them in concert? Well, they blew us away with their energy, creative songs, personality, and musicianship. 
Adam, Jack, and Ryan are the real deal - musicians that are involved in every aspect of their music, in an era when many hands are often stirring the pot. Their concert was exhilarating, danceable, and we wished it would never end. Lillie interviewed them, before the show! They're incredible. 
Musical
Have you seen RENT yet? It is hard to imagine that this Broadway show is 20 years old, but time flies. We went to see it at Miller Auditorium at Western Michigan University - and were blown away by the talent, story, and music. The actors? Incredible. The band? Likewise. Each actor stayed true to the original, while somehow making it modern for today.
Music Festivals
Just up the block from Moo Moo's Ice Cream in downtown St. John's, Newfoundland is Bannerman Park (trust me to base directions on ice cream). A wide, expansive park, with a playground, lush grassy areas, and plenty of trees, a visit earlier in the week showed me just that - a park. But once a year in early August, this park transforms into a world-class music venue, as it hosts the Newfoundland & Labrador Folk Festival. 
Now in its 40th year, the NL Folk Festival is a three-day extravaganza that features local and global musical talents. It's held the weekend after the Royal St. John's Regatta, the oldest sporting event in North America. Run by the Newfoundland and Labrador Folk Arts Society, this is one musical event you should make plans to attend.
It's more than music - it's community
So there you have it, friends - our best recs from this year. We've got many. many more in the works for next year!